It has been exactly one week since the Detroit Red Wings ousted the Anaheim Ducks. The Ducks and Wings have been here before — playing six times in the postseason since 1997– but this time Anaheim was favored to win the series by a landslide.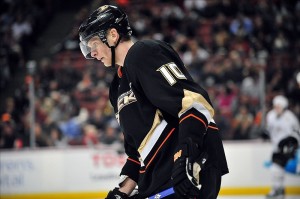 In the past, Detroits' roster was stacked with future Hall Of Famers; Steve Yzerman, Brendan Shanahan, Nicklas Lindstrom, Tomas Holmstrom, and I can fire off an endless lists off all-stars that donned the Red Wing crest. The team known for it's perennial players, it taking on a different path with some new faces. Now, the Wings rely heavily on mainly two highly-talented forwards; Pavel Datsyuk and Henrik Zetterberg.
Anaheim, despite their recent success, will probably never compare to Hockey Town where winning isn't just everything, it's expected. However, with the Samuelis as their new owners, they've endeavored to keep the Ducks a playoff contender. Two monumental moves that prove that notion is the resigning of captain Ryan Getzlaf and 2011 Hart Trophy recipient Corey Perry; both being the heart of the team.
Unfortunately, Perry didn't make much of an impact during this year's playoffs, which I think was the deciding factor for the Ducks' early first-round exit. There were a lot of young players who stepped up for Anaheim —Matt Beleskey, Kyle Palmieri, Nick Bonino— in addition to Getzlaf and Jonas Hiller putting out an honest effort. Perry's inability to find the back of the net resulted in him only contributing with two assists in seven games against Detroit.
It wasn't for an entire lack of effort.
Perry was buzzing around Jimmy Howard for the majority of the series –registering at least several shots a game– but he didn't make those shots count. That was the difference. It doesn't matter how many other teammates contribute. If a team doesn't get production from their star player their season will be short-lived, which is why those specific players get paid the big bucks; to find ways to win when their team needs them.
The Ducks were successful in shutting down the Red Wings' top forwards, but couldn't contain them in final two games of the series. Datsyuk and Zetterberg came up big in those games and that's when Detroit started planning their itinerary for Chicago. Datsyuk had a goal and three points in Game 6. Zetterberg had a pair of goals and an assist and then came up with two points in the final Game 7.
Zetterberg and Datsyuk came through for their team when it mattered the most. The games the two were held off the scoreboard, the Ducks' young guns pulled through for Anaheim. What Anaheim needed and what they didn't get was Perry stepping up. Imagine what a goal or a few extra points from Perry could have meant for the Ducks.
Thanks Corey for that early tee time.
While some Anaheim players are probably sporting some plaid shorts and solid colored polo's, I hope that some of players are giving Corey Perry a hard time and not just of his golf ensemble.
For more information throughout the season follow me on twitter @m_drinnenberg and on Facebook here.