The Anaheim Ducks boast a lethal combination of size and skill, and improved by adding some much-needed speed in the offseason, bringing in Carl Hagelin and Mike Santorelli. Since winning the Stanley Cup in 2007, the Ducks hadn't made another Conference Final, that is, until last season.
They won the Pacific Division for the third consecutive year but fell short to the eventual Stanley Cup champion Chicago Blackhawks. They also are living with an unfortunate reputation of not being able to win game seven. They lost to Detroit in 2013, lost to the Kings in 2014 and then to the Blackhawks this past post-season. To add insult to injury, all three series were lost at home.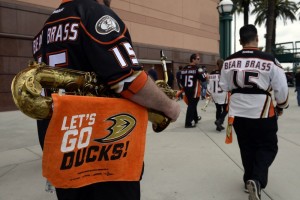 Their coach Bruce Boudreau has long enjoyed talented rosters with high expectations, but he has yet to appear in a Cup final. Reaching the third round was a step forward for both the team and their bench boss. But now, after bolstering their lineup, is it Stanley Cup final or bust?
2014-2015 RECORD: 51-24-7 (1st in the Pacific Division)
KEY ADDITIONS:
Carl Hagelin
Kevin Bieksa
Chris Stewart
Shawn Horcoff
Mike Santorelli
KEY LOSSES:
Matt Beleskey
Francois Beauchemin
Emerson Etem
Kyle Palmieri
FORWARDS:
Projected lines: 
Maroon-Getzlaf-Perry
Hagelin-Kesler-Silfverberg
Cogliano-Santorelli-Stewart
Horcoff-Rakell-Sekac
Ryan Kesler
Fresh off signing a brand-new contract, the Ducks are expecting a lot of Kesler. He's had time to settle into a new team and city, and they will be leaning heavily upon their second-line center to provide some much-needed secondary scoring. Unfortunately for Kesler, he's going to be judged by his contract, and his cap-hit, which is considered far too high by some. Kesler scored a career-high 41 goals in 2010-11 following a career-best 75 point season the year before, but he hasn't come close to those numbers since. He'll be 31 when the season starts, and the odds are against him that he'll reach those lofty totals again. At a salary of just over seven million dollars, will Kesler be able to provide bigger offensive numbers?
Carl Hagelin
The trade that brought in Carl Hagelin from the Rangers was seen as a good one, and the speedy winger is viewed as somewhat of a replacement for departed UFA Matt Beleskey. The two players are the same age, and Hagelin's 35 points eclipsed Beleskey's 32 last year. Ducks fans are going to love watching Hagelin fly up the wing and create havoc for opposing defencemen. Another plus in Hagelin's game is his strong play on the penalty kill. Expect him to see playing time on Kesler's wing, but he can easily slide onto the top line next to Ryan Getzlaf if Boudreau thinks it's time to move Patrick Maroon elsewhere.
Corey Perry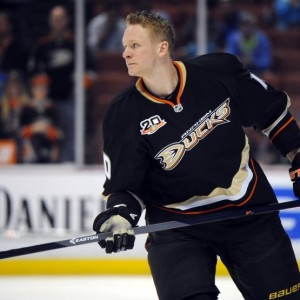 A knee injury limited Perry to 67 games last season, but he still put up 33 goals and 55 points. He's going to hit 30+ goals again in a full season; in fact it wouldn't be surprising to see him challenge for the Rocket Richard trophy. Perry is such a fierce competitor, he brings an edge to his game to go with that offensive prowess, and there's no doubt he's going to be fired up this season.
Ryan Getzlaf
Arguably the face of the franchise, captain Ryan Getzlaf found himself in the Hart Trophy conversation at one point last season, and his 70 points were tops on the Ducks. Getzlaf is always going to consistently put up points, but he went through goal droughts last season, which he would be the first to admit can't happen. The duo of Getzlaf and Perry is one of the most dangerous in the league and they will continue to be the heart and soul of this Ducks team. But the team will need more from contribution from other lines, and simply can't solely rely on their two big names to carry the load.
DEFENCE:
Projected pairings: 
Fowler-Despres
Lindholm-Bieksa
Stoner-Vatanen
Kevin Bieksa
Coming over from Vancouver in a trade this past offseason, 34 year-old Bieksa is going to provide some veteran leadership to a very young defence core. In many ways, his character can be seen as a replacement for the departed Francois Beauchemin. Bieksa isn't know for his offensive abilities, but he can chip in with a goal every now and then. He also shouldn't be considered a number one guy, but he's an ultra competitor and he brings a physical presence. While Bieksa's experience is a plus, there's a reason why he only cost a second-rounder.
Hampus Lindholm
Perhaps because he's buried out in the West Coast, Hampus Lindholm doesn't get as much love as he deserves. He's so poised and calm under pressure, and while his inexperience can show at times, he has the ability to recover and come back better on the next shift. He sees the ice well, he's a strong skater and he's probably the closest the Ducks have to an elite puck-moving defenceman. This season might see him finally getting some recognition.
Sami Vatanen
Another one of the Ducks great young blueliners, Sami Vatanen provided an offensive punch to the teams' back-end, putting up 12 goals and 37 points in 67 games. He added 11 points in the Ducks postseason run, and his defensive play has vastly improved over the past year. The Ducks will need Vatanen to continue to develop at a high rate, because youth is the makeup of this blueline, and they don't have many other options.
Simon Despres
Despres is a member of the Ducks thanks to one of the most lopsided trades of the year, and the former first-round pick is looking to show the Penguins they made a big mistake giving up on him. He's got a great shot, he can put up offensive numbers and he's got a mean streak to him. However his tendency to take bad penalties, or make an ill-advised pinch are reasons why he may find himself in the press box at times. But the Ducks need Despres to take his game to the next level, and establish himself as a reliable NHL defencemen. The tools are there. But now it's time for him to really step up.
GOALTENDING:
Frederik Andersen became the Ducks starter last season, and he's likely to get the number one job again this year, but his role shouldn't be seen as secure. The team brought in Anton Khudobin in the offseason, and promising John Gibson is still waiting in the wings. Andersen put up strong numbers last season, but had his struggles against the Blackhawks in the playoffs. Goaltending wouldn't be considered the Ducks strength, but the potential is there for a guy like Andersen to stand out because of his size and athletic ability. At this point, there's no guarantee who the full-time back-up will be, but there's a sense Gibson may be returned to the AHL. Khudobin didn't exactly set the world on fire last season, but he also played behind a pretty bad Carolina Hurricane's team. He'll get a chance to prove himself in Anaheim, maybe even enough to have Andersen looking over his shoulder.
BREAKOUT PLAYER:
Jiri Sekac
Montreal may have been too quick in giving up on Jiri Sekac, and conversely the Ducks may have gained a real gem. Sekac's first NHL season saw him score nine goals and 23 points, and a lot of that production came courtesy of high skill plays. Sekac had a tough playoff run, but he didn't see a lot of minutes and only appeared in seven games. There is still some refining needed in Sekac's game, but he showed a lot of chemistry with linemate Rickard Rakell. Sekac may not get a lot of playing time, but he can shine on the powerplay, and if he commits to improving his defensive game, he'll see his ice-time totals rise. He could be a very underrated part of the Ducks offence this season.
PLAYER WITH MOST TO PROVE:
Chris Stewart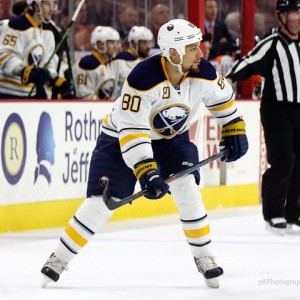 His acquisition may be seen as somewhat irrelevant, and a low-risk depth signing, but Chris Stewart is at a place in his career where he needs to start showing some more consistency if he wants to keep a job. Stewart is built to be the ideal power forward; he's strong and hard to move off the puck, and he has a lot of skill. But he has bounced around between five teams in his career, and now has a one-year deal with the Ducks to prove himself. He's the kind of player who has all the tools and talent, that teams feel he's worth the risk, and maybe they'll be able to help him reach his potential. Maybe Anaheim will be the perfect fit for Stewart. But, more than likely he'll show a few flashes of brilliance and cause more frustration than anything else.
SEASON OUTLOOK:
There are a number of questions surrounding the Ducks for the upcoming season. How will the goaltending hold up? Is their defence core too young? Do they lack a true number one defender? Is Chris Stewart a legitimate top-six winger? And if he isn't, who steps into that role? The biggest question is whether this team will be able to get to the next level or continue to fold under the pressure, as has been their custom the last few years. The Ducks are a good team. You can argue that they're better than last season. You can also argue that the rest of the Pacific Division didn't improve enough to knock the Ducks off their perch. Anaheim is a legitimate Stanley Cup contender, and they will be one of the favorites to win the Western Conference. While there are some unknowns with this lineup, they have enough consistency in their core, and there's some wiggle room under the cap to add more pieces. Look for the Ducks to challenge for a Stanley Cup final appearance once again, and be one of the favorites to win it all.