In Vancouver, British Columbia, fans are preparing for the 2015-16 hockey season as they have any other year. The only difference is that this year the team is facing harsh predictions of being the second worst team in the Pacific Division and having virtually no shot at a playoff push. The reality might be a bit different.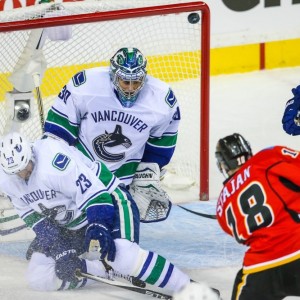 Some low-key names have made their way into town this summer and the integrity of the Canucks' roster has changed a bit. As has the franchise's goals – whether clearly stated or not – have changed as the team is obviously interested in youth and the future rather than making an all-out push for the Stanley Cup.
If recent years have taught hockey analysts anything, though, it's that parity is rampant in the National Hockey League and teams with the right concoction of veteran skill and youth energy have all the same shot at winning a Cup that any other roster does … and the Canucks may have put together a lineup that has just the right mix.
Regardless of the predictions, assumptions or results, there are some definite questions surrounding the Canucks and their roster choices going into opening night on Oct. 7 in Calgary, Alberta.
Will Willie Desjardins Stick to the Proven Arsenal of the Sedin/Sedin/Burrows Trio?
For whatever reason, longtime Canucks winger Alexandre Burrows has taken some heat from certain fans in Vancouver looking for a change of scenery, but it shan't be forgotten that Burrows is responsible for the Sedins' best seasons ever. He was an integral part of the twins' back-to-back Art Ross Trophies. Burrows himself has seen some highly productive seasons next to the Sedins, as well – more than any of their other experimented linemates. Radim Vrbata was a good option at times last year, but played far too similar to the Sedins and didn't give them that net presence that is so effective with Burrows.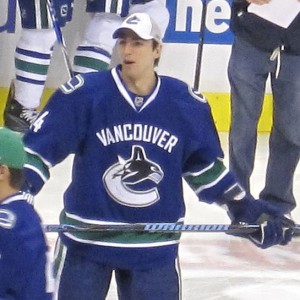 Should the coaching staff go with Burrows on that line, they will surely take heat from about 50 percent of the Canucks' fan base. Nothing new there. To have that first line followed by Vrbata playing with Sven Baertschi and Brandon Sutter would give the Canucks some lethal scoring options all through the top-six.
What Will the D-lines Look Like?
Losing Kevin Bieksa via trade this summer was a definite hit to the core of the Canucks defense and especially to the team's fans, but Benning took it upon himself to construct a sneakily steady top six that includes Alexander Edler, Dan Hamhuis, Christopher Tanev, Yannick Weber, Matt Bartkowski and Luca Sbisa.
There is a whole lot of offensive power and pizzazz locked up in both Edler (who had a comeback year in 2014-15) and Weber, who had a breakout year. Hamhuis, Tanev and Bartkowski all offer strong defensive puck-moving abilities. The only player in the top-six who has yet to fully define himself is Sbisa. Clearly with his three-year extension worth more than $3 million a year, Benning & Co. see immediate potential.
Hamhuis and Weber had some impressive chemistry, as did Edler and Tanev, which would leave Sbisa and Bartkowski as the third pairing. That could spell some disaster, though, as neither Sbisa nor Bartkowski has proven themselves capable of quarterbacking a defensive pairing. Maybe being thrown into the position will push one of them to step up.
Which Rookie, if Any, Will Earn Himself a Roster Spot?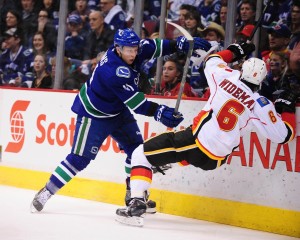 Although youngster Jake Virtanen has garnered a whole lot of media attention this summer as a legitimately viable option to make the 2015-16 opening night roster, it's more than likely that Virtanen will spend one more year with his Western Hockey League club in Calgary. Last season, Virtanen came off of a serious shoulder injury and returned with some serious impact, earning more than a point per game. However, for it to make sense to have Virtanen stick with the NHL club, he would have to be getting at least third-line minutes, which doesn't seem likely given the current makeup of the Canucks roster.
So minus Virtanen, who is the next of kin to take the big step forward?
If the Canucks management has brains of any sort – which I'd imagine they do – they won't stick one of their potentially top-six forwards in a fourth-line (or even worse, extra forward) role. But someone who earned themselves some big time attention as a highly effective energy player last year was Latvian forward Ronalds Kenins.
Kenins suited up for 30 regular season games with the Canucks and recorded four goals and eight assists. He was a physical force and often times seemed to tip the game in the Canucks favor through pure energy. The only other player that would be a safe bet to fit the bottom-six role would be Alexandre Grenier, who at 23-years old has flown mostly under the radar. Grenier had 17 goals last year for Utica and was effective in every role he was given.