The Anaheim Ducks entered the 2015-16 season with a realistic dose of optimism. They'd pushed the Chicago Blackhawks to the brink in the Western Conference Final the season prior, putting a scare into the eventual Stanley Cup champions. Though that series ended in disappointing fashion having been up 3-2 at one point, the Ducks' front office seemed optimistic. General manager Bob Murray signed a slew of quality veterans, including Chris Stewart, Mike Santorelli, and Shawn Horcoff to affordable deals.
A re-loaded Anaheim roster was expected to light the league on fire. Instead, they came out flat, with one lonely win through 10 games. With his team absolutely snake-bitten, head coach Bruce Boudreau righted the ship by making his team a defensive juggernaut. The goal-scoring never really recovered, but it didn't seem to matter with Anaheim routinely choking the life out of its opponents.
In the end, it was all for naught. The Ducks blew another 3-2 series lead against the Nashville Predators, bowing out in yet another Game 7. It cost Bruce Boudreau his job, marking the return of Randy Carlyle behind the Anaheim bench. With a new/old bench boss, a reshuffled roster and aging stars, the optimism that marked the beginning of 2015-16 has been replaced with uncertainty going into 2016-17.
Team 2015-16 Record: 46-25-11 (1st in the Pacific Division)
Offseason Moves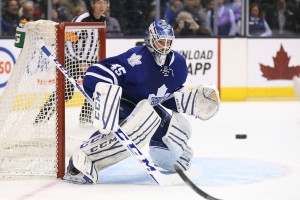 Key Roster Additions:
C Antoine Vermette
G Jonathan Bernier
LW Mason Raymond
RW Jared Boll
Key Roster Losses:
LW David Perron
LW Jamie McGinn
RW Chris Stewart
G Frederik Andersen
Key Organization Changes:
With Carlyle back calling the shots, it's fair to expect that Anaheim won't be nearly as dominant at even strength. He retained Boudreau's assistants, Trent Yawney and Paul MacLean, so perhaps some of Boudreau's sound tactics will live on this season. The Ducks had the league's best special teams last season, a task generally left up to the assistants, so expect that to continue. Gone is David Perron, a key cog in Anaheim's resurgence last season. Jamie McGinn also meshed really nicely into the Ducks' lineup, but he's gone to Arizona. Chris Stewart struggled to stay healthy, but he was effective when he was in the lineup.
In their places, Murray brought in Antoine Vermette, Mason Raymond, and Jared Boll. That's a considerable drop-off in goal-scoring ability. In net, Frederik Andersen was shipped to Toronto, effectively leaving John Gibson as the unquestioned starter. It remains unclear whether Anaheim will be able to retain both Rickard Rakell or Hampus Lindholm, which could have a dramatic influence on their playoff hopes.
From Ducks Archives – The New Reality of the Anaheim Ducks
Forwards:
Projected Lines:
Nick Ritchie – Ryan Getzlaf – Corey Perry
Andrew Cogliano – Ryan Kesler – Jakob Silfverberg
Mason Raymond – Rickard Rakell – Chris Wagner
Ryan Garbutt – Antoine Vermette – Jared Boll
Ryan Getzlaf
https://youtu.be/YWUmZth7y_Y
Getzlaf had a season from hell, as far as goal-scoring is concerned. He managed to pot 13 goals with a cruel seven percent shooting percentage. That figure is bound to improve in 2016-17, almost by sheer virtue of it being so low. Throw in the fact that Getzlaf still shot the puck at a healthy rate last year, there's no reason not to expect a bounce back season from the Ducks' captain.
With his supporting cast severely diminished, he'll be asked to carry an even greater load than he did last year. Nick Ritchie could lighten that load if he proves that he belongs in the NHL, but that very much remains to be seen. Although he's now firmly on the wrong side of thirty, expect another good season in what has been an illustrious career.
Corey Perry
While his teammates struggled to even hit 20, Perry lit the lamp 34 times in 2015-16. Most importantly, he played all 82 games after having missed 15 contests in 2014-15. Although he's never really been an injury risk throughout his career, it was still encouraging to see him play a full season as he enters the latter stage of his career.
Boudreau tried to separate him from Getzlaf at times, to mixed results. He eventually found some chemistry flanking Rickard Rakell. Barring injury, the 31-year old Peterborough native should provide another sparkling offensive season.
Rickard Rakell
The 22-year old Swede's future with the Ducks is momentarily murky. While his camp and the organization seem to agree on the length of his contract, there's a considerable gap on the dollars and cents. He'll remain in Sweden until the contract is signed, which could throw a serious wrench into the Ducks' early-season success.
That's because not only is Rakell already extremely talented, but he's also their only truly offensive center after Getzlaf. He also represents the Ducks' post-Getzlaf/Perry era, so Murray would be wise to bring him back in a hurry. Provided he plays for the Ducks this season, it shouldn't be a surprise if he reaches close to 30 goals and 70 points. He's that good.
Defense:
Projected Pairings:
Hampus Lindholm – Josh Manson
Sami Vatanen – Simon Despres
Cam Fowler – Kevin Bieksa
Hampus Lindholm
Lindholm, like his fellow Swede Rakell, is also holding out for a contract. Under the guise of clearing up cap space, Ducks' management traded Andersen and let go of a number of effective wingers. That would have been a great move, except that they brought in worse players and didn't appreciably add cap space. So, Anaheim faces a potentially franchise-altering conundrum.
They have $7.52 million in cap space, with Lindholm asking for upwards of $6 million and Rakell upwards of $3 million. The math just doesn't add up, unless the Ducks shed some salary through trade. Wherever Lindholm ends up, he'll continue to assert himself as one of the ten best defensemen in the entire league at age 23. Should he return to Anaheim, he'll lead an already potent defense corps with his slick puck-moving and strong positional play.
Sami Vatanen
Vatanen struck payday early in the summer, signing a meaty four-year, $19.5 million deal. His defensive game isn't exactly elite, but he more than makes up for it with his offensive prowess. For someone charitably listed at 5′ 10″, the 25-year old Finn possesses a booming slap shot that opens up the chess board for Anaheim's power play.
Shifty in the neutral zone, he's also adept at evading forecheckers in his own zone. Perhaps it's his smaller frame that bears the brunt of his relentless style, but Vatanen seems to consistently miss chunks of time each season. A full 82 game slate would be welcome by Anaheim's coaching staff, but even without that, he'll continue to be an offensive catalyst for their blueline.
Josh Manson
Manson had a bit of a coming out party last season. A relative unknown going into 2015-16, he was called up from San Diego early in the season and never looked back. Paired with Lindholm, he quickly cemented himself as one of the league's best two-way defensemen.
The two of them formed a dominant pairing, spurring on an excellent defensive season for the Ducks as a whole. Though playing with Lindholm certainly helped Manson, there's no doubt that he's an excellent player in his own right. Relatively young at 25, his game should continue to improve regardless of Lindholm's future with the team.
Goaltending:
It took a two-year long audition, but the debate is now settled: Gibson is the man in Anaheim. He fizzled out in 2015-16 with a lackluster playoff performance, but it clearly didn't dissuade Ducks' brass from anointing the 23-year old as their starter. On a team that's not exactly flush with offensive firepower, Gibson will have to come up big in a bevy of close games. He has the temperament and physical tools to do it, but it remains to be seen if he's capable of handling true starter minutes.
Related – Ducks Player Projections – Jonathan Bernier
Don't be surprised if Carlyle decides to give Bernier more starts than the average backup to mitigate Gibson's relative lack of experience. Bernier hasn't been good in a while, but there's reason to believe he'll improve behind a blue line that's far superior to the one he had in Toronto. Goaltending won't be the problem in Anaheim in 2016-17, but it won't be an overwhelming strength either unless Gibson takes a huge leap forward.
Breakout Player:
Rakell set career highs last season with 20 goals and 23 assists at 22. That'll prove to have been just the prelude to what should be his true breakout season. With Ryan Kesler on the decline offensively, Rakell will be tasked with more responsibility, a task that he's more than capable of fulfilling.
Only the Ducks' coaching staff's insistence on giving Ryan Kesler big minutes could stunt a breakout season for Rakell. With Kesler aging and Rakell only getting better, though, that possibility seems less and less plausible. The only question is: will Rakell break out in Anaheim or another city? The next few days of contract negotiations should answer that question.
Player with Most to Prove:
The low-hanging fruit here is Getzlaf. With only 13 goals as the captain of the team, it'd be easy to pin the blame on the franchise's highest-paid player. He'll be fine. The young Gibson, however, has everything to prove. He wasn't good in the playoffs, and his regular season wasn't particularly outstanding. In spite of all that, management has handed him the keys to the city. The potential is clearly there for Gibson, but now he'll have to prove it on a nightly basis. Gone is Andersen, whom he could always count on to be compared to, thus perhaps lowering the bar. There's no one challenging him anymore, so the franchise' fortunes in net ride almost solely on him. That's an unenviable amount of pressure.
First Players in the 'Call-Up' Line:
In a bit of a surprise move, the Ducks sent down Shea Theodore and Brandon Montour down to San Diego in favor of Jacob Larsson. Theodore impressed in his brief Anaheim stint last season, while Montour led the San Diego Gulls in scoring as a defenseman. Theodore might have the inside track, but management also seems to be getting closer to testing Montour in real NHL games. Given the Ducks' lack of scoring depth up front, it wouldn't be shocking for them to give Stefan Noesen or Nick Sorensen a look to spark the offense.
Season Outlook:
It's hard to be comfortably optimistic about the 2016-17 Ducks. On one hand, they still boast one of the league's best blue lines. On the other hand, they're devoid of scoring punch up front. They struggled to score goals last year, and it's impossible to argue that they improved their odds of changing that. Gibson is certainly promising, but he remains unproven. That's all without mentioning Carlyle. If he's truly adapted to the current state of the NHL as he claimed in his introductory press conference, then maybe Anaheim can surprise a lot of people.
Look, this Ducks team is flawed. There's no denying it. What they don't have has dominated discussion this summer, so here's what they do have: an elite blueline, a bonafide first line (and potentially a really good second line) and an intriguing young goaltender. In the Pacific Division, that should be enough for a playoff berth. It won't be easy, though.
Team 2016-17 Record Prediction: 41-30-11 (3rd in the Pacific Division)
Make sure you ask them to comment below or take to the THW Twitter feed or Facebook page to give their own opinions.