The Anaheim Ducks' season ended with a disappointing Game 6 loss to the Nashville Predators on Monday. Regardless, there were many positive aspects of the Ducks' playoff run and season as a whole. For one, they finally beat their Game 7 curse by defeating the Edmonton Oilers in the second round. They were crowned the Pacific Division champions for the fifth year in a row. And although the Ducks' core is aging, many younger players stepped up, including 24-year-old Rickard Rakell, who scored 33 goals this season, a career-high.
Despite the loss, the Ducks have a lot to look forward to in the coming year. Here are three takeaways for Ducks fans who may need some positivity:
Anaheim Ducks Have a Talented, Young Defense
During the regular season, the Ducks' defense was ranked third in the league, and they will continue to be that good next season. With the exception of Kevin Bieska, the Ducks' defense is filled with speedy skaters all under 25 years old. Many of them haven't hit their peak yet and will only get better with time.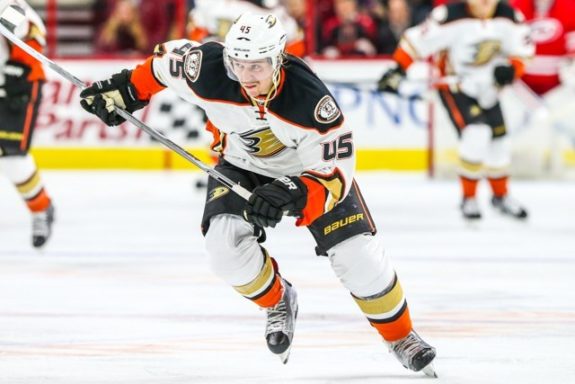 Bob Murray smartly selected a defenseman every year from 2009 until last year. In 2015, he chose Jacob Larsson, a 6-foot-2, 190-pound 20-year-old. He has primarily played with Frölunda in the Swedish Hockey League, though he spent four games with the Ducks this year before he was given back to Frölunda on a loan where he finished out the season. He has been called a two-way defenseman with excellent skating abilities and puck-handling skills. In a couple of years, he may be able to play full-time with the Ducks.
After all, the Vegas expansion draft will negatively affect the Ducks. If the Ducks decide to go the 7-3-1 route, and they most certainly will since the 4-4-1 direction would force the Ducks to lose their best forwards, they can only protect three of their seven defensemen. On top of that, Bieska has a no-movement clause, so unless the Ducks find a way to convince him to waive it, or simply, trade him or buy him out, he will have to be protected. Luckily, both Shea Theodore and Brandon Montour, who came into his own during the series against the Predators after finishing the postseason with a plus-12, are exempt.
Related: Complete Ducks Salary Cap Information – Roster Players and Prospects
That leaves Hampus Lindholm, Sami Vatanen, Josh Manson and Cam Fowler. Lindholm will almost certainly be protected, and hopefully, Josh Manson will too as he is the Ducks' only physical presence on their blue line with the exception of Bieska. Fowler only has one year left on his contract, and Ducks fans have heard of trade rumors surrounding him for years. Without a doubt, he is the Ducks' biggest trading asset so they could try to get something for him before the draft.
John Gibson as a Starting Goaltender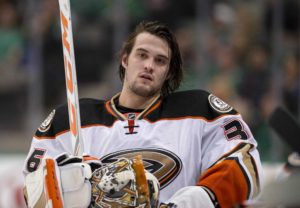 Last year, the Ducks had to make a difficult choice. The goalie tandem of John Gibson and Frederik Andersen had combined for the lowest goals-against average in the league, but with both contracts expiring in the offseason and cap space dwindling, the Ducks simply couldn't keep both. They took a gamble and re-signed the 23-year-old Gibson over the older and more experience Andersen, making Gibson one of the youngest starting goaltenders in the league.
Gibson had a decent regular season. He had a 25-16-9 record with a .924 save percentage and a 2.22 goals-against average. These aren't spectacular numbers, but there are more advanced stats to evaluate goaltenders. When looking at Gibson's goals saved above average, which is a number taken from the number of goals he prevented given his save percentage and shots against compared to the league average, he ranked sixth in the league with 15.36. He had seven really bad starts, which are starts with a save percentage below 85 percent, and 28 quality starts, bringing his percentage to .571. Not great, but not horrible; kind of like his season as a whole.
The plus side for Ducks fans is that Gibson is still super young, and goaltenders tend to hit their peak later in their careers. For more information and in-depth analysis on that, look at this.
Gibson played well for the Ducks during the postseason, though his stats don't show it. A .918 save percentage and a 2.59 goals-against average aren't great, but he was sorely missed in Game 6 against the Predators. Although sometimes he can scramble—as young goaltenders do—and end up on his stomach, making him vulnerable, he is a young goaltender who will only get better. Look at this save on Filip Forsberg to keep the Ducks ahead in Game 4:
Young Forwards Step Up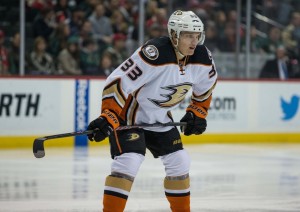 As mentioned previously, the Ducks' youth played a huge part in the postseason. Rakell was excellent all year and continued that in the playoffs, scoring seven goals with six assists. The slightly older Jakob Silfverberg also had a wonderful year after tallying 23 goals and 26 assists. During the playoffs, he lead the team with nine goals, two of which were game-winners. Because of that, both of them should be protected in the upcoming expansion draft.
Speaking of the expansion draft, 21-year-old Ondrej Kase is thankfully exempt and is on his way to becoming a full-time NHLer. He played in nine games during the playoffs and scored twice. This year, he split his time between the Ducks and their AHL affiliate, the San Diego Gulls. Drafted all the way back in the seventh round, Kase could become a huge steal for the Ducks next year.
The Ducks needed offensive production from their youth this season. Corey Perry suffered a lackluster season and only scored 19 goals. Despite criticism, he played well in the playoffs and led the team in game-winning goals with three, meaning Perry scored when he was needed since he only tallied one other goal besides those game-winners. As he grows older, his production will decline and the Ducks will need more scoring from younger players. Luckily, players such as Rakell and Kase are young enough that they will continue to get better.
The loss is disappointing to Ducks fans, but the team's future is bright. After all, there is always next year.