The Anaheim Ducks early-season injury bug is partially to blame for the team's mixed results so far. However, the effects of these injuries influence more than just wins and losses; they might have changed the futures of Max Comtois, Isac Lundestrom and the Ducks.
Injuries and Rookie Rules
So far this season, Ryan Getzlaf and Ryan Kesler have both missed time with injuries and Ondrej Kase, Patrick Eaves, Carter Rowney, Jakob Silfverberg, Corey Perry, Nick Ritchie and even Comtois himself now, are all injured.
This graphic illustrates just how bad it's been for the Ducks:
NHL top 5 teams, man-games lost. Number in brackets is their league ranking when injuries are quality adjusted (Lost-ps metric). Florida is 1st in Lost-ps.

ANA 56 (7)
STL 48 (16)
PHI 42 (11)
FLA 36 (1)
OTT 36 (8)
ARI 36 (23)https://t.co/OlFZe07rxV

— Man-Games Lost NHL (@ManGamesLostNHL) October 25, 2018
Even more staggering is the fact that these players are all forwards. This has forced Bob Murray and Randy Carlyle to play Comtois, Lundestrom and other rookie forwards more than they might have otherwise. Comtois has played in 10 games so far, Lundestrom in nine.
The NHL has two specific rules covering junior-aged rookies that most hockey fans know by now. If a rookie plays in 10 NHL games, a year of his entry-level contract is used up. If the player skates in 40 games, he moves one year closer to unrestricted free agency.
Consequently, the Ducks have burned a year off Comtois' contract while Lundestrom is just a game away from that same status. Though NHL general managers seem to care more about the 40-game free agency barrier, Murray acknowledged that he's got a tough decision in a quote to Lisa Dillman of The Athletic,
"I've always said this, the 10 (games) is not the total critical number," Ducks general manager Bob Murray said. "Again, it's all about what's best for the hockey team. Again, it might be tough to keep both of them." (from 'Ducks and Kings taking different paths with younger rookie forwards, for now', The AthleticNHL — 10/24/18)
Murray's decision is difficult.
Obviously, it's too early to predict exactly how Comtois and Lundestrom will develop.
Additionally, NHL expansion has added another wrinkle into Murray's decision-making process. By stating, "it might be tough to keep both of them" Murray means it may be tough to keep them on the Ducks' roster this season, but he also may be alluding to their futures as Ducks property.
Comtois & Lundestrom: Too Soon, Too Late or Just Right?
Comtois and Lundestrom have shown that they can keep up at the NHL level. At this point, Comtois has scored seven points in 10 games and has already put himself in the conversation with Hall of Famers.
Lundestrom has shown poise with the puck already, like on his first (and only) NHL point on this assist against Dallas.
If both players do pan out, they could be targets of the new Seattle franchise, which is basically a formality at this point. Gary Bettman has said he wants the team to begin play either in 2020-21 or 2021-22 depending if the Seattle Arena is ready in time.
That two-year span has huge implications for the Ducks and whether they will be forced to protect their young players or established veterans in the expansion draft, as Eric Stephens of the Athletic explained in a recent article.
Basically, if the expansion draft for the Seattle team happens after the 2020-21 season, Comtois and potentially Lundestrom — if he plays one more NHL game — will be second-year pros and automatically ineligible to be drafted. If the draft happens a year later, they will be in their third year and must be designated for protection.(from 'Ryan Getzlaf calls Ducks play 'fucking embarrassing' in loss, says team hung goaltender out to dry',  The AthleticNHL — 10/26/18)
You can refresh yourself on the rules here.
On the other hand, if Murray sends Lundestrom back to Sweden or the AHL, then he'd be ineligible for the expansion draft in 2020 or 2021.
The Ducks must also consider how they allocate their payroll in relation to the salary cap.
Bob Murray's Budget Considerations
The Ducks are scheduled to have $38.695 million of their salary cap allocated to seven player contracts through the 2021-22 season. That's almost half of the current salary cap to less than half of the team.
It's impossible to predict if the salary cap will climb or fall by then, or who will be traded to or from the Ducks. Still, that's a lot of money for not a lot of players.
Kase, Ritchie and Sam Steel will enter restricted free agency after the 2020-21 season, the same time that Comtois will and Lundestrom could if he plays one more NHL game. Murray will also have to decide how much to pay Kiefer Sherwood, another productive rookie, and defenseman Brandon Montour after 2019-20. In the age of the "bridge deal" delaying Lundestrom's restricted free agency could buy them valuable flexibility going forward.
Murray's decision will determine just how close Anaheim comes to butting up against the salary cap, especially if Steel, Comtois, Sherwood and Lundestrom live up to their potential.
Anaheim's Rookie Development Dilemma
If Murray does decide to delay Lundestrom's 10th game, the question will become where he should send the Swede and whether he's better off there than the NHL. Lundestrom himself described the challenge that comes with continuing to play in the NHL when he spoke to The Athletic.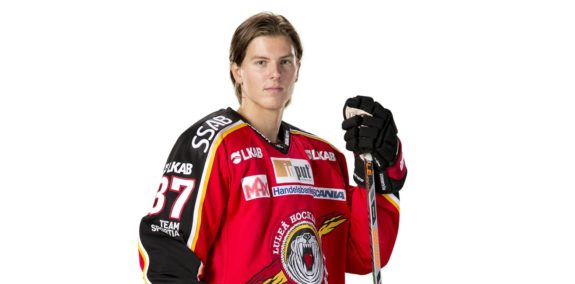 "You need to be a little bit more harder with the puck and do the right things out there," Lundestrom said. "You don't have much time and you can't turn off and go back to the D-zone and do a little bit (of that) as in the SHL." (from 'Ryan Getzlaf calls Ducks play 'fucking embarrassing' in loss, says team hung goaltender out to dry',  The AthleticNHL — 10/26/18)
Lundestrom's point about decision-making time has as much to do with the speed of the NHL game as it does with the ice size. NHL-sized rinks are about 15 feet narrower than international-sized rinks. More space means more time to react. This may help make the decision for Murray, who could elect to assign Lundestrom to the AHL, which plays on the NHL-sized ice.
As mentioned previously, Comtois' contract has already entered its first year and can't be pushed back, but if the Ducks wanted to send him down, he'd have to be returned to his QMJHL team, the Victoriaville Tigers and not the AHL.
This likely played a role in Murray's decision on Comtois as he has shown he can contribute in the NHL, and the QMJHL may not challenge him enough.
For both Lundestrom and Comtois, Murray's decisions depend on so many factors, it's enough to give someone an ice-cream headache. His choices now will determine the development of his key rookies and possibly how long into the future they will play for Anaheim.
Choose wisely, Bob.
Anthony Ciardelli grew up in Vermont and New Hampshire but now lives in Los Angeles. Though he was raised a Bruins fan, he quickly came to enjoy the hockey culture in Southern California and the rivalry between the Kings and Ducks. He covered USC Athletics while pursuing his journalism masters there. He also enjoys doing play-by-play for USC Trojan Hockey.