It's almost time. The 2014-15 NHL season is five days away. With only a handful of preseason games left around the league, there will be a flurry of final cuts and transactions as teams trim their rosters before the Tuesday deadline.
There's a ton to take in during training camp, with dozens of line combinations, injuries, contract disputes, and battles for those coveted final few roster spots.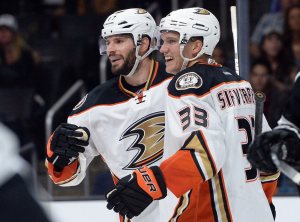 The Anaheim Ducks have made some significant moves over the past few months. They brought in gritty center Ryan Kesler, defensive center Nate Thompson, and former elite marksmen Dany Heatley, while saying goodbye to incumbent keeper Jonas Hiller, stalwart defenseman Stephane Robidas, and Teemu Selanne, president of the Bruce Boudreau Hate Club.
There have been emerging storylines and questions that have surfaced for the defending Western Conference champs as they wrap up their preseason tomorrow when they host the Sharks. Here's a wrap-up of what's been going on at the Pond.
---
Anaheim is 2-3-1 in the preseason, with their only two wins coming from a split-squad game against Colorado. So, technically one win. They've only scored six goals in the four losses.
Heatley, a former 50-goal man, was brought in to audition for that coveted left wing spot beside Ryan Getzlaf. It didn't take him long to get going, scoring minutes into his preseason debut. He leads the team in preseason scoring, but is out with a groin injury. Shame, as he seemed to be clicking with the Dynamic Duo.
Having said that, it is the preseason, and I don't expect Heatley to keep the top line role. I like Jakob Silfverberg as the long-term option there, but for this season, look for either Patrick Maroon to do his best Dustin Penner impression, or for plugger Matt Belesky to be the luckiest guy in hockey.
After a strong post-season, Rickard Rakell looks like he'll crack the roster as a full-time player. The former first round pick (30th in '11), is a solid two-way presence and should get ample playing time in the top nine. Fellow youngster Emerson Etem looks like a shoo-in as well with his tremendous speed and power.
Kesler had a strong debut for the Ducks in a shootout loss to the defending Stanley Cup champs, the L.A. Kings. He scored his first as a Duck while winning 14 of 19 faceoffs – exactly what he was brought in to do.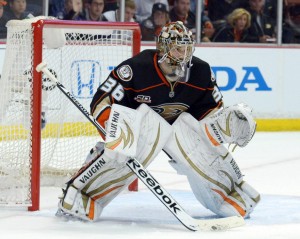 The biggest question in training camp: who'll be the opening night starter? Have to figure Freddie Andersen has the edge here. More experienced, and there's one thing he has that super prospect John Gibson doesn't – a preseason win. The young American has lost all three of his starts, stopping 86 of 96 shots for a subpar .896 SV%. Don't be surprised if Gibson is sent to down to the AHL, as the Ducks signed capable backup Jason LaBarbera, who also has more wins than Gibson in his only start.
The other unresolved battle is on blue line between Sami Vatanen and Hampus Lindholm for extra PP time. Getzlaf and Fowler man the points on PP1, so the two youngsters are left to duke it out for ice time on PP2. Both are quality puck movers, but I like the undersized Vatanen in the role. He's more dynamic offensively, while Lindholm is so well-rounded, Boudreau will want him for 5-on-5 and PK situations. Both are huge upside players and big pieces of Anaheim's future.
An area for concern is that power play. After finishing a lowly 22nd in PP efficiency last season, the Ducks haven't scored a PP goal in six games, including an epic 0/6 against the Kings in their most recent game. Kesler should help with his big shot, but they don't seem to have figured it out yet. Could be a big issue for them if they want to keep their lofty position in the West.
Freelance sports writer. Ex-intern at The Hockey News and 680 News.