The Anaheim Ducks finished the regular season with five consecutive victories and a 26-10-5 home record. Things were looking up for them as they got to open the postseason at home against the San Jose Sharks.
Those positive feelings quickly disappeared. The Sharks dominated the Ducks en route to a convincing 3-0 victory in Game 1 Thursday evening at Honda Center. They never allowed Anaheim to generate a sustained attack offensively. Even as the Ducks were able to fire more shot attempts in the third period, it never really seemed as though they were threatening San Jose, which protected its lead with relative ease.
Here are three takeaways from Game 1 that could spell trouble for the Ducks unless they find a way to rectify or at least compensate for them.
Lack of Discipline Sinks Ducks
Penalties were an issue all season for the Ducks. They committed the fourth-most infractions (346) in the league during the regular season. A strong penalty kill and great goaltending assuaged the issue enough, but if they are not careful, it will burn them in the postseason.
In Game 1 against the Sharks, the Ducks took six penalties compared to San Jose's three. The Sharks only scored once during a two-man advantage, but A) that goal opened the scoring and the floodgates for the Sharks, who scored two more goals shortly after that, and B) Anaheim's ability to generate any semblance of flow or a consistent forecheck was constantly negated, as the club took two penalties in the first period, three in the pivotal second frame, and one in the third.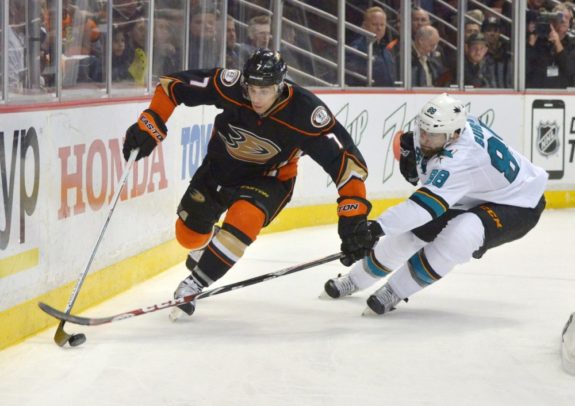 Besides the fact that the Ducks play a physical game, part of the reason for the penalties was the fact that the Sharks were largely dictating play over the first couple of periods. It all snowballed to a 25-13 shots-on-goal advantage for San Jose through 40 minutes.
"We were OK in the first period," said team captain Ryan Getzlaf. "We didn't really come out flat, but we didn't execute with the puck at a high enough level in the first period. In the second period, we were chasing the game a little bit and (that) resulted in us taking too many penalties."
"Way too many penalties," said defenseman Francois Beauchemin. "When we had success down the stretch (of the regular season), we didn't take as many. One or two a game. That's it. It was uncharacteristic for our team."
Sure, this might have been uncharacteristic for the Ducks' most recent stretch, but they will need to make sure they don't devolve into the penalty-taking ways that plagued them for much of the year. Otherwise, a good team in the Sharks will make this a quick series.
Evander Kane Is Here to Play
One player the Ducks did not see in a Sharks uniform in any of their four meetings in the regular season was forward Evander Kane. The Sharks acquired Kane from the perpetually floundering Buffalo Sabres at the trade deadline. The dynamic 26-year-old Vancouver native paid immediate dividends for his new team, tallying nine goals and five assists in just 17 games.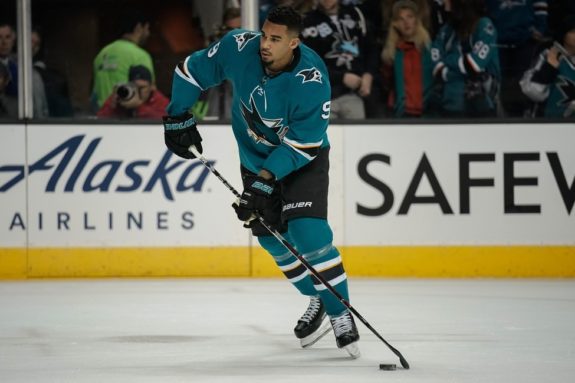 Despite having never before gotten a taste of NHL playoff hockey since entering the league in the 2009-10 season with the then-Atlanta Thrashers, Kane was confident and excited about what he could do for the Sharks in the postseason.
"I've said it in the past: I think I'm a playoff player," Kane said on April 9, three days before Game 1. "I've watched the playoffs and when I look at the style of play and it's something I was jealous because I wasn't involved in it. Now I get that opportunity and I have to back those words up."
Back them up he did, as he scored the first two goals of the game to put San Jose in the driver's seat. His 5-on-3 marker got things started for the Sharks, and not long thereafter, he finished off a pretty 2-on-1 rush with Joe Pavelski by making a slick move to his backhand in tight to beat Ducks goaltender John Gibson.
Even without Joe Thornton, the Sharks boast a bevy of skilled forwards for the Ducks to worry about. Now Kane is added to that list, and Anaheim will have to find a way to contain him and potentially agitate him to get him off his game, because he is locked in right now.
Ducks' Kesler Still Struggling
Speaking of agitating, noted antagonist Ryan Kesler might have trouble filling that role as well as he normally does, as Game 1 provided more troubling evidence that he is not close to 100-percent health following offseason hip surgery.
Normally one of the game's best two-way centers, Kesler tallied a paltry 14 points (eight goals and six assists) in 44 regular-season contests and had trouble creating quickness and explosiveness in his skating. That continued in Game 1, where he also took two penalties that fed into the epidemic that derailed his team.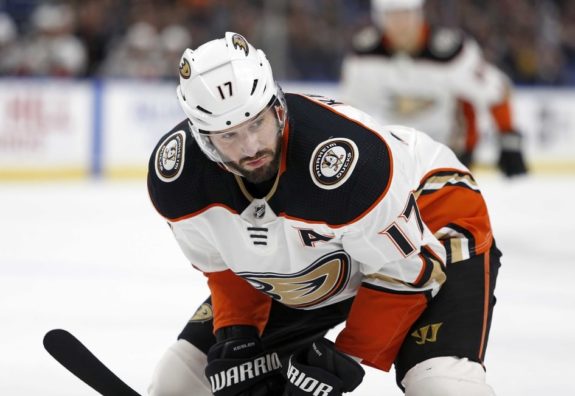 It's understandably been a struggle for the 33-year-old Kesler this season. With that, he has seen less ice time; his average of 18:02 per game was his lowest since the 2006-07 season, when he played in just 48 games for the Vancouver Canucks. On Thursday night, he was in line with his season average with 17:26 of ice time.
Kesler's overall effectiveness is undoubtedly compromised, but the Ducks will need him to help in a shutdown role as much as he can, especially against a potent team like San Jose.