The name "Brad Richards" evokes various reactions from various groups of people.
On one hand, Richards is a two-time Stanley Cup winner. On the other hand, he was unceremoniously bought out by the New York Rangers last year. With such a long career, and as a player approaching the twilight of his career, what kind of impact can Brad Richards have on the Red Wings this season?
History
Brad Richards has quite a storied career. He finished second in Calder voting in his rookie year to Dany Heatley, back in 2000-2001. He was in consideration for the Lady Byng Trophy for 10 straight seasons, and 12 seasons total, winning it (along with the Conn Smythe) in 2003-2004 when he won the Stanley Cup with the Tampa Bay Lightning. He has put up two 90+ point seasons, six 70+ point seasons, and has scored 20+ goals in 10 different seasons. A bona-fide scoring machine, Richards is quickly approaching the 1000 point plateau (currently sitting at 904).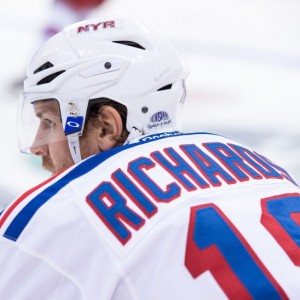 In his last three seasons (two with the Rangers, one with the Blackhawks) Richards has owned a Corsi For of over 54%, and has defensive zone starts at an average of 52.5% of the time. He has gone from being a scoring machine, to a very reliable centre.
Last Season
The Blackhawks made a big move in signing Brad Richards, adding a proven winner to their roster for only $2 million for one season. Two months into that season, he was put on a line with Patrick Kane, and didn't miss a beat. Kane had only 33 points in 5-on-5 situations this past season, and 24 of those came with Richards on the ice. The two developed great chemistry, and Richards showed that he can still hang with the elite in the NHL, playing mostly with either Kane or Hossa on his wing.
Of his 12 goals last year, 10 came at even strength, so the man can still go; he is not simply a power-play expert. 61.8% of his shots taken hit the net last year (64.8% at even-strength), which was a career high for Richards, demonstrating that he played an incredibly smart game in Chicago. Scott Powers of ESPN gave Brad Richards a final grade of "B" for his season in Chicago which is a fairly good grade for someone who was being paid $2 million dollars a season.
Projected Role
With Pavel Datsyuk projected to miss playing time when the season starts, it seems as though Richards will be filling the number-one centre role until he is ready to return. Even if Blashill decides to put Zetterberg as the centre on the first line, that puts Richards firmly in the number-two spot, presumably playing with Tatar and Nyquist. Eventually, when Datsyuk returns, Holland said that he signed Richards to play as the team's number-two centre, which is a great fit for Richards.
Ken Holland & Jeff Blashill visited Pavel Datsyuk Tuesday. When told team would make move so he & Zetterberg play together, very happy.

— Helene St. James (@HeleneStJames) July 1, 2015
Considering his continuing ability to play with the elite, and the rumours that Datsyuk is looking to play more on the wing in his last few years in the NHL, there is the potential for Richards and Datsyuk to play together. The top six forwards of the Red Wings will change all season, with the likes of Datsyuk, Zetterberg, Helm, Richards, Abdelkader, Tatar, Nyquist, Sheahan and the possibility of guys like Pulkkinen, Jurco and others cycling in.
Richards has often played the point on the power play, which gives the Wings even more options with their man advantage. With Richards on the back-end, that gives players like Pulkkinen and Sheahan some power play time, while still giving players like DeKeyser, Green, and Kronwall chances to get their hands dirty at 5-on-4.
Here's what the folks at DailyFaceoff think the Wings power play could look like: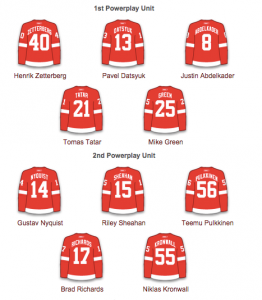 Predictions
Considering Richards had 12 goals and 37 points in 76 games last season, similar numbers are a fair prediction. With the chance to play on the first line for the first month or so of the season, it wouldn't be shocking to see Richards put up 45-50 points with the Red Wings this season. Being the set-up man that he is, players like Nyquist and Tatar are salivating at the chance to play with the 35-year-old Richards.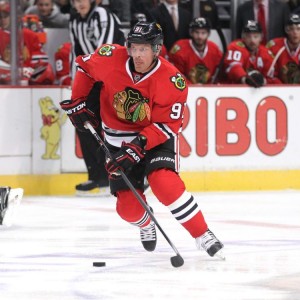 Last season, among centres 34-years old, or older, Richards was sixth in points and assists. He can still go for a man his age, and considering the scoring knack of Nyquist and Tatar, there is a good chance that those two could improve on their scoring totals if they play enough beside Richards.
Ultimately, the Richards signing is a great low-risk, high-reward signing for Holland. If he falls down in the depth chart, that just means that Riley Sheahan gets top-six minutes and more experience. Not to mention that Richards' experience and mentoring to the likes of Sheahan, Andersson and other young centres on the team could be invaluable.