The London Knights have arguably been the best franchise in the entire Canadian Hockey League over the past decade. Not only do they have the third most players drafted into the NHL of any CHL team, with 162, but they also have three OHL championships since 2004-05, as well as a Memorial Cup banner.
The 2015-16 season should be no different for the Knights. After an incredible run of having six players drafted in each of the 2012 and 2013 NHL Drafts, the Knights totals dropped to two in the last two years. However, the 2016 NHL Draft should see those numbers spike back up.
Although many of the Knights best players may no longer be around next year, they still have a boatload of young, talented guys coming in.
---
Who is Left From 2014-15?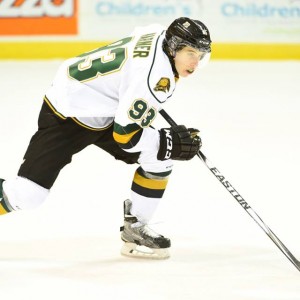 The Arizona Coyotes second round pick in the 2014 NHL Draft, Christian Dvorak, could potentially be back for another season in London. He had an excellent year after being drafted, scoring 41 goals and 109 points in 66 games for the Knights. If he returns, he could lead the team, and possibly the league, in points while playing a superior role. A possible line-mate of his for next year, Mitch Marner, is more of a question mark to return. After being drafted fourth overall by the Toronto Maple Leafs, Marner is a highly touted prospect and the Leafs are sure to give him a fair opportunity to make the opening night roster. If he returns, he could form a dynamic duo with Dvorak which could take the entire league by storm. Marner was second in the OHL in points last season, scoring an incredible 44 goals and 126 points in just 63 games.
Long time leaders, Max Domi and Matt Rupert will not be back in a Knights uniform for 2015-16. Max Domi will either be playing for the Arizona Coyotes or their AHL affiliate, the Portland Pirates after he completed his fourth OHL season, rendering him eligible for AHL/ECHL play as well. For Rupert, he will be implemented into the AHL for the Toronto Marlies after he played two regular season and five postseason games for them last year. He signed a one-year contract with the Marlies this past April and will be reunited with his twin brother, and former London Knight, Ryan Rupert.
---
Who to Watch For in 2015-16?
Aside from Mitch Marner and Cristian Dvorak, the Knights are set to receive a humongous boost from Max Jones and Matthew Tkachuk. Both players are currently projected as possible top five picks for the 2016 NHL Draft and will go a long way to improving the Knights chances for another championship.
Max Jones:
Jones played the 2014-15 season for the USNTDP Under-17 Team, playing 38 games with 18 goals and 28 points, while also racking up 189 penalty minutes. Listed at 6'2, 189 pounds, Jones will not have to make a huge adjustment to the rigours of the OHL. He is a fiery winger who has a knack for loose pucks and a nose of the net. He has smooth hands and a decent shot. A very competitive player who never stops battling.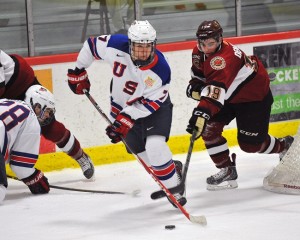 Matthew Tkachuk:
Tkachuk played for the USNTDP Under-18 Team as a late 1997 born player. He scored 38 goals and 96 points in 65 games, along with 119 penalty minutes. The 6'1, 188 pound winger is the son of NHL great, Keith Tkachuk. Matthew is a great scorer who can use both his quick snap shot or his smooth hands to score in tight. He has excellent vision which also makes him a decent playmaker as well. He can read plays well and is solid positionally.
Zach Werenski:
Another interesting player to keep an eye on is Zach Werenski, the Columbus Blue Jackets eighth overall pick from this year's draft. After playing last year at the University of Michigan, Werenski's CHL rights are currently held by the London Knights. If the Blue jackets decide to sign him to an entry-level contract before the start of next season, he will be considered a professional to the NCAA and will immediately become ineligible to return to Michigan. That would leave him either making the Blue Jackets roster, or being sent down to the London Knights. At this time, Werenski has yet to sign an NHL contract. The addition of a player of his calibre could push the Knigts to become a legitimate Memorial Cup contender.
Viktor Mete, Benjamin Gleason, and Tyler Parsons:
Some other 2016 NHL Draft eligible players to take note of are Viktor Mete, Benjamin Gleason, and goaltender Tyler Parsons. All three of these players should be excited for an increased role with the Knights this year and a chance for them to prove their worth not only as an OHL player, but a potential NHL'er as well. Mete was spectacular on the back-end for the Knights last year and will be heavily relied upon in '15-16, as well as Gleason to shut down opponents night after night. As for Parsons, he will be given a fair chance to battle for the starter's role and could be a dark horse in the NHL Draft.
---
All in all, the London Knights are going to be a team to watch all year long. They possess plenty of young, talented players who will be in the prime of their OHL careers this year, as well as solid veteran leadership. They should once again be one of the top teams in the OHL and could potentially push for a Memorial Cup berth. Of course, the addition of Werenski would be a significant boost to their chances. Regardless, it will be a fun year to live the Knight life, and scouts will have a field day with at least six potential 2016 NHL Draftees.
For questions, comments, and concerns, you can contact Devin Slawson on Twitter @SlawsonTHW or via email at devinslawson123@hotmail.com.