When something as important as puck possession needs to be decided, hockey players face-off. At times, when the puck drops, the gloves are shed simultaneously.
When something as important as expansion or the new 3-on-3 overtime is up for debate, hockey writers face-off as well. Throw in talk of Connor McDavid's chances at the Calder Trophy or Alex Semin's boom-bust potential in Montreal, and it can turn into a square-off in a hurry.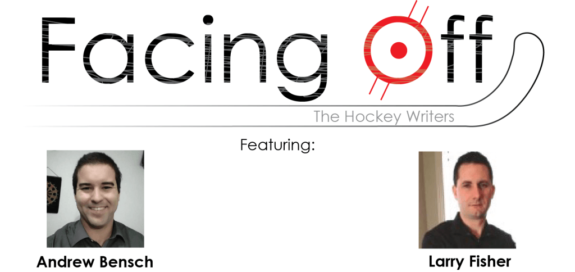 So it is with great pleasure — and hopefully entertainment value — that I'm able to introduce a new column called Facing Off. Each week throughout the upcoming season, myself and Andrew Bensch will tackle five of hockey's hottest topics, more often than not expressing (or flat-out arguing) opposing viewpoints.
We're both passionate wannabe hockey experts and a bit bullheaded in our beliefs, so we don't always agree on what's best for the game, for specific teams or even individual players. We won't always see eye-to-eye in our responses to the sport's burning questions, but not to worry we live thousands of miles apart so our feuding will be kept to the interwebs. Consider this a battle of keyboard warriors, typing jabs and countering with the odd low blow.
We're going to try to keep it light with Facing Off, injecting humour and exaggerating our stances (slightly) for added effect, so don't take us too seriously. If we come across as overly dramatic or downright offensive, just remember that our answers are often tongue-in-cheek and must be taken with a grain of salt. Hopefully you'll be able to tell when we mean business — even if you can't see our Captain Serious faces.
Occasionally, when we're on the same page, we'll play devil's advocate for the sake of taking a side. Or if we absolutely cannot stomach going against our gut feelings, we'll consider tagging in a THW friend with a different opinion on the topic at hand. So you may see a new name make an appearance from time to time, but for the most part it'll be Fisher-versus-Bensch, mano-a-mano.
We might not be in mid-season form yet, but we'll get there. Heck, we're not even at training camp. And we're allowed to have some fun in the off-season too — just not to Jarret Stoll's standards. So rest assured, we weren't smoking or snorting anything while writing these answers — despite what commenters may suggest.
Ready, Set, Go . . .
1) Is Connor McDavid a lock for the Calder Trophy?
FISHER: Yes, whoever is responsible for the engraving can go ahead and get to work, no reason to wait until the awards ceremony next June. Sidney Crosby had 102 points in his rookie season and Wayne Gretzky had 137 points in his NHL debut. I expect McDavid to come close to Crosby's total and rank among the league's top-10 scorers. Yes, he could reach triple-digits, that's a realistic possibility for this generational talent. Across the league, point totals will be going back up — thanks to 3-on-3 overtime — and the Oilers have plenty of young talent for McDavid to work with. He's going to be fun to watch and the Calder should be a foregone conclusion, barring injury. McDavid will be the third straight No. 1 pick to win rookie of the year honours following Nathan MacKinnon in 2013-14 and Aaron Ekblad in 2014-15.
https://twitter.com/SteveBurtch/status/614932121572917249
Might as well give McDavid the Calder trophy now too #NHLDraft

— eva marie (@fjohns8) June 26, 2015
BENSCH: Granted I'm far from a junior expert, in that I rarely follow NHL prospects at 17-18 years old, but Fisher's take seems like a bit of a stretch, no? From what I have gathered from reading scouts' grades on McDavid and Jack Eichel, the latter could very well have a better rookie year. And I mean, sure Crosby scored 102 points as a rookie, but are we forgetting he didn't actually win the Calder? Some guy named Alexander Ovechkin did in 2005-06. I think McDavid has as great of a chance at the Calder as any rookie has ever had before stepping on the ice, but I don't see it as anything more than 60% McDavid vs. 40% the field. That is still great odds to place on one individual rookie, but not a lock.
Going off the grid a bit here and picking McDavid to finish 3rd in Calder voting.

— Tom (@hockeytalk262) July 17, 2015
https://twitter.com/ColeShermoen/status/618678622644121600
2) Will Alex Semin boom or bust in Montreal?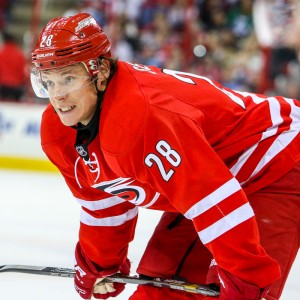 FISHER: Boom, he's exactly what the Canadiens are missing up front and Semin has a history of lighting it up on one-year contracts. Andrei Markov will be a good mentor for him and it will be an environment conducive to Semin rediscovering his scoring touch. He only netted six goals in 57 games with Carolina last season — prompting the Hurricanes to buy him out — but Semin has averaged 30 goals over his previous seven seasons not counting the lockout year when he was a point-per-game player (44 in 44). If the over-under is 30 — and that's probably high to begin with — I'd still be inclined to take the over. I see a minimum of 25, providing Michel Therrien lets Semin do his thing.
BENSCH: I think many teams would have been smart to take a flier on Semin, but the Canadiens? They lack size up front and have trouble scoring in general. Semin would have been a better fit in say Anaheim, where he wouldn't be the center of attention offensively. Actually either of the other two California teams would make sense as well. I would be much more excited about Semin playing next to Joe Thornton, Anze Kopitar or Ryan Getzlaf than playing for a Canadiens team that has always lacked a true No. 1 center. Who is supposed to pass him the puck in Montreal?
Alex Semin signs a one-year, $1.1 million contract with the #Habs. Next to no risk, possible 30-goal reward.

— Frank Seravalli (@frank_seravalli) July 24, 2015
Alex Semin. Never a good idea.

— Damien Cox (@DamoSpin) July 24, 2015
3) Are Las Vegas and Quebec City the right markets for expansion?
FISHER: Yes and no, in that order. Wait, what? It's Week 1 of Facing Off and I'm already breaking the rules. Well, more like bending them. I like the idea of Las Vegas a lot and would be willing to gamble on that venture going well for the NHL, especially with the amount of Canadian hockey-loving tourists on the Strip year-round. I think the Las Vegas Black Knights, or whatever they end up being called, will be an overwhelming success and open the doors to other professional leagues in Sin City. Gary Bettman wants to be first into that market and I don't blame him. As for Quebec City, I'm still lukewarm about reincarnating the Nordiques. For starters, I can't see this franchise in the Western Conference as rumoured. Nor can I see it being sustainable with the Canadian economy in the midst of another recession, and Quebec City not being overly wealthy to begin with. Quebecor has deep pockets as an ownership group, but the same can't be said for the majority of those putting their butts in the seats. The Nordiques moved to Colorado for financial reasons and those concerns still exist going forward. Been there, done that. Plus expansion teams tend to suck for at least a couple seasons and I think the novelty will wear off if the home team isn't worth watching. I feel as though Bettman shares those sentiments, but it would be tough to turn down the $500-million expansion fee if there are no other suitors. My preference, like many others, would have been Las Vegas and Seattle, which probably sounds bad coming from a Canadian guy.
Which city would you rather see get a NHL team?

Retweet for Quebec

Favorite for Las Vegas pic.twitter.com/fiw9vfrxua

— Everything Hockey (@EHClothing) July 23, 2015
BENSCH: Not quite sure the market for a team in Vegas. We have seen tremendous hockey growth in California but Nevada? I'm just not so sure it's the best idea. Vegas is where everyone wants to visit, but live? Will free agents want to go to live there? Perhaps more importantly, will their wives veto moving to Sin City? Just not sure I buy all the hoopla about having a team in "America's playground." The Nordiques returning would be awesome, just like the Jets, nostalgia of Canadian teams past is always a good thing no matter the struggles.
4) Who would you rather have as a No. 1 centre, Ryan O'Reilly or Derek Stepan?
FISHER: Since neither isn't an option, flip a coin and give me Ryan O'Reilly. I don't think he's worth $50-plus million — nor $1 million more than Stepan annually — but contracts aside, I prefer O'Reilly as a player. He's a year younger than Stepan and plays a heavier game with more goal-scoring upside. O'Reilly can drive the offence for his line and match-up physically against the opposition's best. He obviously needs to get his act together off the ice and become more responsible there, but between the boards, he's my guy. I see him as a Ryan Kesler type and O'Reilly will likely end up in that kind of secondary role once Jack Eichel has a year or two under his belt. I'd still prefer O'Reilly's salary be closer to $6 million than $8 million, but my name isn't Terry Pegula, so that's really none of my business.
Stepan just like O'Reilly to me is a decent #2 centre that is going to get paid like a #1 centre.

— Darcy Armstrong Sponsored By Tim Hortons (@DArm91) July 27, 2015
https://twitter.com/dmmm14/status/625677305600438272
BENSCH: Yeah, like Larry here, I'm not really big on either player, they are both quality centerman. Although if Larry is going to compare O'Reilly to Kesler, then for that alone I will take Stepan. Kesler hasn't reached 50 points in years and just got a big-time extension. He is on the downside of his career, far out of his prime actually. Most casual fans don't realize an NHL forward's prime is more like 22-26, not 27-32. Stepan may not be a true No. 1 center, but he has been an effective piece for the Rangers for years whereas O'Reilly has been in the news too much for off-the-ice reasons.
5) Do you like the new 3-on-3 overtime format?
FISHER: Absolutely, that is a yes. This is going to be great for the game. As much as fans enjoy the shootout, they are going to love 3-on-3. I've witnessed it live in tier-2 junior games for quite a few years already and it's wild to say the least. Not even Jacques Lemaire could devise a defensive strategy to "play for the shootout" the way teams used to "play for the tie". There's no trapping in 3-on-3, just end-to-end chaos and may the luckiest team win. That luck factor is the only downside because heaven forbid your team shoots wide on an odd-man rush, it's going the other direction for an equally glorious opportunity with an even better chance of ending up in your net. As a former goalie, this is a nightmare format because at least in the shootout, you know what's coming every time. Breakaway after breakaway, so you can prepare accordingly. In 3-on-3, it's unpredictable and goalies will be hung out to dry more often than in the All-Star Game. Some call that gimmicky, but make no mistake, it is entertainment.
Can't wait to watch some 3v3 NHL overtime hockey in October

— PG The Kid🤔 (@Paulgionis_09) July 19, 2015
BENSCH: Well, I wish the NHLPA would have just accepted the AHL format that worked so well last year with seven minutes of overtime. Four-on-four to start with and then three-on-three after the first whistle beyond the three-minute mark. I don't see the need to eliminate 4-on-4 overtime just to introduce 3-on-3. That said, anything to reduce the number of shootouts is fine with me. Heck, I hate shootouts so much I wouldn't mind the return of ties. Three-on-three may be a gimmick but at least there is actually hockey involved, you know defending and passing and not just a bunch of free penalty shots to decide a game.
So sick of shootouts! Bring back the overtime. Hockey is a team sport. wins should not be based on individual skills. #NHL

— Shawn Orichefsky (@ShawnEdward25) July 27, 2015
---
So who won Round 1 of Facing Off? Feel free to weigh-in with your opinions in the comments below. We will be checking in periodically to both defend and expand on our initial answers. If you want to see us face-off over a topic, we're open to suggestions as well.
---
Larry Fisher is a sports reporter for The Daily Courier in Kelowna, British Columbia, Canada. Follow him on Twitter: @LarryFisher_KDC.
Andrew Bensch has been credentialed to cover the San Jose Sharks since 2010. He graduated with his BA in Broadcast Electronic Communication Arts in 2013 from San Francisco State University. Follow Andrew on twitter: @ViewFromBensch.
Larry Fisher is a senior writer and head scout for The Hockey Writers, having been an at-large contributor for THW since August 2014. Fisher covers both the NHL and the WHL, specializing in prospects and NHL draft content, including his annual mock drafts that date back to 2012. Fisher has also been a beat writer for the WHL's Kelowna Rockets since 2008, formerly working as a sports reporter/editor for The Daily Courier in Kelowna, British Columbia, Canada from 2008-2019. Follow him on Twitter: @LarryFisher_KDC.