The news may be scarce at this point in the summer, but important roster moves and front office dealings are still occurring around the league. Here's a look at what you may have missed over the weekend:
The Maple Leafs avoided arbitration with Jonathan Bernier and inked a two-year deal. [USA Today]
Bernier should be the Leafs' starter for most of this deal. [Maple Leafs Hot Stove]
The judge overseeing the concussion trial ordered the NHL to hand over injury data they may have. [TSN.ca]
Bettman did give his deposition to the court, too. [Sporting News]
Thoughts and impressions from the NHL 16 EASHL demo. [The Province]
How much longer do the current Kings have as Stanley Cup contenders? [Today's Slapshot]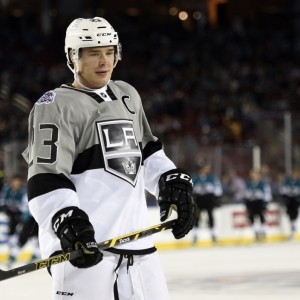 And what does the Ducks' window look like? [Pro Hockey Talk]
Although not Cup contenders, the Oilers may have a battle for the No. 1 goalie job, according to Cam Talbot. [Edmonton Journal]
Talbot tops the list of an All-Cheap Team for the 2014-15 season. [Hockey Buzz]
Dougie Hamilton will likely have a great impact on the young Flames team. [CBS Sports]
Summing up the Arizona Coyotes from A to Z. [Puck Daddy]
I am a former NHL media member and reporter for the St. Louis Blues, working for various media outlets. Currently, I am an NHL News Writer and Editor for The Hockey Writers. I live in St. Louis and work as a freelance copywriter in numerous industries.