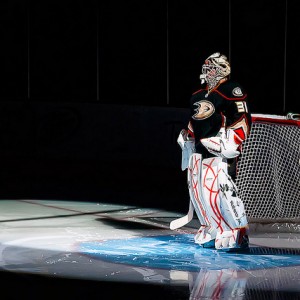 Several recent articles in the local media referred to Ottawa as the "goalie graveyard". While it may be hard to argue that fact after the team has worked their way through Dominik Hasek, Martin Gerber, Ray Emery, Alex Auld, Pascal Leclaire and Brian Elliott in recent years, it is somewhat unfair to categorize Ottawa as the place where careers go to die. The goaltending position is a difficult role on any team. Realistically, how many franchises can say they have an elite-level goaltender like Martin Brodeur, Roberto Luongo or Miikka Kiprusoff?
Ottawa has searched high and low for some consistency at the position and many believe the answer lies in prospect Robin Lehner, but he is a few years away from a full-time job as a number one goaltender in the NHL. The Senators may have found a temporary solution at this year's trade deadline. Not to say that the goaltending duo of Craig Anderson and Curtis McElhinney are the NHL's newest dynamic duo, but considering that Bryan Murray recently stated that he has never had to dismantle a team before in his 30-year career, he is doing one heck of a job. The Elliott for Anderson deal is a perfect example of a shrewd move by a veteran GM; claiming backup goaltender McElhinney off waivers has him looking like a silver-haired genius.
Time will tell how effective Anderson and McElhinney can be over a prolonged period of games but for two goaltenders given the opportunity to display their abilities before becoming unrestricted free agents, it could not be going much better. Anderson is 6-3-0 in his nine starts as a Senator with a 1.44 GAA and a .956 save percentage. In his Ottawa debut on Friday evening, McElhinney made 34 saves and helped protect a 2-0 lead as best he could; the Senators settled for stealing a 2-1 victory over the Tampa Bay Lightning.
The path to Ottawa was not an easy one for the 27-year-old McElhinney. A sixth round selection of the Calgary Flames in 2002 (176th overall) after an impressive career at Colorado College, he became Miikka Kiprusoff's backup during the 2007-2008 season. While his numbers were not overly impressive in Calgary, he played admirably. Unfortunately, wins were hard to come by with the Flames – in 29 appearances, he posted a 4-12-1 win/loss record.
In March of 2010, McElhinney was traded to the Anaheim Ducks in exchange for Vesa Toskala. He appeared in 31 games with the Ducks, posting an 11-10-3 record. Not quite a year later, the London, Ontario native was off to Tampa Bay in exchange for Dan Ellis. After a quick skate with the Lightning, the Senators claimed him off the waiver wire to replace the oft-injured Pascal Leclaire.
"You want to make a good first impression when you get in there, regardless of everything that has gone on in the last couple of weeks," McElhinney told SENSTV. "It was certainly a bit of an ironic day to come back here and end up taking two points away from a very good team. It feels good to get the win. I think that's the most enjoyable part for me."
"It's part of the business," McElhinney said of his time in Tampa. "It was such a short stay here – I got in one day at 1 O'clock and I was on a plane at six that night. It was one skate, but those things happen."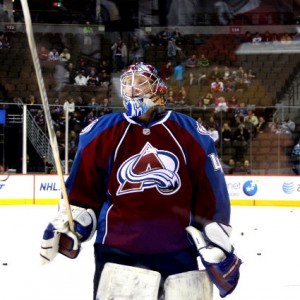 With Anderson's stellar play since he arrived from Colorado and no back-to-back games for the Senators for the rest of the season, it may be some time before McElhinney makes another start for Ottawa, but he was pleased to give Anderson the night off and pick up a win at the same time.
"He's (Anderson) been playing phenomenal for a while, but for me to get a chance to jump in there and contribute felt great. To go out and put up a good performance and have the guys score a few goals, it felt good."
While the first overall pick in the June Draft is becoming less of a possibility with the play of Anderson and McElhinney, the Senators are all but assured of a top-four selection. Having some stability in the net and a few victories to finish the year will boost everyone's confidence heading into next season.