The Columbus Blue Jackets have had many players play a much bigger role than expected. These players have led to the Blue Jackets' franchise-record start, earning 38 points in 26 games. These surprises include Alexander Wennberg, Sam Gagner and Zach Werenski, but three young Blue Jacket surprises are 22-year-old winger Josh Anderson, 22-year-old defenseman Markus Nutivaara, and 23-year-old center Lukas Sedlak.
Josh Anderson is a big winger that was on the border of making the NHL, but he has cemented himself in the Blue Jackets' lineup.  Anderson has burst out this season, scoring eight goals in the team's first 26 games after only scoring one goal with the Blue Jackets in 12 games last season.
The Blue Jackets failed to find secondary scoring in the past, so Anderson producing has given the Blue Jackets much needed scoring depth.
Anderson has also added grit to the Blue Jackets' lineup. He has been a pest that opposing teams have come to notice. In each of the Blue Jackets' games so far, Anderson has found himself in some sort of scuffle due to his hard checking and tough style of play.
Anderson imposing his will early shows that he is not afraid to play his game at the NHL level, which is huge for a young player's confidence, which rubs off on the veterans. The Blue Jackets veterans play the same type of game, so Anderson coming in and laying the body is appreciated.
While Anderson has been a godsend producing offensively, his role is to add energy to the lineup and he has succeeded at that. On the fourth line, Anderson has provided some timely goals while revitalizing the Blue Jackets when they get slow. Anderson knows his role is vital to his success at the NHL level and right now, he seems to know where he fits in on this Blue Jackets' team.
Nutivaara Adds Defensive Depth
Along with Columbus adding depth offensively, the Blue Jackets have improved vastly on the defensive end, which has taken some of the load off of Sergei Bobrovsky, who's had to be completely outstanding to keep them in games in the past.
One player that has added much-needed depth to the Blue Jackets is rookie Markus Nutivaara. The young player's success has been overshadowed rightfully so by fellow rookie Zach Werenski. While Werenski has been given much-deserved notoriety, Nutivaara has been standing his ground on the Blue Jackets' blue line.
Nutivaara has five points in his first 26 NHL games, which is fairly impressive, but his most impressive attribute is his poise. He has not made the normal rookie mistakes that come with the growing pains of the NHL. His poise and confidence have made  coach John Tortorella's decision of sitting Dalton Prout much easier.
Before they had a quality sixth defenseman, the Blue Jackets had to put a defender like Prout on the ice that they were not truly confident in. Prout is not a complete liability, but Nutivaara plays a more modern game, which adds another wrinkle to the Blue Jackets.
Lukas Sedlak's Impressive Start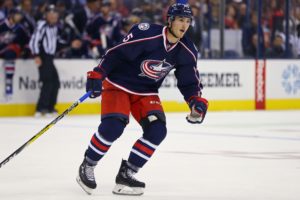 Along with the other two youngsters, Lukas Sedlak has been impressive for the Columbus Blue Jackets. Sedlak scored his first career NHL goal in Detriot and added his second one game later against the New York Islanders. Along with these two goals, Selak has five assists. Sedlak has been good offensively, but he has been a spark plug like Anderson. His energy like Anderson's help provide him with a defined role.
Sedlak has been good offensively, but he has been a spark plug like Anderson. His energy like Anderson's help provide him with a defined role. Carving out a role is very important for a rookie.
These three young players are not the flashiest of rookies, but their impressive play has lead to the Blue Jackets great start along with many other reasons. If these three Blue Jackets continue their strong play, the Columbus Blue Jackets will continue to remain high in the standings.