This weekend, USA Hockey and Hockey Canada will smash a bottle of champagne to christen their brand new December Series. The inaugural installment of the two-game winter showdown comes just as collegiate teams and the two professional women's leagues go on break.
For both national teams, though it will be entertaining hockey, it's also an evaluative series. It's a last opportunity for national team management and coaching staffs to work directly with players before the roster announcements for the 2017 IIHF Women's World Championship in April.
Canada's roster may show that evaluative spirit more than the American roster. The Canadians are fielding a team with a lot of skaters who weren't a part of their Four Nations Cup roster. It may be an effort to get a look at some new faces in game situations before decisions start being made for Worlds.
The U.S. is going with a team that's fairly close to the squad that just won the Four Nations Cup in November. They did, however, host a camp before the December Series featuring a number of invitees who aren't frequently seen with the senior national team, like Dani Cameranesi (invited but did not play due to injury) and Kelly Pannek, two-thirds of the Gophers high-flying top line, as well as breakout goaltender Maddie Rooney of the University of Minnesota-Duluth Bulldogs.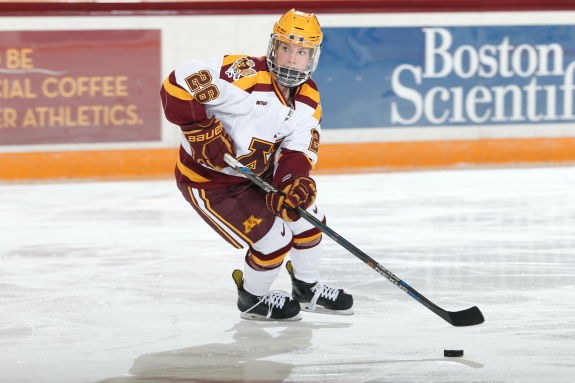 The Series
There's no trophy on the line, but any meeting between the two powerhouses of women's international hockey provides plenty of excitement. The players don't need the motivation of proving themselves for future rosters or a trophy to get up for a series against their biggest rival.
"I think it's just a pride thing," said forward Sarah Potomak. "This is the last time we play each other before Worlds so, it's just a huge thing for both teams to be able to leave our mark before going into that tournament. I think it's just huge for both teams to be able to win the series." Sarah and her sister Amy will be the first siblings to ever suit up for the senior national team when they hit the ice over the weekend.
Hitting the ice in Plymouth… last practice before game 1 of December Series #TeamCanada pic.twitter.com/7562WlEMsh

— Team Canada Women (@HC_Women) December 16, 2016
The rivalry has worked out to provide a lot of tension in recent years. Canada has grabbed the last two Olympics in dramatic fashion, but it doesn't mean they've asserted their overall dominance. The U.S. has grabbed the last two Four Nations Cups and the last two World Championships.
"It's definitely going to be fun to wear the Canadian jersey again," said Ann-Renee Desbiens, who will serve as Canada's netminder alongside veteran Shannon Szabados. "That's always a proud moment for myself to be able to represent my country, family, and friends. I'm definitely looking forward to playing against the U.S. It's always a fun game. It's challenging and physical and it's always a close one.
"It's a good showcase for women's hockey even if there's no trophy or medals. It's an amazing hockey game to watch. I think it just shows that women's hockey is growing and how much better the players are getting, more physical, more conditioned, more skilled than before."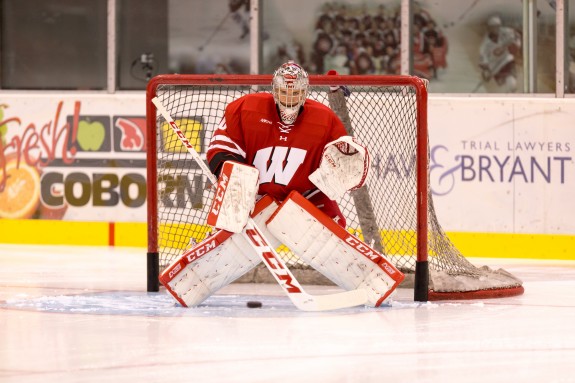 An Opportunity
Like Santa Claus, Hockey Canada is always watching, but there is something to be said for skating in front of team management wearing the national team sweater.
"They watch us a lot during our club team play," said Potomak, "so it's also really important to play well with the Gophers, but it's definitely a bit stressful and nerve-wracking here. It's also a really great opportunity for me to be able to play my game and prove myself. I guess it's kind of intimidating to look at, but at the same time exciting."
The competition is fierce and this year's Worlds roster carries the added importance of preceding the 2018 Olympic centralization in the fall.
"The Olympics have been a dream for me," Desbiens says. "I feel like growing up, playing hockey, you always watch the entire Olympics, but the gold medal game is fun. You picture yourself out there. I was not any different than any other kid. I always wanted to be there and I feel right now that it's more like a goal than a dream."
But Desbiens says the desire to make the team doesn't impact the camaraderie taking place between players at the Series or even broader events like the annual Fall Festival. "It's always really fun because you get to learn from each other and it's been the same group the last two years [in net]," she said. "It's definitely friendly because, at the end, we're not the ones making the decisions, even if we all want the same spot. It's definitely an amazing opportunity, as they're all awesome goalies and awesome people and they're friends too off the ice. That's something I'll always be thankful for. "
The December Series kicks off Saturday, Dec. 17 on NBCSN with Gord Miller calling the play-by-play. The second game will be played Dec. 19, when the series moves from Plymouth to Sarnia, Ontario.