Just days after his wife was diagnosed with cancer, Ottawa Senators goaltender Craig Anderson was urged by his wife to get back on the ice. He made the start in Sunday's tilt against the Edmonton Oilers. It was an emotional game for Anderson and teammates, to say the least.
The emotional weight of the game was obvious as time ran out and Anderson had posted a shutout in Edmonton. From Anderson's reaction to the support he got from his teammates, it was clear that this meant a lot to everyone on the team. The emotions climaxed for Anderson as he was named first star of the game and came out to a surprisingly loud roar from the opposing crowd. Oilers netminder Cam Talbot, named second star of the game, stayed on the Edmonton bench for Anderson to appear on the ice and offer his support for a fellow player.
Anderson comes out in tears. Talbot stays out to clap. What a moment. pic.twitter.com/FcoKchEoh5

— Callüm Fraser (@CallumFraser18) October 31, 2016
Right in the feels. pic.twitter.com/6wVdeacFNW

— Ottawa Senators (@Senators) October 31, 2016
"The players wanted to defend so well," coach Guy Boucher said after the game. "That was the whole mindset. We could hear our offensive players the whole game on the bench talking about defending and paying the price. That they weren't giving away any freebies.
"And as the game went on, you were watching Craig and you couldn't help but be inspired by him."
Isles Goaltending Situation
Rumors about what the Islanders are going to do in net have started to heat up following tweets of displeasure from agent Allan Walsh, who represents both Jaroslav Halak and J.F. Berube, two of the three goaltenders currently on the team. After those tweets the team said that they're open to trading Halak.
Sunday evening, Newsday's Arthur Staple reported that none of the team's three goaltenders have requested a trade, so the trade talk from the team is new and possible in response to Walsh, but not in response to a trade request coming from one of the goaltenders having their time limited by the team's situation.
Additionally, Staple writes that GM Garth Snow sent an email to the rest of the league's GMs on Saturday informing them that Halak was available. He reports that the Islanders have not had an offer on Halak before or after the email.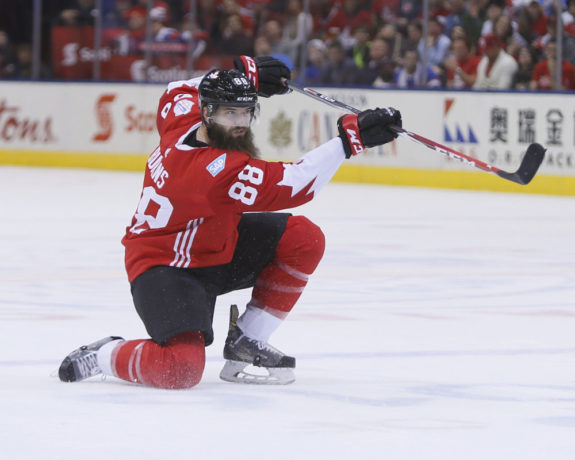 Burns Notice?
Brent Burns is one of the NHL's biggest pending UFAs. With his talent and importance to the Sharks, it feels like a "just pay the man" kind of situation. But TSN's Bob McKenzie, speaking on Montreal's TSN 690 cautioned that this might not be as simple as it looks.
"I think in many ways he wants to be back in San Jose," McKenzie said. "If Joe's signed up, and they've got their core with Couture, Pavelski, and Hertl and some of those guys – Vlasic – there's an excellent chance he could be back. It's just a matter of him and his agent having to figure out how they're going to make the contract work so that the team – that core – can stay together.
"But the flip side of that is he easily could have signed, like Brad Marchand, this summer – an extension with San Jose – and he didn't. And they never really got appreciable talks going in terms of crunching numbers back and forth and trading proposals. So what that tells me is that he's at least keeping a little bit of an open mind here to see how the season goes before he makes any commitments. So I can't sit here and tell you, by any stretch, that he won't be back with San Jose next year. But I would also caution and say that we shouldn't assume that it's an absolute slam-dunk that he will be back with San Jose."
Bayden McNabb to IR
Los Angeles Kings defenseman Brayden McNabb was placed on injured reserve Sunday night. The 6-foot-4 defender has played in all eight games so far this season and has already tied a career-high with two goals.
It's certainly not the same as losing your starting goaltender, but losing any defenders when you're already down a goaltender is a blow. It's made worse by the ongoing absence of Marian Gaborik.
Details on McNabb's injury weren't immediately released.
Halloween Scares
It turns out that Jacob Markstrom hasn't been getting to the rink early to train. He had more nefarious schemes in the works.
Odds and Ends
– Florida's Colton Sceviour had quite a game Sunday. He scored two goals in 23 seconds. It's not quite the three goals in 21 seconds Bill Mosienko scored in 1952, but it's pretty impressive.
Colton Sceviour's 3rd goal of the season, 1st of the game…redirection in front from Trocheck: pic.twitter.com/PMe6wVad2E

— Cats On The Prowl (@Cats0ntheprowl) October 30, 2016
Colton Sceviour's 4th goal of the season, 2nd of the game…incredible effort while surrounded by several Detroit players: pic.twitter.com/VTUnvyzyYh

— Cats On The Prowl (@Cats0ntheprowl) October 30, 2016
Sceviour would pot one more before the game was over, finishing off the hat trick into an empty net.
Panthers have 11 goals combined from Marchessault ($750K) and Sceviour ($950K), two UFA bargains on July 1.

— Nick Cotsonika (@cotsonika) October 30, 2016