Auston Matthews had a storybook opening night with an NHL record four goals in his debut. Patrik Laine beat Matthews' team while recording a hat-trick, and inspiring chants of "Laine's better." Connor McDavid has all the looks of the next Sidney Crosby and leads the league in scoring. Jack Eichel was injured before the regular season started.
One of these narratives doesn't match the others, but Eichel will outperform Jimmy Vesey despite Vesey's offseason media circus. In any year that didn't feature Connor McDavid, Jack Eichel would be a first overall pick. But it would be hard to know that after the opening weeks of this NHL season.
Last year's clear number-one overall, McDavid, has commanded the full spotlight and left little room for Eichel to garnish attention. While McDavid was injured for most of the previous year, Eichel put up 24 goals and 32 assists in 81 games. The tables have turned this year as Eichel has yet to see regular-season ice. A high-ankle sprain will keep him out of game action until mid-November at the earliest. That leaves most of the media's focus drawn toward the three other young superstars in the making.
Laine Left Out
http://gty.im/542888906
Obviously, at this point, any of the four youngsters would be dynamic players to own in any fantasy league, but while NHL scouts and general managers need to evaluate team needs and organizational impact, fantasy owners will primarily need to evaluate what stats their league values.
Patrik Laine is the only winger, so in any league with a category for faceoff wins, Laine is already playing catch-up. One big advantage that Laine has over the other three is that he throws over twice as many hits as any of the others. He also leads the group in power play points and leads all rookie forwards in time on ice per game, while playing under than a minute less than McDavid.
While Laine joins a team with perennial stars such as Blake Wheeler and Dustin Byfuglien, Matthews and McDavid have a certain appeal because of how much their team will rely on them. In keeper leagues, this may be an important point to consider as the success and failure of the Toronto Maple Leafs and Edmonton Oilers will rise and fall with Matthews and McDavid. They will be given every opportunity to succeed and will be leaned on during high-pressure situations. They have shown every capability in the leadership department, but these are still young men who have succeeded at almost every level of competition, so seeing their teams struggle will be very telling.
Center of Attention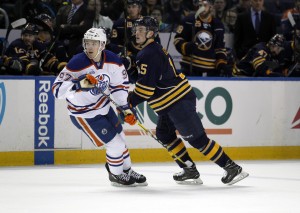 Matthews and McDavid are often isolated from the other center in the foursome due to the position they were drafted, but who really has the edge? Eichel has been compared to Mike Modano and Evgeni Malkin. Matthews has been linked to Jonathan Toews and McDavid to Sidney Crosby.
Although Modano, Malkin, Toews and Crosby are all universally considered phenomenal assets to an NHL franchise, each fantasy league will weigh categories differently and Crosby has been the #1 overall consensus pick for many years. It's hard to argue that Matthews, Laine, or Eichel will have the fantasy impact that McDavid will. From a pure fantasy impact, Laine is considered a mini Alex Ovechkin, so amongst the four, that is probably the next best choice among them. Between Matthews and Eichel, it becomes less clear, but with the impact that Matthews will have on his team, you have to give him a slight edge.
Overall, everything will depend on the league and the team you have already, but a ranking of McDavid, Laine, Matthews, Eichel is probably close to correct. The question will continue to be relevant, but if you're lucky enough to own any of the four, you're going to enjoy the next few years of hockey.
I grew up in the northern Chicago suburbs but currently growing my passion for the game in the state of hockey.