Eichel Out Weeks With Ankle Injury
Jack Eichel could be out for weeks, not days, as he recovers from a high-ankle sprain injury, Buffalo Sabres head coach Dan Bylsma confirmed on Thursday.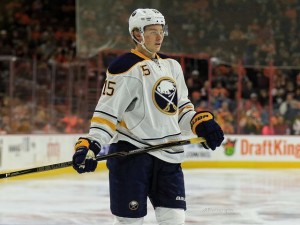 Bylsma described Eichel's injury as moderate, according to John Vogl of the Buffalo News. Eichel suffered the injury when he became entangled with Sabres forwad Zemgus Girgensons in front of the net during a team practice on Wednesday morning.
The Sabres are also battling other injuries on the team's roster.
Kyle Okposo will miss the opening game of the season on Thursday because of a knee injury he suffered when he was struck by a puck at practice last week. Okposo is expected to return to the lineup on Sunday.
Dmitry Kulikov will miss Thursday's game against the Montreal Canadiens, as he continues to recover from a bruised tailbone injury. Kulikov was acquired by the Sabres in a trade with the Florida Panthers back in June. Casey Nelson will replace Kulikov in the lineup.
The Sabres will take to the ice with Ryan O' Reilly who was previously considered doubtful as recently as Wednesday.
Quick Could be Out a While With Injury
Los Angeles Kings goaltender Jonathan Quick could be "out a while" with a lower-body injury based on comments made by Kings general manager Dean Lombardi, according to the LA Kings Insider's Jon Rosen. Quick has been scheduled to undergo an MRI on Thursday.
End of 2nd, still 1-1.
Now for some Sutter insight… pic.twitter.com/zNWJc47KIW

— LA Kings (@LAKings) October 13, 2016
After the game, Sutter said Quick was hurt while sliding on the ice, according to a report by Rosen.
"I couldn't tell if it was off a player," Sutter said. "All the trainers said he did it sliding. It's not that big a deal. We've got two or three goalies. Good ones."
Quick was replaced by Jeff Zatkoff after the first period of Wednesday night's game between the Kings and San Jose Sharks and did not return.
However, if Quick is injured and misses any extended period of time, the team would be without its clear-cut number one goalie and arguably its most important player. Quick played in 68 games in 2015-16 and posted a career high 40 wins. He has backstopped the Kings to two Stanley Cups (2012, 2014) and won the Conn Smythe Trophy in 2012.
Darryl, on goaltending: "Obviously Peter's probably the guy that will come, and between Zat and Peter, they'll win games for us."

— LA Kings Insider (@lakingsinsider) October 13, 2016
The likely alternative to Zatkoff is Peter Budaj. The Czech goaltender is 34-years-old and has posted a 125-107-36 record in 297 career NHL regular season games. On the other hand, Zatkoff, 29, has played in just 36 games at the NHL level and has 16 wins, 15 losses and three ties.
Zetterberg Intends to Play Out Contract
Henrik Zetterberg intends to play out the remaining five years of his contract with the Detroit Red Wings, according to Mitch Albom from the Detroit Free Press on Thursday.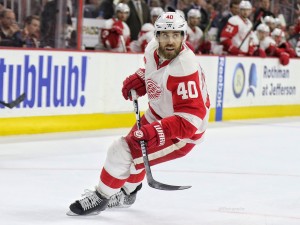 The news comes as a relief for Red Wings fans who watched star forward Pavel Datsyuk leave the final year of his contract to return home to Russia and play in the Kontinental Hockey League.
Zetterberg, 36, has five years left on a 12-year, $73 million contract he signed back in 2009. The Swedish forward is the team's captain and won the Conn Smythe Trophy when he tallied 27 points in 22 postseason games in route to winning the Stanley Cup in 2008.
The Red Wings are known for the team's rich tradition and the 12-year deal Zetterberg signed gives him a chance to start and finish his career in red and white, ala Red Wings legend Steve Yzerman. Zetterberg acknowledged that when he signed the contract, he was giving up the chance to return to Sweden to play hockey. He will be 41-years-old when his current deal expires.
The following is an excerpt from Albom's interview with Zetterberg about playing out his contract:
Mitch Albom: And you have every intention of playing all five years that are left?
Zetterberg: Yes. Yes. But in the same way, I'm human. I know that every year it's a bigger and bigger battle to get through. We'll see if my body holds up for five more years. Last year, I played 82 games, which I was proud of doing — maybe it wasn't 82 good ones, but I played 82 — and so we'll see. By now, I'm just taking it year by year.  And obviously the next two years are big years — the last year at the Joe and then first year at new building. That's probably where I'm looking.
Zetterberg was originally drafted by the Red Wings 210th overall in the 1999 NHL Entry Draft. In his 13-year NHL career, he has played in 918 regular season games and registered 309 goals and 527 assists. He has also been one of the league's most consistent performers in the playoffs with 120 points in 137 postseason games.
Odds and Ends
— The Vancouver Canucks signed forward Jack Skille to a one-year, $700,000 contract. Skille attended traning camp on a professional tryout (PTO). In 2015-16, Skille scored 14 points in 74 games with the Colorado Avalanche.
— The Dallas Stars will wear a decal on their helmets to honor the lives of five police officers who were killed in the line of duty this past summer. The Stars will wear the decals during the team's home opener against the Anaheim Ducks on Thursday.
Tonight, the Dallas Stars will honor the five police officers who lost their lives in the line duty on July 7, 2016 in downtown Dallas. pic.twitter.com/HCP5brwuoU

— Dallas Stars (@DallasStars) October 13, 2016
— Edmonton Oilers defenseman Brandon Davidson was injured during a game against the Calgary Flames on Wednesday night. The injury is a lower-body injury per Oilers head coach Todd McLellan on Thursday. The Oilers recalled defenseman Eric Gryba from the Bakersfield Condors (AHL).
— The Ducks have claimed forwad Emerson Etem off waivers from the Canucks on Thursday. Emerson was drafted by the Ducks 29th overall in the 2010 NHL Entry Draft.
Steven is a lawyer and writer with a passion for the game of hockey. He's the Lead Writer covering the Tampa Bay Lightning with THW. He's also been press credentialed through the Lightning since 2016. His work has been published at The Fourth Period, LightningInsider.com, Bolt Prospects, The Sports Daily Network, U.S. College Hockey Online and College Hockey News. He's had radio appearances on TSN 690 in Montreal, Lightning Power Play Live and multiple podcasts to give insight and analysis on the team. He can be reached on Twitter @StevenDiOssi and by email at sdiossi@gmail.com.