Only three NHL games on the schedule will mean a lighter night for fantasy hockey selections.  It also means after you narrow down your obvious choices, you can scoop up a win in your pool by finding value picks for better prices. Hit a lucky run with a value player and the daily pool is yours.
Yesterday's Results
I did ok, but I had too many poor performers to gain any real traction. I listed players like Alex Ovechkin and Taylor Hall as traditionally poor starters in the regular season and I was correct in both cases. Neither did much on the scoresheet other than some shots on goal points.
I had two pretty big performers in Al Montoya who did exactly what I thought he'd do, which was shut the door on the Sabres allowing only one goal on 31 shots. Winnipeg earned some nice points as Schiefele and Wheeler had strong games, but Brad Marchand was the winner of the night with a five-point performance and seven shots on net. His line alongside Pastrnak and Backes dominated the Blue Jackets. If you took Boston, you did well in fantasy yesterday.
Related: Fantasy Daily Cheat Sheet: Oct. 13, 2016
Tonight's Games
Chicago at Nashville
Edmonton at Calgary
Philadelphia at Los Angeles
Center
Connor McDavid ($8000-$8200)
I'm going to take McDavid for the second game in a row simply because of the dominating performance he put on in the first game of the season. There are only a handful of good available centers in a smaller fantasy team window, so building my team around McDavid makes sense.
His line with Milan Lucic and Jordan Eberle created a ton of chances and McDavid registered three points, two goals, the game-winner and was in on 11 scoring opportunities. The Oilers won the game on Wednesday, but there were huge holes in their performance. McDavid was the best player on the ice from both teams. This trend should continue on Friday.
Related: Oilers Will Take Ugly Wins Too
Anze Kopitar ($6300-$7300)
Along with Toffoli, I think Kopitar has a big game and I like him for his fantasy point-per-game numbers at this price. He's coming off a lot of minutes at the World Cup of Hockey and that may have affected his play in game one of the NHL season, but I don't see him being held down for long.
Wingers
Johnny Gaudreau ($7200-$7300)
Even though Calgary had trouble in Edmonton on Wednesday, Gaudreau was dangerous and he looked like he was about to break out at a moments notice. I don't think the loss will sit too well, nor will the fact that his line of Monahan and Versteeg were pointless and a pretty big minus in the stats column. This could be a rebound game for Gaudreau who will likely have Brouwer on his line to start the game.
Phew.@johngaudreau03 and the @NHLFlames agree to a six-year deal.https://t.co/qDTQv730Yx

— NHL (@NHL) October 11, 2016
Tyler Toffoli ($5700-$6000)
Toffoli had the lone Kings goal in their loss to San Jose and he was all over the scoresheet with five shots on goal, three hits and a blocked shot. Toffoli is quickly becoming one of the league's best power forwards and I honestly believe this is going to be his year. The Kings are at home, looking for their first win of the year and playing an often underachieving Flyers team. This could be the game that Toffoli puts the team on his shoulders and scores big points.
Defensemen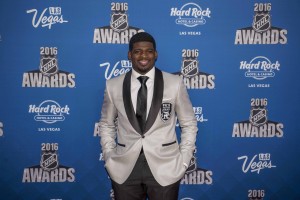 P.K. Subban ($6000-$6400)
Take Subban in his first game in a Preds uniform. This is a contest at home for Nashville and against a team in the Blackhawks that got smoked in St. Louis on Wednesday. Subban wants to show that Montreal was wrong to get rid of him and I think he approaches this game with a bit of a chip on his shoulders. He got three points in last year's season opener and played well the year before that in the opening night contest against Toronto. Subban likes to put on a show. Friday should be no different.
Adam Larsson ($3400-$4200)
Larsson played a whale of a game on Wednesday against the Flames and Calgary is coming into this contest upset about losing 7-4. They want to put on a better performance which likely means a lot of shots on net and opportunities for Larsson to block them. He got an assist in game one and he plays some of the heaviest minutes for Edmonton. He's a fantastic grab at a low price tag. He just needs to keep the strong play going.
Goaltender To Avoid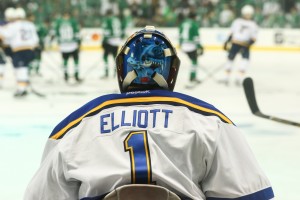 Brian Elliott ($7500)
He didn't look good in a seven-goal loss to the Oilers on Wednesday and despite the Flames playing at home, his confidence could already be in doubt. I don't know that Calgary even wins this game, but I don't think that Elliott is the goalie you want to bet your team on. Cam Talbot wasn't great either for Edmonton, so maybe avoid this game for your goaltending selection.
Value Pick
Patrick Maroon ($4300-$5100)
If you're playing FanDuel, take Maroon for sure. DraftKings has already gotten wise and upped his price tag and he looks great. He scored the first goal in the Edmonton 7-4 win over Calgary and he and Leon Draisaitl have shown some chemistry on Edmonton's third line. It might not be a bad call to take these two as a pair.