Despite early momentum on Thursday night, the Columbus Blue Jackets eventually fell to the Boston Bruins by the score of 6-3. The story of the night should be Boston's top line of Brad Marchand, David Backes, and David Pastrnak, as each player scored twice accounting for all six goals.
But it's what Blue Jackets coach John Tortorella said after the game that will make headlines. He told reporters after the game "We're not even close."
But They Were up Early
Given how much emphasis the team put on training camp and being ready for the season, this is one of the last things you want to hear after just one game. What makes it even more striking is that the Blue Jackets were up 3-1 in this game, with momentum seeming to favor them. Tortorella didn't think much of the first period, either.
"I don't have an answer for you. Obviously we have to find it." Tortorella said. "We have to find out. Practice tomorrow we'll go to work."
Head Coach John Tortorella offering his post game thoughts. #CBJhttps://t.co/svY6YbquLY

— CBJ Radio (@cbjradio) October 14, 2016
Tortorella continued on the sloppy play, "It goes right through our team. Don't put it on the young defense. There are other things. The guys have played in this league so long…I'm not going to break it down, but right on through the game, I don't think we're even close."
What started out as a night full of excitement and anticipation at Nationwide Arena quickly turned into a night that reminded us of last season. Recall that in last season's opener, the Blue Jackets were up 2-1 late, before the New York Rangers scored three unanswered goals to win 4-2.
Thursday night, the Blue Jackets were up 3-1, and allowed the Bruins to score five unanswered goals. Tortorella didn't want to get into specifics about what all he saw. But to give you an idea of how upset he was, his press conference lasted less than two minutes.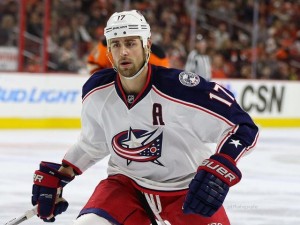 Now What?
The Blue Jackets return to practice Friday afternoon at noon. It will be very interesting to see how the team responds to not only the outcome of the game, but to Tortorella's comment of "We're not even close."
The Blue Jackets top line of Boone Jenner, Brandon Dubinsky and Cam Atkinson were on the ice for five goals against. Dubinsky took full responsibility for that after the game.
"It's not often you're on the ice for five goals against like that. I have to be better. Our line has to be better. Tomorrow in practice gives us an opportunity to get better."
The team needs to show that they can get better during games. They spent last season letting games get out of control. Yes it's just one game and the team has plenty of time to turn things around, but you usually don't rush to judgment after just one game. It kind of feels like last season all over again.
Stay tuned. Can the Blue Jackets keep from spiraling out of control before the calendar turns to November? Given the upcoming brutal schedule against playoff teams from last season, they need to find a way to stabilize quickly. Otherwise, we might have a repeat of last season. That's the last thing the Blue Jackets need.