Tampa Bay Lightning goaltender Andrei Vasilevskiy turned 22 on Monday, but in hockey years he is far older.
Despite backing up two-time Vezina trophy finalist Ben Bishop the past two seasons, Vasilevskiy has grown up quickly during deep playoff runs for the Lightning. After signing a three-year, $10.5 million extension on July 1 and with Bishop entering the last year of a contract that pays him $5.95 million this season, Vasilevskiy's time to be the Lightning's starting goaltender might be coming sooner than later.
With Bishop Injury, Vasilevskiy Answers the Call
If you are reading this, you are certainly aware of who Vasilevskiy is by now. After Bishop was stretchered off the ice just minutes into Game 1 of the 2016 Eastern Conference Final, Vasilevskiy skated into the crease and would become the Lightning's most valuable player in the series. Bishop's injury came at a time when defenseman Anton Stralman and captain Steven Stamkos were both out. For many NHL teams, this string of injuries would mark an end to any hope it had of advancing to the Stanley Cup Final. Vasilevskiy, however, helped give the Lightning a chance to win each contest with saves like this one during Game 2:
Despite falling to the Penguins in seven games, Vasilevskiy demonstrated why he was the goaltender of the future for the Lightning. During the series, he faced 259 shots and made 229 saves- a .923 save percentage against the eventual Stanley Cup champions. If there was any question about Vasilevskiy's readiness to be a number one goalie at the NHL level given his age, his performance during the Eastern Conference Final quickly put it to rest.
Cool Under Pressure: Playoff Debut in 2015 Stanley Cup Final
As impressive as Vasilevskiy was during appearances in eight games during the 2016 Stanley Cup Playoffs (3-4, 2.76 goals against average, .925 save percentage), it was not the first time he had stepped in to relieve Bishop in the postseason. During the Lightning's 2015 Stanley Cup Final run, Vasilevskiy appeared in four games, posting a 1-1 record, a 3.19 GAA and .895 save percentage.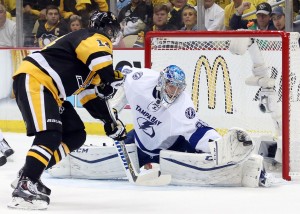 Perhaps the most important moment during those playoffs came during Game 2 of the Stanley Cup Final against the Chicago Blackhawks. With the game tied at three goals apiece in the third period, Bishop left the ice unexpectedly and Vasilevskiy came off the bench in relief. Lightning defenseman Jason Garrison made it 4-3 before Bishop returned briefly. With just 7:41 left to play in regulation, Bishop exited the ice again and Vasilevskiy re-entered the game on hockey's biggest stage looking to preserve a one-goal lead. Vasilevskiy stopped all five shots he faced and helped kill off a late Blackhawk's power play to earn the win and tie the series 1-1.
With the victory, Vasilevskiy became the first goalie to win his first playoff game in relief in the Stanley Cup Final since Lester Patrick with the New York Rangers in 1928. Vasilevskiy also became the first goalie to win a playoff game in relief in 24 years. Not bad for a goalie that was still seven weeks away from reaching the legal drinking age in the United States!
At the time Vasilevskiy entered Game 2 of the 2015 Stanley Cup Final, he had played in just 16 regular-season NHL games and had a career record of 7-5-1 with a 2.36 GAA and .918 save percentage. While his performance was not as memorable in Game 4 of that series, stopping 17 saves on just 19 shots in a 2-1 loss, Vasilevskiy stepped into a high-pressure situation and thrived.
KHL Experience Paying Dividends in Early NHL Career
When the Lightning chose Vasilevskiy with the 19th overall selection in the 2012 NHL Entry Draft, he was already a star in the Molodezhnaya Hokkeynaya Liga (MHL), Russia's highest level junior hockey league. In 41 games with Tolpar Ufa during the 2010-11 and 2011-12 seasons, Vasilevskiy posted 23 wins and 10 losses to go with six shutouts and a combined 2.02 GAA in two seasons. In his third and final season of junior hockey, Vasilevskiy set career highs in games (27), wins (17) along with three shutouts and a 1.93 save percentage.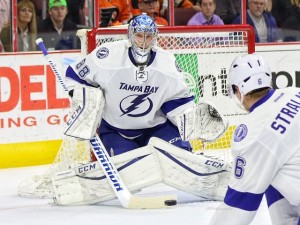 While the Lightning held Vasilevskiy's NHL rights, Salavet Yulaev Ufa secured his rights in the Kontinental Hockey League (KHL) after selecting Vasilevskiy 7th overall in the 2011 KHL Junior Draft. Vasilevskiy played in parts of two seasons with Salavet Yulaev Ufa and in 36 KHL games went 18-9 with 4 shutouts, a 2.21 GAA and a 923 save percentage. During the 2014 KHL playoffs, Vasilevskiy led his team to the semi-finals, registering 9 wins and 9 losses in 18 games and posting a 1.99 GAA, .934 save percentage and one shutout.
At the age of 19, Vasilevskiy signed a three-year, entry-level contract with the Lightning having had the benefit of playing against men in the KHL. At that point, many of his goaltending peers had not made their way out of junior hockey or the U.S. college ranks, as is the typical route goaltenders take in North America. For Vasilevskiy, the exposure he had in the KHL helped fast-track his development as an NHL goaltending prospect.
Yzerman's Difficult Decision: Is Now the Time to Trade Ben Bishop?
As the Lightning look toward the 2016-17 season, the franchise has the benefit of having two legitimate number one NHL goalies on its roster. It is possible that Lightning GM Steve Yzerman is willing to enter the season with Bishop and Vasilevskiy splitting more time than in seasons past, despite the trade rumors that continue to surround Bishop's future with the team. The split time in the regular season would allow Vasilevskiy to receive regular action and further his development  before presumably taking over the starting role later that season or next. The 6'3″, 207-pound goaltender has played in just 40 NHL regular-season games during his short career and has recorded 18 wins, 15 losses, and two shutouts, while also posting a 2.60 GAA and .913 save percentage.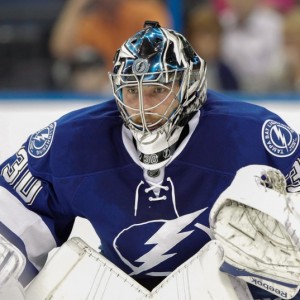 Another potential scenario is that Bishop is moved this summer in order to relieve some of the financial constraints Yzerman is operating under as he evaluates the future of his team. At present, the Lightning finds itself just more than $8.5 million below next season's salary cap, according to Capfriendly.com, with forwards Vladislav Namestnikov and Nikita Kucherov, and defenseman Nikita Nesterov still unsigned. Trading away Bishop's $5.95 million would seemingly be made for a package of prospects and draft picks, designed primarily to decrease payroll, not a blockbuster trade involving another big name as may be expected for a goalie of Bishop's caliber.
While many NHL GMs would dream of having a Bishop or Vasilevskiy on their roster, just as many do not envy the difficult position that Yzerman finds himself in. If he decides to trade away Bishop, the franchise is immediately all-in on Vasilevskiy, who despite his performance in the 2016 Eastern Conference Final, is still a 22-year-old that has played in 40 regular season NHL games. If he decides to keep both players going into the regular season and beyond, he risks losing at least one higher-priced free agent next offseason. Not to mention the prospect of losing one of the team's goaltenders for nothing during next summer's NHL Expansion Draft if he waits too long to make a move. Regardless of what Yzerman does, it's a decision that will have lasting effects on the franchise for many years to come.
As meaningful as Bishop has been since he arrived in Tampa, Yzerman finds himself at an interesting crossroads in his tenure as an NHL general manager. The ultimate question has seemingly become not if Vasilevskiy will be the Lightning's number one goaltender, but when.