The hopes of many Islander fans were answered on Tuesday when Andrew MacDonald was traded to the Philadelphia Flyers.
#Isles get 2014 3rd rounder and a 2015 2nd rounder for MacDonald from the Flyers.

— Arthur Staple (@StapeAthletic) March 4, 2014
In classic "#IslesTwitter" fashion, many fans went straight from clamoring about how much the team needed to trade him, straight to complaining about the return. But when you consider the return for what it was, it was actually quite good.
More Draft Picks? Yes!
I've never understood why people are dead set against acquiring more draft picks. Personally, I love picks- they allow you versatility like nothing else. You can use them and get young players. You can trade them and get established talent. They don't have a cap hit. In essence, they are the ultimate bargaining chip. This year's third round pick isn't a bad return at all, but the crown jewel of the trade is the 2nd round pick.
The 2015 NHL Draft is widely considered to be extremely deep and if the Flyers find a way to not be great next year and that second round picks ends up being early in that round, it could be very valuable. I'd even go as far as to say that it could be just as valuable as a 20-30th overall pick in an average draft class.
The part that gets lost in all of this is that the Islanders don't have to hold onto any picks they get via trade. They can flip those picks for other players on draft day, which is huge. And for those who question the organization's willingness to trade, ask yourselves how the Islanders got Lubomir Visnovsky or Cal Clutterbuck- both are draft day trades.
Even if the Islanders elect to hold onto any pick they get, they can still get value out of those rounds and have some more prospects to hold onto and help improve an already impressive talent pool.
The Islanders also received 25 year old prospect and Long Island native Matt Mangene. It seems like Mangene is more of a throw in in the deal, but if he's able to rekindle the talent that made him a University of Maine standout, it could end up being a nice extra piece.
Andrew MacDonald Played Out of His Element
Andrew MacDonald blocks the most shots in the NHL, and it's not even close. However, this does not make MacDonald the top defensive player his minutes suggest. The only Islander with a worse Corsi number is Eric Boulton, meaning he faces a lot of shots.
What do a lot of shots mean? A lot of chances to block shots! So it's no wonder that if he's willing to get down and block shots that he'd rack up a lot of them. A-Mac is also in the top 25 in the league in giveaways, which he does a lot in his own zone which leads to even more chances to block shots.
That's not to say Andrew MacDonald isn't an NHL quality defenseman, because he certainly is- just not a 20 minute a night guy like he was forced to be with the Islanders. If his role is lessened in Philly, this could actually work out in their favor.
MacDonald is extremely versatile, as he can play both on the power play and the the penalty kill and does an alright job on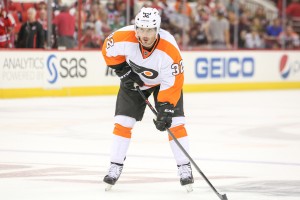 both. If needed, he can quarterback a power play, but likely will not need to now that he's reunited with Mark Streit. Being reunited with his old captain can also help MacDonald get settled in nicely.
The return for the Islanders way key for the future of the organization, and I think that General Manager Garth Snow did a good job in this trade. Next up is Thomas Vanek, who's destined to bring back an even bigger fish. Stay tuned Islander fans, because we've only just begun.