After leaving the Buffalo Sabres last year, not in a friendly fashion, goalkeeper Andrey Makarov signed a two-year deal with the new Chinese KHL team, Kunlun Red Star. In this translated interview, that originally appeared on the popular Russian website sovsport.ru, Makarov talks about his new life in China, KHL goaltending and more.
* You can enjoy the original interview in Russian language by Elena Kutyuzina here *
New Life in China
Elena Kutyuzina: Congratulations! Kunlun Red Star reached the playoffs in their first overall season.
Andrey Makarov: Thank you, it's a great achievement for us. Now starts the most interesting period of the year, we'll work hard to achieve a good result.
EK: What can you tell our readers about your move to Beijing? What difficulties did you experience?
AM: First days in Beijing were incredibly hard. No one was talking in English, not in the hotel, or in any other place. It was an incredible joy when, for example, we would go to a bar and a guy there was speaking English. You can't even imagine what kind of tips we would give him for such a pleasure! Taxis were another thing. We would show the cab driver the address in Chinese characters. They would reply "yes, yes" and drive us no one knows where. But we managed to solve this problem showing the places with our smartphone and a navigator app to show them what route they should take. Food is also strange.
EK: For example? Did anyone try grasshoppers?
AM: Grasshoppers? No, not at all!
EK: It looks like your wife, at least, tried to make sure you didn't forget Russian cuisine. I saw on social networks a team dinner where you were eating borscht.
AM: Yes, I really need to thank her for that. We have a European food store not far from where we live. Of course, prices there are high, but at least we can have some food we are familiar with. We bought all that was needed to cook borsch: beet, meat, and so on. My wife cooked borscht and I invited some guys. It was truly a cool evening. Borscht and black bread is the best Russian food. We then found a Russian restaurant and we go there from time to time. When we have some free time we just walk around Beijing. Recently we visited the Great Wall of China.
[irp]
EK: You have a multinational team in Beijing. What language do you speak in the locker room?
AM: Usually we talk in English, but on our team most of the guys know the most basic words in Russian, like "hello", "thanks", "see you"…
EK: Did you teach something to your [non-Russian] teammates? Artemi Panarin taught Duncan Keith a Russian song.
AM: Yes, but we try not to exaggerate.
EK: When you moved from Spartak to Kunlun, you said that you were happy because in China you could enjoy more games. Are you satisfied with the move?
AM: Yes, I am, I have played 29 games in the regular season, and I'm satisfied with it.
Life of a Goalkeeper
EK: Goalkeepers have more equipment than skaters. Have you packed your stuff since childhood?
AM: At first, it was my father doing it. But once he forgot one piece, and when I explained all the things I needed he said that it was about time that I should be responsible for having all in order. And, of course, the first game after this, I forgot one skate at home. Thankfully, my father managed to run back home and get it before the game.
Check out Andrey Makarov's custom set with the Kunlun Red Stars in the KHL! #VaughnLife #BuiltByMike #CustomHandCrafted pic.twitter.com/kq4DalJcl2

— Vaughn Custom Sports (@VaughnHockey) September 29, 2016
EK: Usually, goalies love to paint their helmets.
AM: Yes, this year I wanted to get something to fit the style of the team, I talked with my designer and we decided to opt for a red dragon.
EK: Did you ever think that you moved to North America too young?
AM: Sometimes I had such thoughts, but I have no regrets about it. It was a needed move. I gathered a lot of practice and experience.
[irp]
EK: Now you pretty much have spent one full season in the KHL. What differences did you notice between North American and Russian hockey?
AM: As in North America they play on a smaller ice surface, players are running and shooting all the time. Here [in Russia] players play a more thoughtful game, there are more pauses, more passes.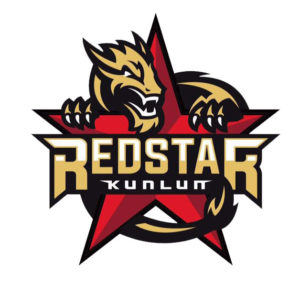 EK: And where is it harder for goalies?
AM: When there are more shots, then it's harder. And also the way creases are attacked in North America! You can end up pushed into the net with the puck, it's a normal thing.
EK: Who has the best shot in the KHL?
AM: Frankly speaking? Sergei Mozyakin.
EK: All KHL goalies reply Mozyakin. Recently, during an interview, Ilya Sorokin said that even if you manage to stop him once, he'll invent something else for the next time.
AM: So you see yourself. He's an unpredictable player.