During the 2014 NHL Draft, the New York Islanders drafted two very talented guys from Europe, Linus Soderstrom and Ilya Sorokin. While both are having good careers, we can say that thus far Sorokin, who is one year older, had perhaps a better senior career, since he is now the starting goalie of the arguably top KHL team CSKA Moscow and regularly plays for the Russian senior national team. In this translated interview, New York Islanders prospect Ilya Sorokin talked about his contract with CSKA Moscow, fellow goalies, and how he likes to spend his free time.
* For the original championat.ru article, click here.
– We're getting closer to the playoffs. Are you satisfied about CSKA Moscow's season and your personal season?
– I  think that it's early to jump to any conclusion. We can do it only after the very last game.
– Last summer, in sight of the Olympics, you prolonged your contract with CSKA until 2018. Does it mean that you'll play here until 2018?
– Yes, I had the goal of making the team, improving as a player. And regarding going away… I had some thoughts, but they remained thoughts.
– Olympic games are your long-term plan?
– I think that they are the long-term plan of every hockey player. It's the apogee of any career. Everyone would like to play at the Olympic games.
– Didn't you have any doubt when you signed the contract? In CSKA you would have some good competition for a spot between the pipes.
– I considered every aspect of it. What would have been better, and what worse. Of course I had some doubts. You always have them. But I was also sure of myself, that's why I decided to sign.
– At first you didn't have much ice time with CSKA. Were you worried or did you think that everything will come with time?
– No, I wasn't worried. When I got to CSKA, I already understood that I wouldn't have anything given. I needed to work hard and show what I am worth. I think it's a normal process. I played for CSKA junior team in the MHL, and I don't have any problem with that. I was ready to wait.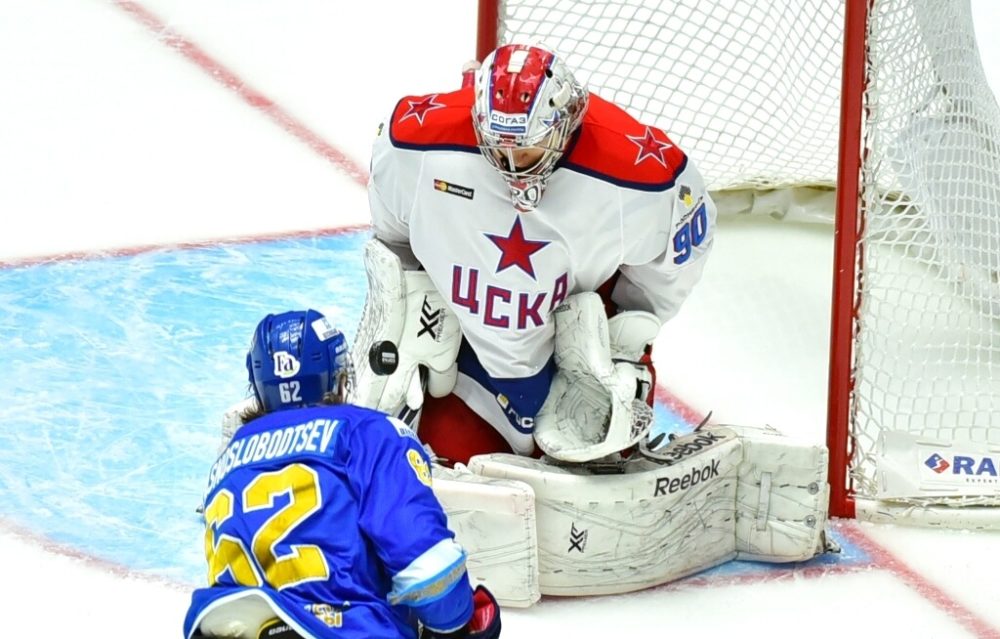 – When you get to practice with good players do your skills improve even if you don't have much ice time?
– Of course. During the practice the other guys always want to score on you, it's always like that. You get good emotions from practices too. It's very pleasant to practice with players who work hard and try to get you working hard as well.
– Does Alexander Radulov remain on ice after the practice?
– A lot of players stay. For example, many players want to practice their shot.
– And who has the strongest shot in CSKA?
– Everyone has a good shot. But the most unpredictable, of course, is Radulov. Always hard to stop. Also [former New Jersey Devils forward] Vladimir Zharkov has a good one. Or Evgeny Korotkov. Well, I guess everyone can score on me (laughs).
– It has been said that Radulov takes much care of you.
– I think that he has a great attitude with all the young players of our team, like Kuzmenko, Svetlakov, or Mamin. He is always helping someone. He talks with you when things gets hard. He also gives out a lot of emotions in the locker room, and this helps a lot.
– Are you learning English right now?
– No, I am not. I still have a little knowledge from school, though.
– You were drafted by the Islanders in 2015. Are you planning to visit their training camp? Are you in touch with the team?
– No, there's nothing about it. I'm focused on CSKA now. But if schedule won't clash, why don't go there and have a look at how their system works? But now, I repeat, I'm focused on CSKA.
– What do you think, what is the right age to move to the NHL? Do you feel ready to move?
– Hard to say. Evgeny Medvedev moved there aged 32, while Andrei Vasilevky when he was 20. Everyone has his own path. I'm not thinking about it now, I have CSKA on mind.
– Do you follow the Islanders? Or at least, their goalies?
– Yes, I don't follow closely the teams, I rather look at goalies. I follow Russian goalies: Sergei Bobrovsky, Andrei Vasilevsky, Semyon Varlamov. I try studying from them. And of course I also follow foreign stars, like Henrik Lundqvist, Jonathan Quick, Carey Price.
– You are often called "the new Bobrovsky". Are you in touch with your fellow Novokuznetsk-native?
– We are often talking together, I give him questions. About technical stuff, or also psychological. This summer he went to Novokuznetsk, we practiced together. Sergei is a very communicative person, he's always ready to help.
– Do you talk during the season?
– Sometimes we exchange a couple of texts. I wrote him an email, he replied. Sergei is not the kind of person who leaves any communication without an answer.
– Who is your most demanding assessor? CSKA goalie coaches? Your father?
– I think it's myself. Of course, everyone points to the mistakes I do and we try to analyze them. My father does this as well. But how [Columbus Blue Jackets goaltending coach] Ian Clark said, the best coach for a goalie it's the goalie himself.
– Can you tell us about your mask?
– On one side there is the Kremlin, on the other side the Saint Basil's Cathedral. And then airplanes. One from the World War II, and another modern one. I like airplanes and militar stuff. And also, CSKA is the Army's club, therefore why not?
– You started playing pro hockey at a very young age. Was it hard to move from junior to senior hockey?
– Well, it's much harder when they get you back to juniors. It's hard to get back on that kind of game, because maybe you learned to react and think faster, but the game isn't that fast. And you allow some unpleasant goals because of this. You do everything like you do in the KHL, but the game is slower. You need two or three games to adapt back.
– Do you read books on goaltending technique?
– I usually prefer literature. You need to get distracted too, coaches and trainers give you a huge amount of information. But if I find a good book on it of course I'll read it.
– What kind of books do you read?
– The very last book I read was Robinson Crusoe by Daniel Defoe. A very interesting book, it really captured me into the story.
– How do you spend your free time other than reading?
– I play some individual sports, like table tennis for example. I have a walk or listen to some music. I also play some console games with my friends.
– Do you playa as Sorokin?
– Well, there isn't Sorokin there (laughs). Frankly I mostly play soccer.
– Is reading an important psychological moment for you? Does it help you to get distracted?
– Of course. I read a lot on the plane, or by night when I take a rest from the computer. If the book grabs you… Recently I read "The godfather" by Mario Puzo, I started reading it and I couldn't stop.
– Is Admiral Vladivostok [Chicago Blackhawks prospect] Ivan Nalimov a friend of yours?
– We have a solid friendship. We played on the same team, we keep ourselves in touch and last year we went on vacations together.
– Can you call yourself a talented player?
– No, I am just a regular guy. The most talented one is Nalimov.
– But he wasn't picked up by CSKA.
– Everything is in front of him. Admiral is having a good season as well, and they are in the top five in the Eastern Conference.
– Did you follow the recent WJC?
– Yes, I watched the games. Kirill Kaprizov is my friend, I mostly followed him. And also the guys I played with last year, Vladislav Kamenev, Alexander Dergachyov, Ivan Provorov. Too bad they lost the final game.
Subscribe to my email newsletter to receive updates about my articles. Thank you!