In this translated interview, originally appearing on the popular Russian portal Sovsport.ru, Sergei Bobrovsky discussed his return, shared his views on Olympic Games and World Cup, and refused to reveal any plan regarding his contract.
– You weren't playing since October 26th and finally you're back.
– Yes, it has been tough. I'm very happy to get back on the ice and help my team.
– It was quite the return, directly from the hospital to the ice.
– The "advantage" of my injury, of course, if you can talk about an "advantage" of an injury, was that I could practice both at the gym and on the ice with the goaltending coach. I feel in good shape.
– Don't you think you should have rested more?
– Is there a choice? Columbus needs points, we have to get to the playoffs.
– Do you like going to Philadelphia?
– Of course. The first game after the trade was something to remember. But even now it's a great atmosphere, emotions, and memories.
– It was your introduction to the NHL. You had your first steps there.
– Yes, you can say that. I'm very grateful to the Flyers franchise because they helped me a lot.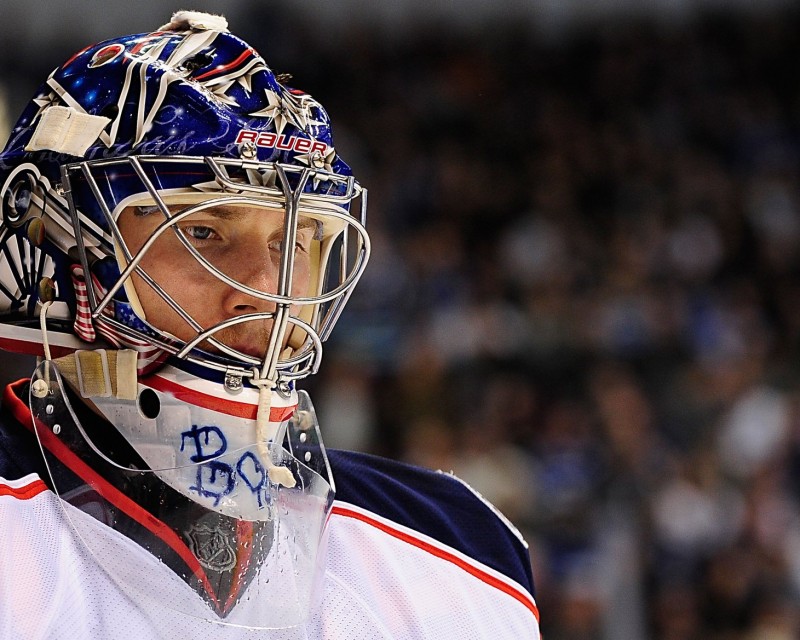 – In the first place, it was good that they found you, since you haven't been drafted.
– Yes, that's true.
– Were you surprised to beat the Flyers at their own arena? Columbus has had many injuries.
– Many guys are getting back on ice. We have a good atmosphere in the locker room and we feel confident again. All the guys are working hard. I hope that we'll go on like that. It's hard when you get back right on the middle of such a losing streak. You feel more pressure and negative emotions. We lacked the simplest hockey joy!
– You started the season very well, win over win. And then…
– Then we had some hard time when we had 12 injured players. This is a very serious loss.
– You did you practice during the summer? Last season was great for you, but not that good for the rest of the team.
– Well, the team made a huge step forward as we reached the playoffs. This was a big achievement for us. Of course, we wanted to go farther, but it has been a good season for Columbus. After the playoffs I played for Team Russia at the IIHF WC. I had a lot of positive emotions as we played well and helped each other a lot. I already said many times that it has been great there. I managed to get my family there, my wife Olga, my parents. Moreover, Belarus is almost Russia. Everything has been great! Then I had a couple of weeks of in my hometown Novokuznetsk. Then two weeks at the Maldives and two weeks in France. And then for five to six weeks, as usual, I practiced for the new season in Austria.
– During the offseason, did you manage to forget all the negative about the Olympics?
– Generally speaking, yes. The IIHF WC helped a lot. I could finish the season in a positive way.
– Does the defeat still hurt?
– What can I say… You always try to learn a lesson. You can't play again that game anyway. The important is that it won't happen anymore in the future.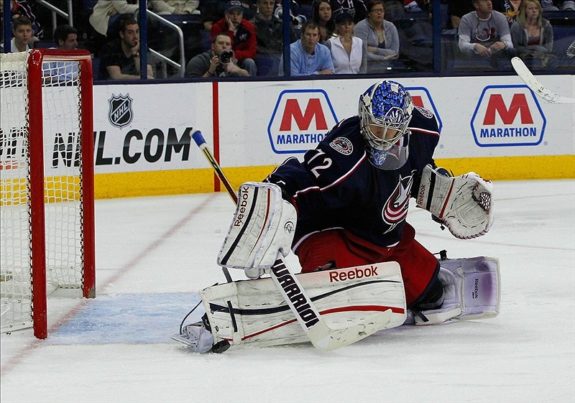 – What are your feelings about the World Cup of Hockey getting back in 2016? Do you welcome more international tournaments or is it a not necessary load?
– Undoubtedly, I'm all for the Olympic Games. It's an unforgettable competition in a fantastic atmosphere. All the world's best athletes at the same place, that's something incredible! Playing at the Olympics is a great achievement. I would really want the NHL to free their players for the Olympics in the future too. Regarding the World Cup, that's hard to judge. At the start of the season, it's hard to show your best hockey. You're just back from the offseason, you're still practicing, you're just getting back on the ice. And you have to play for your national team in such a tournament. It's complicated, and the season for NHL players is very long. Therefore, I don't have a definite answer.
– At the end of the season your contract will run out. Did you already start talking with Columbus?
– I wouldn't want to discuss my contract now. This is, for now, a closed issue.
– In Russia everyone is interested in knowing if there is even a minimal possibility of your return to SKA St. Petersburg. No one doubts that they can offer you a very big contract.
– For now all of this is a secret. Behind the iron curtain!
– So, does this mean that you're keeping all the intrigue for this summer?
– Sorry about it!
[Read also: Interview with Sergei Bobrovsky with Proust Questionnaire]
A professional hockey writer and translator. Loves Russian culture, language, and hockey. Reachable on twitter @AlexSerenRosso