The February 29th NHL trade deadline is still weeks away, but that doesn't mean general managers and coaches haven't started developing a strategy for that crucial day. Although the Chicago Blackhawks haven't been known as the biggest buyers under Stan Bowman, they are usually an active team that maximizes their assets through the acquisition of depth players for a playoff run.
With this season's team playing their best hockey of the season and sitting in first place in the Central Division, I would expect a depth move rather than a big splash from Bowman before the 29th once again. The Blackhawks' savvy GM currently has eight draft picks to work with according to General Fanager, but it would also be wise to save these slots to make up for a draft class that lacked a first round selection last season. Instead, I think it is time for Bowman to begin unloading some of the young players that are currently crowded out of the Chicago lineup. More specifically, I believe that Mark McNeill and Marcus Kruger are two players that could find themselves being shopped before the end of the month.
Moving on from Mark McNeill
McNeill was originally a first round pick of the team back in 2011, the same draft that produced current Blackhawks center Phillip Danault. The 6'2" center is strong on his skates and plays a responsible two-way game while also being able to show some skill offensively. He has put up a solid 22 points in 33 games with AHL Rockford and is routinely listed among the team's best prospects.
The issue then becomes why he hasn't played more than one NHL game throughout his two-plus years under contract with the Icehogs. The reality may be that his lack of playing time really isn't any fault of his own though. The Blackhawks have long been known as a team with plenty of depth at forward, and their extensive list of prospects willing to carve out a bottom-six role for themselves means that he has faced stiff competition from a high number of players for essentially his entire career.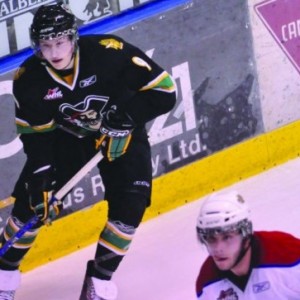 Aside from Danault, he has had to watch Dennis Rasmussen, Tanner Kero, Kyle Baun, and Brandon Mashinter all receive more NHL playing time than him this season. And that's not even mentioning Vinnie Hinostroza, Ryan Hartman, or Marko Dano, who might all be better prospects than McNeill overall.
With the current numbers the way the are, it makes the most sense for Bowman to ship out one of these players while they still have value. He was forced to make a similar decision with Brandon Pirri when he was sent to Florida a few seasons ago, and a comparable trade might be on the horizons.
Which brings me to the question of McNeill's worth on the NHL trade market. Mark Lazerus of the Chicago Sun-Times made an interesting point when he suggested that McNeill's brief call-up was more of a showcase for other teams than it was an audition for the Blackhawks. And I completely agree with his point.
Other teams would naturally be concerned with McNeill's ability to play with NHL players, and his debut seemed to prove that he is capable of skating in the world's best league. His promise as a prospect and impressive AHL numbers make me think that he could be a valuable part of a package for a veteran player if Bowman decides to pull the trigger on a deal.
Could Kruger be Moved?
The Blackhawks went to great lengths to re-sign Kruger last offseason after they determined that the defensive specialist was an important part of their core that they wanted to keep around. Lacking the cap space to sign the center to a mid-term deal, the two sides settled on a one year, $1.5 million contract that would act as a bridge before his next payday. However, a slow start (one assist in 33 games) and subsequent injury have put Kruger in a precarious position with the team moving forward.
The young forward is still undoubtedly one of the best defensive specialists in the game today, but he appears to have been replaced by a younger, cheaper, and more productive Danault in the Hawks' everyday lineup. Additionally, Rasmussen has played very well in his fourth line role and seems to have developed chemistry with recent acquisition Richard Panik.
I wouldn't be totally opposed to seeing Kruger replace Rasmussen in the middle of the Hawks' last line, but his contract situation makes it difficult for Chicago to justify keeping him past this year's deadline.
Remember the one-year 'bridge' that he signed last offseason? Well it expires during the summer of 2016, the same summer that will see the contacts of Danault, Andrew Shaw, and Jiri Sekac expire as well. With the salary cap unlikely to see a substantial increase before then, it appears that at least one of these players will be in a different uniform to start the 2016-17 season.
Before this season many thought that Ryan Hartman's development would eventually make Shaw expendable, especially after the latter posted just 26 points in 79 games last season. This year, however, Shaw has already posted 25 points in 55 games will seeing plenty of time on the team's top line with Jonathan Toews and Marian Hossa. The chemistry between the three players may have saved Shaw from becoming trade bait himself before the end of the season.
The Total Market
So what would Kruger fetch the Hawks in a trade? His decline in production this season is obviously a huge concern, but Kruger has plenty of big-game experience and an excellent reputation around the league as well. With this considered I would say that Bowman could use Kruger to acquire either a mid-round draft pick from a contending team, or another roster player from a rebuilding organization. If he is dealt for a pick, Bowman could turn around and use that pick (possibly in combination with McNeill) to acquire the extra defenseman he has reportedly been seeking all season.
It's far from an ideal situation, but when other GMs start asking for more valuable assets in a trade, Bowman must be willing to make difficult decisions in order to improve his roster.
David is entering his final year as a sport management and operations and information management double major at UMass Amherst. Originally from the West Suburbs of Chicago, David has enjoyed watching the Blackhawks for as long as he can remember. When not watching or writing about hockey, he can be found working on the McCormack Future Leaders Conference on the UMass campus.