Stan Bowman has never been known as a complacent man, so it wasn't too surprising that rumors about the Blackhawks seeking another defenseman via trade resurfaced this past week. These rumors come despite reports indicating that Duncan Keith and Michal Rozsival are close to making their returns to the team, providing more depth on the backend. Regardless of the circumstances surrounding Bowman's trade inquiries, here are some of the top players that the Hawks' GM could be looking to acquire in the coming weeks.
Nikita Nikitin
I once wrote about how Edmonton's free agent signing of Nikitin was one of the worst of the 2013 offseason. With the way things are going for him right now, I certainly stand by that claim. The 29-year-old was placed on waivers and sent to the Oilers' AHL affiliate in Bakersfield at the start of the season. Since arriving, the Russian defender has played just four games, registering three points and -2 rating.
However, he is a decent puck mover who once scored 32 points in 54 games for the 2011-12 Blue Jackets. Earlier rumors suggested that a Hawks-Oilers swap involving Bryan Bickell may have been in the works, and if Bowman can find a way to move Bickell to Edmonton, Nikitin would be a welcome addition in return.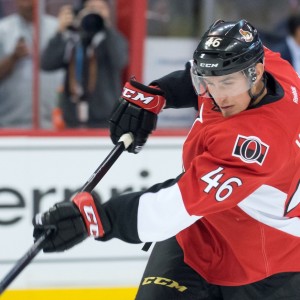 Patrick Wiercioch
The Senators have had a glut of defensemen on their roster for the past few seasons, and Wiercioch's name has frequently been mentioned in trade rumors across the league. He has played well enough for Ottawa this season to likely command a decent return in a trade. Wiercioch is a big body who passes well and possesses good offensive awareness but still needs to improve his strength on the puck if he wants to be relied on more. His hockey smarts would make him an ideal fit in Joel Quenneville's complex scheme, plus he's a free agent after this season, giving Bowman the cap flexibility he is seemingly always in need of.
Luke Schenn
The Flyers have been trying to deal Schenn for months now, and Bowman might be interested if he can acquire the former 5th overall pick without giving up a roster player or top prospect in return. Schenn doesn't play much in Philadelphia anymore, but he has played well when he's seen the ice in 2015-16. Still, with so many defensemen on the roster in Philly and their desire to get his $3.6 million cap hit off the books, the cost to acquire him could be minimal for a team looking for a physical player with a big shot. With cap flexibility always an issue for Bowman and the Hawks, Schenn's expiring contract offers an appealing payroll option.
Kris Russell
With Johnny Gaudreau, Sean Monahan, and Jiri Hudler all playing on expiring deals this season, Calgary might not have the cap space to re-sign Russell when he hits the market in the summer of 2016. Russell has struggled mightily for the Flames this season (along with pretty much everyone else on that roster), but his skating, passing, and conditioning could make him a perfect fit in Quenneville's system alongside Brent Seabrook or Niklas Hjalmarsson. Russell will be awarded a nice contract this offseason, but Bowman would be wise to bring him in on the short term if he can had for cheap from a floundering Calgary team looking to change up their roster.
Of the above players, Russell and Wiercioch are definitely the most intriguing options for the Blackhawks due to their puck-moving abilities and smaller cap hits. However, neither would be particularly cheap in a trade, especially this early in the season. But with several other quality options available on the market right now, it will be exciting to see how Bowman addresses his blue line needs moving forwards.
David is entering his final year as a sport management and operations and information management double major at UMass Amherst. Originally from the West Suburbs of Chicago, David has enjoyed watching the Blackhawks for as long as he can remember. When not watching or writing about hockey, he can be found working on the McCormack Future Leaders Conference on the UMass campus.