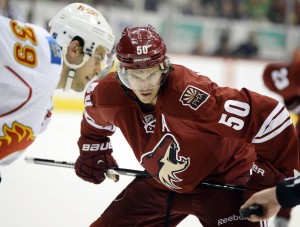 Antoine Vermette has come back to the Arizona Coyotes as the forward signed a two-year, $7.5 million deal as reported by TSN's Pierre LeBrun and Bob McKenzie.
The cap hit will be $3.75 per season for the two years. It's actually a smaller hit than the last deal Vermette signed with the Coyotes.
Vermette returns to the desert after being dealt to the Chicago Blackhawks at the trade deadline for a first-round pick in last week's draft. (The Coyotes went on to pick Nick Merkley with the 30th overall selection.)
Vermette was an occasional healthy scratch for the Blackhawks during the Stanley Cup-winning run. However, he came up with some huge goals when Chicago needed them, including this double overtime-winning goal in Game 4 of the Western Conference final against the Anaheim Ducks.
Vermette finished with four goals and three assists in 20 postseason games for Chicago after being held scoreless in 19 regular season games. He also provided some pivotal faceoff wins for the Hawks when he was in the lineup. He finished with 13 goals and 25 assists in a total of 82 games with Arizona and Chicago.
The soon-to-be 33-year-old will get a nice contract and a chance to return to Arizona parts of three seasons with the club. Vermette scored a career-high 24 goals in the 2013-14 season. The deal might be considered a disappointment for him because of the interest he garnered at the deadline.
The Coyotes have not let the specter of a possible move to Las Vegas stop them from being active on the opening day of free agency. Arizona has re-signed Zybnek Michalek and added Anders Lindback, Steve Downie and Brad Richardson.
Follow all free agent signings with The Hockey Writers' Free Agent Tracker.
RELATED: Coyotes Deal Vermette to Blackhawks
Recent Coyotes Posts
[catlist categorypage="yes" numberposts=3 excludeposts=this]