The rumor became reality.
After the Arizona Coyotes dropped their ninth straight game Saturday night, a 4-1 loss to the Bruins in Boston, one of the players rumored out of the desert was finally shipped, and this time to Chicago.
Center Antoine Vermette, considered an attractive commodity as the March 2 approaches, was dealt to the Blackhawks for Klas Dahlbeck, a 23-year-old defenseman. Dalhbeck has played in only four games in the NHL, but the Coyotes welcome any help with their plus-minus ratio.
While Vermette was likely on the radar screen of several teams, his plus-minus numbers reflected the Coyotes' troubling season.
Prior the Bruins' game Saturday, the 32-year-old native of St. Agapit, PQ, was minus 22 and no player in the Arizona line-up had an even or plus record. The closest was rookie defensieman Brandon Gormley, who sported a minus 1 in 20 games. Next was defenseman Zbynek Michalek, who was minus 6 in 53 contests prior to Saturday's game.
While Vermette's departure was expected, his emotional exit was not.
"You've got to take [the trade] as a man," Vermette told NHL.com after the deal. "It's part of the game, unfortunately. It's not easy. … [I had a] special group, special guys. I made some friends here."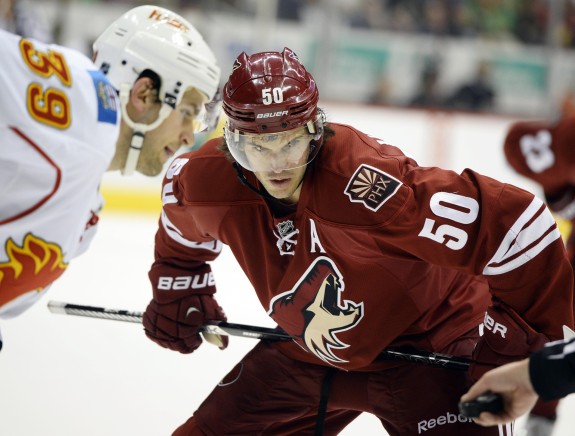 Hawks get insurance
The trade likely benefits both teams.
Beginning July 1, Vermette becomes an unrestricted free agent, and the Coyotes would likely have some problem signing him. Now, they receive a defenseman in Dalhbeck, which coach Dave Tippett, regarding as one of the better teaching coaches in the NHL, can shape into an NHL-quality blue-liner.
Vermette's destination is clearly beneficial to the Hawks, now with center Patrick Kane out with a fractured left clavicle until late May, possibly longer. Vermette will jump quickly into the Hawks' line-up, and provide an adequate replacement for Kane.
With Arizona, Vermette often centered the top line and regarded as one of the more efficient face-off center-ice-men in the game. His winning face-off percentage was 56.0, good for eight in the league.
In 64 games with the Coyotes this season, Vermette scored 13 goals, assisted on 22 others for 35 scoring points. The Blackhawks represents his fourth NHL team and previously, Vermette skated with Ottawa, Columbus and the Coyotes.
Vermette will not remain a stranger to the desert for long.
The Hawks skate into the Gila River Arena on March 12, the opening game of a two-game road journey to play the Coyotes and Sharks.
For now, the Hawks get a solid insurance policy for the injured Kane and the Coyotes, in addition to Dahlbeck, receive Chicago's first pick in the 2015 draft this June.
For the better part of this forgotten season, Tippett is resigned to coaching and teaching. With a plethora of young players coming on which seems a regular commute between the AHL Portland Pirates and Coyotes, Tippett stresses to need for young talent to be NHL-ready. Now, he adds Dalhbeck to what appears to be a growing list.
"Klas Dahlbeck is a big (6-foot-3, 207), strong, two-way defenseman who skates well and competes hard," Coyotes general manager Don Maloney told NHL.com "We're excited to welcome him."
Follow Mark Brown on twitter, @journalist193
Mark Brown is a former sports editor for daily newspapers in the Philadelphia and Cincinnati markets. He was named Best Sports Columnist, honorable mention 2004 by the Associated Press Society of Ohio. He is a contributor to major daily newspapers, including the Chicago Sun Times, Philadelphia Inquirer, Honolulu Star-Bulletin, Milwaukee Journal, Arizona Republic, Nashville Tennessean and the Associated Press. He was a Featured Columnist for bleacherreport.com and covered the Arizona Coyotes.