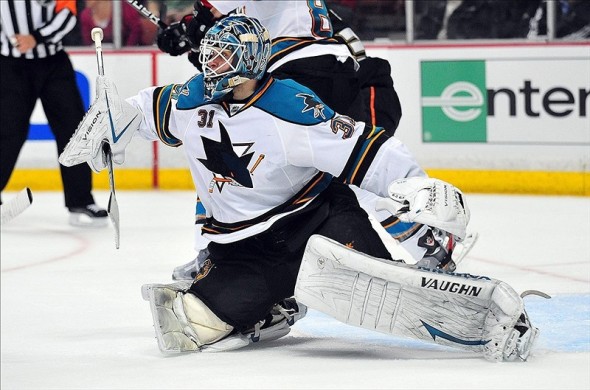 Despite all the attention Jaroslav Halak and Brian Elliott have garnered of late, Antti Niemi happens to be the only goalie in the San Jose vs. St. Louis series with his name on the Stanley Cup.
After leading the Chicago Blackhawks to a Cup championship in 2010, it's clear that Niemi is capable of winning when the stakes are at their highest—a quality that often takes on greater significance during the playoffs than regular season success.
Niemi's ability to raise his game to a premier level was displayed on Thursday night, as the Sharks stormed into the Scottrade Center and took down the second seeded St. Louis Blues in the first matchup of the 2012 playoffs, winning 3-2 in the second overtime period. San Jose, picked by very few to beat St. Louis in the opening round, was given the chance to orchestrate an upset thanks to the strong play they received between the pipes, as the Blues outplayed the Sharks in virtually every other facet of the game.
Niemi, 28, stood tall through more than 83 minutes of competition, stopping 40 of 42 shots on goal—14 of which came in the first OT frame. While those in front of him were constantly overmatched, Niemi provided his team with the steadfast performance they required from their last line of defense.
"That's one of the best games he has played all year, especially the overtime," teammate Brian Boyle said of Niemi. "It seemed like we just couldn't the puck out of our end."
Starting in net for St. Louis was Halak, who possessed the best goals against average in the 2011-12 regular season. Along with teammate Brian Elliott, the Blues have received historically strong goaltending, making them one of the most popular picks to go all the way this year and clear-cut favorites over the underwhelming Sharks.
Unlike his incredibly talented counterparts, Niemi was average at best this year, posting a 2.42 GAA and a .915 SV%, which ranked 17th and 25th in the league, respectively. And while he had previously led the Blackhawks to their first Cup since 1961, he struggled mightily in last year's postseason, allowing 3.22 goals against per game.
But like a flip of a switch, the Niemi that earned himself a championship ring and a big contract with San Jose reappeared on Thursday, giving reason to believe that his team may in fact have what it takes to take down the vaunted Blues in the first round.
"I thought (he) played well," Todd McLellan said of his goalie. "We put enough pressure on their goaltender as well to win. We can't lose sight of what they are. They're an extremely strong, defensive team. They don't give you a lot. They don't give you a lot of shots, period, never mind scoring chances."
Niemi's performance in Game No. 1 should give Sharks fans legitimate hope to not only defeat the Blues, but to make a legitimate run this spring.
The question now is whether or not he can sustain such a high level of play.