We can all agree that this season hasn't been the best season of Anze Kopitar's career with only 31 points (6g-25a) over 45 games, but the first-year captain of the Los Angeles Kings and his mates are currently in a playoff spot. Which is kind of a big deal when you consider the fact that their number one goaltender, Jonathan Quick, has only played 19:56 — exiting after the first period the opening night of the season.
Helping keep the Kings afloat in the Pacific Division and Western Conference has been the play of veteran goalie Peter Budaj — who has resurrected his career in Hollywood and given L.A. a chance to win most nights thus far. After playing one NHL game over the previous two seasons, the 34-year-old puck stopper is currently 24-14-3 with six shutouts, a 2.01 goals-against average and a .922 save percentage. "It's been huge. Peter is giving us an opportunity (to win) every night and that's all you can ask for," said Kopitar after a recent road win in New Jersey. "I think he's done a really good job at that."
FOUR KINGS WINS IN A ROW pic.twitter.com/cyHRPe3kp5

— LA Kings (@LAKings) February 2, 2017
Making Their Move
In that game in New Jersey, the Kings blitzed the Devils with two quick goals and then held the fort down to snap a four-game losing streak. "He was solid back there. He made the saves that he saw, too bad one squeaked by him but he made some huge saves," Kopitar said. "I think he obviously kept us in it during the 5-on-3, he made some good stops. We're going to need that going forward, that's just the bottom line."
The bottom line is that the competition in the West isn't what it has been in years past and if the Kings can tread water until the final two to three weeks of the season, they could get a boost from a healthy and fresh Quick as they look to win their third Stanley Cup in seven seasons.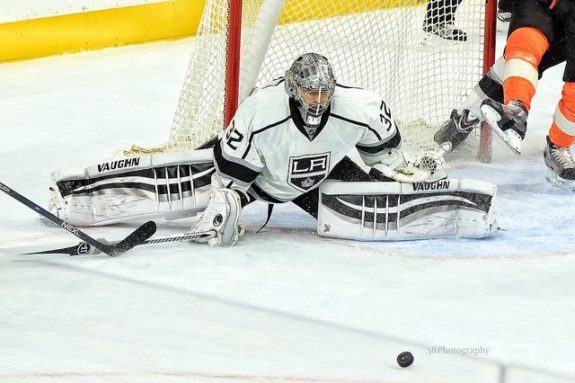 "Obviously the last two games didn't go the way we wanted them, I think tonight — coming out in the first period like we did, was big for us," Kopitar told The Hockey Writers after the 3-1 triumph over the Devils. "Getting the lead early and then sustained pressure, we didn't score but I felt like we played pretty well, we still carried the chances. Again, it didn't go in and we'll work on that, but getting these two points tonight was huge for us."
Following that win, the Kings have now reeled off three more victories and currently are in control of the first wild-card spot with St. Louis, Calgary, Vancouver, Dallas and Winnipeg close by. None of those teams will be adding a goalie of Quick's caliber down the stretch, so like we said — tread water. On deck next is a four-game trip out East (Philadelphia, Washington, Tampa Bay and Florida). Honestly, though the way Budaj is playing, barring something dramatic, L.A. should be okay as we've seen enough of a sample size to assume he isn't going to implode like Jake Allen has with the St. Louis Blues.
Peter Budaj of the @LAKings shares the League lead with a career-high six shutouts this season. #COLvsLAK pic.twitter.com/ZjQTZSt5vy

— NHL Public Relations (@PR_NHL) February 2, 2017
Anze on Fire
The 29-year-old Kopitar now has points in all five games (2g-4a) during the win streak and is, hopefully for Los Angeles,  heating up at the right time. He virtually has the same amount of points over his last 15 games that he recorded during the first 32 this season. He was the one who opened the scoring in that road game vs. the Devils, the game that started this streak, cashing in on an early power play chance.
First it was Kopi… pic.twitter.com/3wi9umROhM

— LA Kings (@LAKings) January 25, 2017
"Coming out tonight and drawing a penalty and then scoring right away on the power play — that's big. I think I've been lacking the shooting part of my game; I want to be a little bit more aggressive and a part of that is attacking off the half-wall," the NHL's most famous Slovenian said. "I had some room and just tried to get it on the net and fortunately for me it went in. I think special teams in general, on the road — and at home for that matter — they're huge and we won that battle tonight, and that won the game for us."
The Kings still have a large part of their core that was part of their two Stanley Cups, and we've seen them win it once from a disadvantageous position as the eighth seed. It won't be an easy task for whichever team has to win a seven-game series against Kopitar, Quick, Budaj, Jeff Carter, Drew Doughty, Marian Gaborik, Tyler Toffoli, Dustin Brown and company.