The Los Angeles Kings announced that the team's next captain heading into 2016-17 NHL regular season will be Anze Kopitar. Kopitar has been one of the team's alternative captains for the previous eight seasons behind former captain Dustin Brown.
Kings name Kopitar captain, so what now for Brown? https://t.co/NdAbMko9e4

— NHL on NBC (@NHLonNBCSports) June 16, 2016
Brown was relinquished of his captaincy late last month as the 31-year-old's point production had diminished over the course of the last three seasons after winning the Stanley Cup with the Kings in 2012 and in 2014. Brown is under contract for another six seasons with an AAV of $5.875 million according to CapFriendly.
Kopitar's 2015-16 Regular Season
This last season, Kopitar scored 25 goals (breaking the +20 goal mark for the eight time in his career) and scored 74 points, which led all Kings in scoring.
Kopitar also signed an extension with the Kings in January. The deal will keep Kopitar with the Kings (barring any trade/buyout/retirement situation) for the next eight seasons at $10 million per season. The salary is comparable to that of Chicago Blackhawks' stars Jonathan Toews and Patrick Kane ($10.5 million per season). Kopitar will have the third highest salary in the NHL beginning next season and a contract that will carry through to the 2023-24 season.
In addition to leading the Kings in scoring and signing an extension with the team, Kopitar has been nominated for two individual NHL awards this season: the Selke Trophy and the Lady Byng Trophy.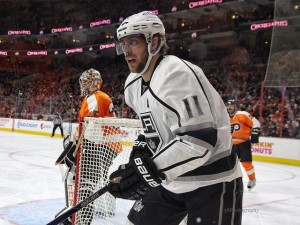 The Selke Trophy is awarded to the offensive player that best excels in defensive aspects of the game and this will be Kopitar's third nomination. The other two nominees are three-time Selke trophy winner Patrice Bergeron of the Boston Bruins and 2011 Selke winner Ryan Kesler of the Anaheim Ducks.
The Lady Byng Trophy is awarded to the "to the player adjudged to have exhibited the best type of sportsmanship and gentlemanly conduct combined with a high standard of playing ability." This is the first time Kopitar has been nominated for this award and has been nominated along with Detroit Red Wings forward Pavel Datsyuk and Calgary Flames forward Jiri Hudler. The NHL Awards will be presented on June 22 in Las Vegas, Nevada.
Kopitar's Career as a King
Kopitar, 28, was drafted by the Kings in the first round of the 2005 draft pick and is the first NHL player born in Slovenia. In 764 games with the Kings, Kopitar has amassed 243 goals and 684 points.
He was the assistant captain when the Kings won the Stanley Cup in 2012 and 2014 and has led the Kings in scoring in each of the past nine seasons.