In the 37 year history of the Edmonton Oilers there has arguably never been a more polarizing figure than defenceman Kris Russell. And there has certainly not been a player that has caused this much of a divide amongst fans and media types…with such a small body of work. After playing what was probably his worst game of the season on Tuesday night against the Minnesota Wild, the 29-year-old now has a grand total of 44 games under his belt in Orange and Blue.
Things you don't talk about at the dinner table: Money, religion, politics, Kris Russell

— Aime (@aimeok) February 1, 2017
On one side of the equation, we have the hockey analytic types who will argue Russell is among the worst regular defencemen in the game today.  Whereas at the opposite end of the spectrum, we have large chunks of the local media and fan base who swear he has played a huge part in helping the Oilers turn the corner. All this fervour, despite logic telling us the answer is somewhere in the mushy middle. So what gives? Why all the angst for a guy who has been an Oiler for such a short period of time?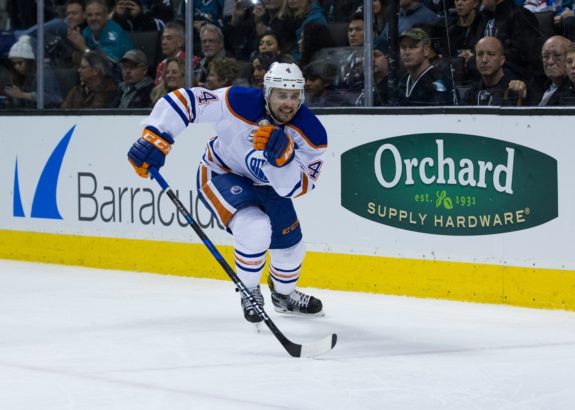 The Russell vs Petry Argument
In my mind, it's quite simple. It comes down to two things. The seemingly endless rumours surrounding the possible signing of the veteran rearguard to a multi-year extension and the mess that led to Jeff Petry's eventual departure out-of-town. Confused? Well, you really shouldn't be. After all, it was the organization's mishandling of the former second round pick which left the Oilers in a pickle on the backend. Not surprisingly, the two camps went back and forth on Petry as well…with one big difference.
I like Kris Russell with the Oilers and I disliked Jeff Petry with the Oilers. Maybe I should have been working for a newspaper?

— CollinCapone (@CollinCapone) December 5, 2016
According to the analytic types, Edmonton missed the boat in moving the American blueliner and compounded things further by getting pennies on the dollar for him in a trade with the Montreal Canadiens. This, despite large portions of the fan base and almost all the media across the country suggesting Petry was nothing more than a third pairing defenceman who played a "soft" game leading up to the deal. However, this time around the roles are reversed.
Kris Russell has been good this year. Not tonight. Manned up after the game like a pro.

— Kurt Leavins (@KurtLeavins) February 1, 2017
The numbers guys continue to tell us the "stats" show Russell is not the player many seem to believe he is and the organization would be nuts to consider inking him to a deal. While much of Oilers nation and nearly all the local media types appear to be fully on board with the club trying to sign the Alberta native to multi-year pact — if the money and term make sense. The parallels between the two situations are obvious but because the team is winning, the exchanges between the two sides are much more heated this time around. And it can be a tad much to take.
The Klefbom, Larsson, Russell Effect
For example, those who continually scream from the top of their mountain that Russell has had little to no impact on the Oilers this season should step back and reflect on what they are suggesting. There is no question a healthy Oscar Klefbom, along with the infusion of Russell and Adam Larsson has helped this team take a step forward. If you can't or are unwilling to recognize that, my question is why? Are you actually watching the games or simply looking at some measured metric and drawing a conclusion from it? If so, you might want to change things up a bit.
If I just read some people's twitter and never watch an Oilers game, I'd assume that Kris Russell was the worst NHL player ever.

— Trevor Harris (@THarris1519) February 1, 2017
On the flip side, if you are among the group who earlier in the season were quoting the club's record with and without Russell in the lineup, give your head a shake. At no point in his pro career has Russell been a difference maker or driver for any clubs he has played for. It hasn't been the case in 2016-17 and it never will be. This makes the constant talk of the former third-round pick as an essential piece moving forward, all the more ridiculous.  He is a solid depth defenceman who has benefitted greatly from seeing regular duty with veteran Andrej Sekera.
"I think they'll be hard pressed to get him (Kris Russell) done at $3.5M per on a 3 yr term" – Stauffer

— Tye Kalyn (@akaRCN) January 27, 2017
Like it or not, Russell cannot be viewed as a "black and white" player and that brings us back to my previous point of the mushy middle. The argument that Edmonton would be anchoring itself to a bottom pairing blueliner and blocking a spot on their roster which should be used for up and coming talent is both accurate and fair. However, suggesting Peter Chiarelli somehow blundered in signing him to a one-year deal during training camp would not. It was a calculated risk and it worked out perfectly.  Where the challenge begins is trying to figure out what direction the Oilers will go in next.
How do you re-sign Kris Russell (3x$4M) and improve the D? #Oilers

— NateInVegas (@NateInVegas) February 1, 2017
In my mind, looking elsewhere for a replacement in 2017-18 should be the way the Oilers go but that is in no way an inditement on Russell. To his credit, he has come into a somewhat iffy situation and played well enough to make an impact on this lineup. Not too shabby for a band-aid solution. Let's hope everyone keeps this in mind and remembers that is exactly what the guy was brought in to be and he has filled the role to a tee.
Rob Soria is the Author of Connor McDavid: Hockey's Next Great One. He has chronicled the Orange and Blue since creating his Oil Drop blog in 2011 and has also had his writings featured over at HometownHockey.ca and Vavel USA, where he has covered the NHL, MLB and ATP Tour. Rob was born, raised and still resides in Edmonton, Alberta and can be reached via twitter @Oil_Drop.