While his name had already worked its way through the rumour mill over the past few weeks, it appeared as though the Edmonton Oilers decided inking unrestricted free agent defenseman Kris Russell to a deal for the upcoming 2016-17 campaign was a road they did not want to go down. However, with the start of the season just around the corner and the club not satisfied with the current state of their backend, the two sides decided to circle back and take another kick at the proverbial can.
https://twitter.com/FriedgeHNIC/status/784541094386204672
After sending forward Nail Yakupov to the St. Louis Blues yesterday afternoon in exchange for ECHL centre Zach Pochiro and a conditional third round pick in 2017, general manager Peter Chiarelli put the finishing touches on a one-year, $3.1 million deal with the 29-year old rearguard. While it may not be the term or dollar amount Russell was after, rumoured to be in the neighbourhood of $5 million plus on a multi-year pact, with the start of the season mere days away Edmonton was likely the only destination that was willing to still offer an increase on his $2.6 million salary from a year ago.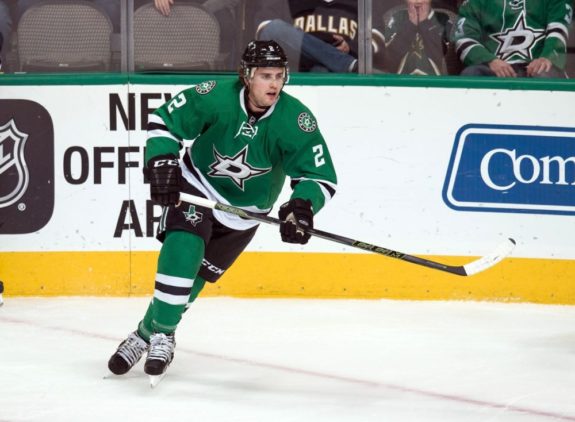 Edmonton Offered the Best Opportunity
Add to that a guaranteed spot inside the top-four and signing a one-year contract likely seemed to be an opportunity that was too good to turn down. Could Russell have waited for a general manager to come calling following the first major injury to a blueliner or an underperforming team to panic and pull the trigger on a move? Most certainly but those situations tend to take time and rarely, if ever, work out for either the player or club. Hence, his decision to take the sure thing and see if he could use this opportunity to earn himself the multi-year extension that eluded him this summer.
[Related Article: Oilers' Yakupov Failure a Two-Way Street]
From an Oilers standpoint, Russell was likely as good a defenceman they could add without swallowing hard on an ugly contract or giving up an asset in order to acquire one. With that said, one could easily make the argument Edmonton essentially gave Yakupov away in order to create room under the salary cap but the talented Russian was a player that needed a change of scenery and one they were always going to lose for next to nothing, be it via trade or during next summer's expansion draft. The opportunity to make a move was there and Chiarelli made the most of it.
#Oilers GM Peter Chiarelli discusses yesterday's Nail Yakupov trade to St. Louis & ensuing Kris Russell free-agent signing. pic.twitter.com/VcntHkzDQh

— Edmonton Oilers (@EdmontonOilers) October 8, 2016
Did the Oilers overpay in order to bring Russell on board? Possibly but my guess is the 2005 third-round pick of the Columbus Blue Jackets was still holding out hope for a multi-year deal coming his way. Chances are he probably had a handful of offers from teams on a one-year contract in the neighbourhood of his 2015-16 salary. Where Edmonton had the advantage was being able to not only give him the aforementioned spot inside the top-four but also a slight bump in pay and the chance at playing on a team with Connor McDavid. Again, not hard to understand why he and his agent decided to take Chiarelli up on his offer.
Good Short-Term Gamble
By the looks of things, Russell will be lining up next to Andrej Sekera on the Oilers second pairing and play a key role for Todd McLellan on both special teams. His shot blocking prowess is known to anyone who follows the game and while it will come in handy on a team that will continue to be a work in progress in its own end of the rink, Russell's skating, puck moving abilities and familiarity with being used on the power play will be what benefits this team most. Despite the constant change, the backend's inability to create offence and produce points remains a major concern and the former Medicine Hat Tigers standout should help on that front.
[Related Article: Oilers Need Backend to Help Offence]
While his lack of size has caused him problems in the past and will most certainly continue to do so in the future, Russell is a player who doesn't lack the willingness to engage in the defensive zone. With that said, his shortcomings are what they are and it will be up to the coaching staff to do their best to put him in positions that suit his skill set best. However, as we all know, that is easier said than done and something we have arguably not see happen in Edmonton for the better part of a decade and it will continue to be a struggle in 2016-17… albeit not nearly as challenging.
Russell on one-year deal gives #Oilers more experience on blueline. Not ideal since LD, but in proper role he'll help.

— Jason Gregor (@JasonGregor) October 7, 2016
Obviously, adding another left-handed defender is not ideal but it is far better than going into the season with the group they had. Mark Fayne is a player this coaching staff clearly doesn't trust in a top four role and it looks as though they have their heart set on using Brandon Davidson as a security blanket of sorts for Darnell Nurse on the third pairing. While the latter makes perfect sense, it created a hole that needed filling and Kris Russell has played on the right side before. On a short-term deal, this is essentially a risk-free signing and one that was worth making. Now it is just a matter of seeing whether or not he can handle the role as a member of the Edmonton Oilers.