From the moment the Edmonton Oilers decided to use the No. 1 selection in the 2012 NHL Entry Draft to select Nail Yakupov, there were those who questioned the decision. After adding the quartet of Jordan Eberle, Magnus Paajarvi, Taylor Hall and Ryan Nugent-Hopkins over the previous four drafts, bringing in another forward seemed to be a bit of overkill in the minds of some. With that said, there is no question the vast majority of Oilers Nation wanted the club to use their first round pick on the talented Russian…yours truly included.
#Oilers acquire 2017 conditional third-round #NHLDraft selection & Zach Pochiro from @StLouisBlues in exchange for Nail Yakupov.

— Edmonton Oilers (@EdmontonOilers) October 7, 2016
After what can only be described as four years of frustration for both the player and organization, the relationship came to an abrupt end on Friday afternoon. After months of speculation, Yakupov was traded to the St. Louis Blues the day after his 23rd birthday and not surprisingly, the return was rather underwhelming. How underwhelming a return you ask? How does a package of Zach Pochiro and a conditional 2017 third round pick, that becomes a second rounder if Yakupov scores 15 goals in 2016-17, sound? Confused? Well…you really shouldn't be.
An Ugly Situation
Unfortunately for the Oilers, the situation had reached the point where they were backed into a corner and everyone knew it. At this stage of the game, they were never going to find a general manager eager to take a flyer on Yakupov's potential that was willing to part with a useful NHL body, prospect, first-round pick or multiple selections at an upcoming entry draft. Unless you have been living under a rock, it's no secret that the club had tired of the player's act and his agent requested on at least two separate occasions to move his client out-of-town.
Related – Yakupov Trade Countdown
Let's not forget, Peter Chiarelli shopped Yakupov around the league since early last season and realized there was no chance of getting anything close to fair value in return. My guess is the hope was they would find a team desperate for offense at the 2016 Trade Deadline who would ante up more than a mid-round draft pick. That dance partner never materialized. From that moment on, the best scenario would have been including him in a package deal that would improve the overall makeup of the roster. Strike two.
Hypothetically if Yakupov gets moved to St. Louis my guess is it will be for a pick

— Bob Stauffer (@Bob_Stauffer) October 7, 2016
This left the Oilers essentially two options. Keep him and hope for the best at training camp or simply move him for whatever they could get and pray that piece turns into to something down the road. While none of us are in the dressing room, it's safe to say Yakupov was not going to be handed a spot inside the top-six unless he adjusted his entire on-ice approach. It seemed to be more of the same during the pre-season…meaning it was a matter of when, and not if, the deal would be made.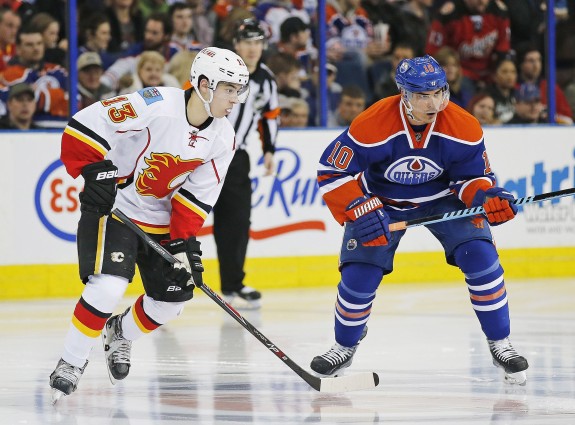 Oilers Mismanaged Another Asset
From an asset management point of view, this looks horrible on the club but this situation had reached the point of no return long ago. In typical Chiarelli fashion, the trade was quickly followed by the signing of free agent defenseman Kris Russell to a one-year deal in hopes of lightening the blow but not everyone was taking the bait. While a certain faction of this fan base was hoping the club would try to pump Yakupov's trade value by slotting him on Connor McDavid's wing to start the year…that was never going to happen. For starters, putting a player in said spot that had made next to no effort to try to adapt his game to what Todd McLellan wanted, was simply a non-starter.
Related – Edmonton Oilers, Connor McDavid, and Three Scoring Lines
We have heard on numerous occasions from both Bob Stauffer and Drew Remenda, who are with the team on a daily basis throughout the season, that Yakupov tuned out the coaching staff on a regular basis during practice over the last half of the 2015-16 campaign and essentially did his own thing. Obviously, the kid was frustrated with how things have played out over the last four years but taking that approach all but guarantees you a ticket out-of-town and he got his wish. Second, contrary to what some believe, finding the right fit for McDavid is a necessity and Eberle appears to be the guy that both the head coach and No. 97 feel most comfortable with. End of story.
https://twitter.com/NHLnumbers/status/714213058789257216
While the former Sarina Sting standout did manage to put together a productive rookie campaign, inconsistency is the word that best sums up his tenure in the Alberta capital and his career totals tell a similar story. In his defense, Yakupov was rarely placed in a situation best suited for his skill-set but again, an unwillingness to adjust his style of game arguably played just as big a factor in him not being given more opportunity and ultimately developing into the one-shot scorer many believed he would become at this level.
Too Much Change For the Sake of Change
The organization's continual desire to overhaul their roster on an annual basis and never-ending carousel behind the bench certainly hampered not only Yakupov's progression but also many of the other youngsters on the roster. The lack of a quality and depth in goal and along the blue line made life difficult for everyone, as did the absence of impactful veteran forwards…especially down the middle of the rink.  Sound familiar? It should, as it has been going on for the better part of a decade in this neck of the woods and that lands solely at the feet of management.
Related – Patrick Maroon and the Edmonton Oilers
With the lineup's limitations being what they have been, someone was going to draw the shortened of the stick and Yakupov was that guy. While the club eventually sent Paajarvi packing, ironically enough to St. Louis, it was no secret that the trio of Eberle, Hall and Nugent-Hopkins were priority No. 1 for the club. That list started to grow in recent years with the additions of Leon Draisaitl, McDavid and Jesse Puljujarvi at the last three drafts, not to mention the acquisitions of Benoit Pouliot, Patrick Maroon, and Milan Lucic.
https://twitter.com/DKingBH/status/748249828052733952
The writing was on the wall. Something was going to give and after Chiarelli decided to send Hall to the New Jersey Devils for what any logical thinking individual recognized as a far-below-market-value return in defenseman Adam Larsson, there was almost zero chance of the Yakupov saga playing out over the course of another season. Clearly, the organization wanted to go in another direction and if they were willing to part with a player who actually produced points and drive the play like few wingers in the NHL can, waving goodbye to No. 10 is small potatoes.
Yakupov Did Himself No Favours
With that said, let's call a spade a spade shall we.  While he may have said the right things since training camp opened, the kid wanted absolutely no part of remaining with this organization for the coming season. To suggest he had tired of the whole situation would be a colossal understatement and one can hardly blame him. After all, the organization did a wonderful job of turning a blind eye and allowing Dallas Eakins the leeway to try to break down and rebuild the player for no apparent reason, evidence by his benching of the kid just four games into his tenure as head coach. It was not a healthy situation and eventually rectified but the player did little to help himself over the past couple of seasons and there was a reason for it.
I was against drafting Nail Yakupov. Wish him nothing but the best.

— NateInVegas (@NateInVegas) October 8, 2016
Sorry but if you happen to be one of those individuals who refuses to recognize Nail Yakupov not only needed a change of scenery but went out of his way to ensure he got one, you are seeing what you want to see. This was no longer about playing on line one, two or three but rather getting a fresh start with a different organization. The time for both sides to wipe the slate clean and start over sailed long ago. All that remained was for the break-up to occur and not surprisingly, it did not end well for the Edmonton Oilers.