The NHL regular season is around the corner, but how quickly we forget that not too long ago, a major point of concern was the absence of superstars at their respective NHL training camps.
Well, the World Cup has come and gone; and though it received mixed reviews, I believe everybody, to some extent, enjoyed watching their favourite players skate side-by-side in a competitive, best-on-best tournament. Regardless of all the "money-grab" headlines, there were games to be played.
Team Canada dominated from start to finish, Team North America excited, Team Europe surprised and Team U.S.A., well… how much time do you have?
Though some teams left much to be desired, there was certainly no shortage of talent among the eight competing squads on paper, and the San Jose Sharks had no shortage of representation.
Team Canada
Leading the way with four Sharks participants was gold-medal winning Team Canada. Joe Thornton and Logan Couture of San Jose wore the Maple Leaf up front, while Brent Burns and Marc-Edouard Vlasic also represented the Sharks on defense.
"Grizzly Adams on ice" (Thornton) had one goal and one assist, a plus-2 rating, and the two most worthwhile penalty minutes of his career in half a dozen games. Undoubtedly the most memorable minor I've ever seen taken.
Joe Thornton just doesn't give a damn ?https://t.co/hATJXzWswa

— Hockey Vines (@BestHockeyClips) September 12, 2016
Logan Couture, a late addition due to the withdrawal of Jamie Benn, was a terrific fit with the team. He may have been all over the record books as a goal scorer in the playoffs, but it was his defensive play that stood out for the national team. Couture stood in the way of many shots on goal and hustled to win puck possession on every opportunity. His four points (one goal, three assists), plus-3 rating and nine shots on goal were stellar statistics for the role he was asked to play.
Grizzly Adams' younger brother (seen above), Burns, fired the second most shots on goal among defenseman (Shea Weber, 16). Burns didn't always use that elite shooting ability that netted him 27 goals last year, but was effective in finding lanes from the point.  Throwing low pucks toward the blue paint to create goal-mouth opportunities for his teammates resulted in a trio of apples for Burns. He was his usual physical presence and by far the defenseman who covered the most ground for Canada. His style of play stood out among a very strategically disciplined group of blueliners, but he did his job with only three minor penalties and a plus-2 rating.
The fondest surprise was no doubt Vlasic. Playing next to Shea Weber, the no-frills d-man had the chance to hold onto the puck just a little longer than usual and hit some really talented forwards on the go. Producing at uncharacteristic rate offensively with four assists in six games, Vlasic wasn't sacrificing defense to do it either. He was his usual shutdown self, always in position, and constantly erasing his man from the play.
Marc-Édouard Vlasic was on the ice for 1 goal against in the entire tournament. He also led all Canadian defensemen with 4 Points.

— Matt Casavant (@Mcaz) September 30, 2016
Of note: Often being on the ice at the same time as the Crosby line didn't hurt Vlasic's production, either.
Team Europe
Mikkel Boedker was a healthy scratch for the tournament aside from two exhibition games, until the seemingly inevitable withdrawal of Marian Gaborik, due to injury, forced Team Europe head coach Ralph Krueger to insert the newest Shark into the lineup for the finals against Canada.
It's not as if Boedker was the least talented player on the mishmash squad. Rather, a victim of the roles necessary to compete in this tournament format and a coaching decision. One could make the argument that he should've played instead of Thomas Vanek, but at this point, that's neither here nor there.
The Danish speedster couldn't find the scoresheet but did create a little offense by putting four shots on Carey Price in his pair of games. It's not as if getting a spot start against Team Canada in the finals is an easy task, so we'll applaud the effort and ignore the minus-1 rating.
Team Finland
Joonas Donskoi skated hard, but even his playoff-style effort couldn't stop the Finns from drowning. The versatile forward 'Finnished' with no points, and a minus-1 rating, while firing six shots toward the opposing goal (t-third on the team). None were worthy of beating a gatekeeper, although Valtteri Filppula was the only teammate to do so the entire tournament. Once.
Yes, that's right; Team Finland only managed to score one goal in 180 minutes of play, but it wasn't for the lack of trying from the second-year Shark. Rookie sensation Patrik Laine led the way with 10 shots on goal; and though he is a beast, NHLers like Aleksander Barkov, Mikko Koivu and Mikael Granlund should've carried the weight.
Donskoi is a fine talent, but his game really shines when he is surrounded by talent and has a very specific role to play — the role of an all-around hockey player, doing all the little things exceptionally well. Fortunately, the Sharks are a team like that, so fans need not worry about the lack of production in this preseason tournament.
Team USA
Joe Pavelski could've done more for the disappointing Americans, but the same can be said for anyone who dawned red, white and blue. The USA captain concluded the World Cup in a three-way tie for the team lead in scoring with two points in three games (one goal, one assist), while posting a minus-1 rating, and 11 shots on goal. Reigning Hart Trophy winner Patrick Kane led the squad with 15 shots on target, as he and Pavelski were far and away the most potent American forwards.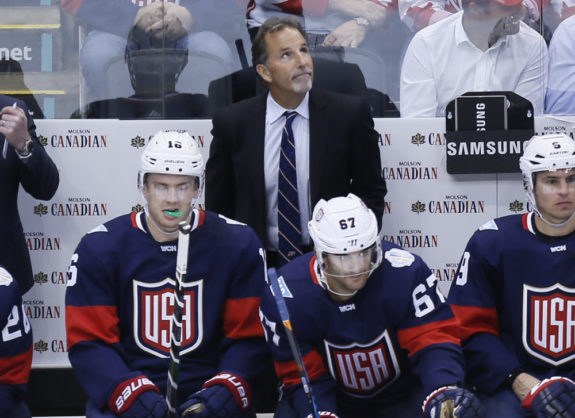 Team USA was outmatched from the git go, and John Tortorella's coaching style wasn't exactly embraced by all. That being said, it would've been nice to see the 32-year-old light the lamp a few more times, but there are no concerns over his 2016-17 outlook. Another near-40-goal season should be on the horizon for the San Jose sniper.