Training camp is a month away and it's time for general managers to extend professional try-outs (PTOs) to those unrestricted free agents (UFAs) that remain without a contract. This has been a growing trend since the most recent CBA as the salary cap has prevented average UFAs from earning contracts in favour of giving cheaper, higher potential prospects a chance to crack the lineup. It has almost become the UFA form of arbitration to give veteran players an opportunity to prove their worth. As a result, we have seen some quality NHL veterans relegated to PTO status in recent years, including Tomas Fleischmann, Brad Boyes, Lee Stempniak, Scottie Upshall, Devon Setoguchi and Curtis Glencross.
Devil of a Deal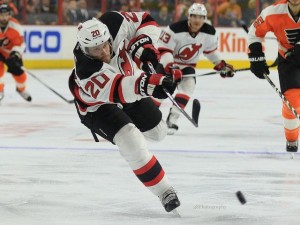 A PTO is a great way for a GM to add a no-risk, high-reward veteran to fill out his lineup. While some aren't able to prove themselves at camp, other PTO players become shrewd bargain buys that add great value to a club.
The aforementioned Stempniak was last year's best buy at $850,000 to the Devils — he turned that try-out into a 51 point season and a new two-year $5 million contract with the Hurricanes. The Devils didn't make out badly either, receiving not only Stempniak's production while on the team, but also a second and fourth round pick when they dealt him to the Bruins at the deadline (who also went on to miss the postseason). That's just good asset management.
Cow Town Connection
This year is no different with the number of quality players that remain unsigned — and the parade has already begun.
https://twitter.com/generalfanager/status/767840604197941248
So, what does this mean for Calgary? The Flames are in a great place to sign players to PTOs with only 42 players under contract of the max 50 available (43 once Gaudreau signs) and much of their roster filled out. That doesn't mean there isn't room for improvement. Not only are they very young up front (average age of 25.5), but they rely far too heavily on their youngest players to carry the offense. This isn't even taking into consideration youngsters like Tkachuk or Jankowski forcing their way on to the team.
The bottom-six is composed of inconsistent players like Chiasson, Bouma and Ferland who would need to take on a permanent top-six role when the injury bug hits, which is not a recipe for success in a competitive Western Conference. The Flames need a contingency plan up front, which is why four of the top five PTO options for Calgary are forwards.
Brandon Pirri
Pirri is a player who could help at least 20 teams in the league if given a chance; especially at his price tag. Though undersized, he is a versatile forward capable of playing with talent as seen by the near 0.5 PPG clip he has put up in 166 NHL games. Pirri is an ideal third liner that can move into the top six when needed and contribute on the powerplay — exactly what the Flames need. His contract will be under $1 million and at only 25 years old there is still plenty of room for growth. While he seems like a perfect fit, he doesn't fit the Brian Burke mold and may very well not even be on the Flames' radar. It is a shame if he isn't, because whoever lands Pirri could very likely see a Lee Stempniak kind of result.
Lauri Korpikoski
The former cross-province rival Korpikoski has carved himself a career in the NHL as a defensive specialist that isn't a black hole offensively. The Flames' penalty kill was their Achilles heel last season, finding itself dead last in the league. It also happens to be Korpikoski's strength.
While improved goaltending will automatically lift this number, the Flames have virtually no defensive specialists on the third and fourth line, especially after losing Josh Jooris, which is unacceptable. Gulutzan would be thrilled to throw Bennett, Monahan, Brouwer and Gaudreau in every penalty kill situation, but he needs those guys to excel at even strength and on the powerplay. We know this duo will see more time on the kill, and deservedly so:

But the Flames need more options — enter Korpikoski. Plus, who doesn't like the scrappy Finnish brand of hockey?
David Legwand
Much like Korpikoski, Legwand would be brought in as a defensive specialist on the bottom two forward lines. He would also offer some insurance if Matt Stajan were to succumb to injury. More than that, Legwand would be the Flames' oldest forward and bring a veteran presence to a relatively inexperienced forward group. The former captain would be a great mentor to young stars like Monahan, Gaudreau, and Bennett, an element that seems lacking in the Flames locker room. There might not be a lot of gas left in the tank, but that's exactly why a PTO exists. If everything goes well, he could be the perfect place-holder for Mark Jankowski to learn from.
Kyle Quincey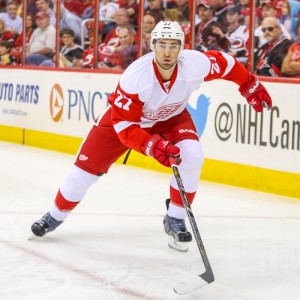 Yes, the Flames have a very talented group of defenseman. One might even say they don't need another defenseman. A wise friend once told me, "It's better to have it and not need it, than need it and not have it." He might have referred to a certain beverage, but the point still stands when it comes to NHL defensemen. The Flames have a clear top three in Giordano, Brodie, and Hamilton, but who is the fourth? Ladislav Smid will likely hit the LTIR and Dennis Wideman is a wildcard at this point, so look for Jokipakka to shoulder much of the load next to Dougie Hamilton. Smid's injury also leaves the Flames with only six legitimate NHL defenseman.
Quincey would be a solid bottom pairing defenseman that has been adequate as a top four in the past. He's also still relatively young at 31 and doesn't come with the same uncertainty as other remaining UFAs like Seidenberg or Ehroff. Worst case scenario is that acquiring Quincey on the cheap could allow the Flames to ship him or Wideman at the deadline to improve the team elsewhere.
Jiri Tlusty
Tlusty finds himself in a PTO contract situation for the second straight season after a year to forget with the Devils. A downright awful 2015-16 campaign saw him contribute a measly four points in the first 30 games for the Devils and suffer a season-ending wrist surgery in January. That being said, Tlusty is on the right side of 30 and one of the only available wingers to have shown he can play a regular shift in the top six. He seems to thrive with talented players, having his best seasons alongside Eric Staal and Jeff Skinner in Carolina.
His scoring touch and ability to play both wings would be a welcome addition to the Flames, in the same mold as Brandon Pirri. He could also slot in on the second line along Backlund and Frolik to give youngsters like Shinkaruk and Bennett easier matchups to hone their skills. Tlusty will also have a lot to prove this year, or find himself back in Europe before long.
Honourable Mentions: Matt Halischuk, Dennis Seidenberg, Jack Skille
Veteran of two Hometown Hockey tours. Have worked for the NHL, London Knights and a sports agency in various capacities. Above all, student of hockey hoping to provide unique, thought provoking analysis of the game and business I love while having a little fun along the way.