Going through the process of doing a full rebuild is something few NHL organizations are willing to do. Contrary to popular belief, it is not an easy process and if things don't break the right way, a franchise could find themselves spinning their wheels for the better part of a decade. The Edmonton Oilers have been living that nightmare for the past six years and in the process, have become the butt of one poorly executed joke after another because of their inability to get this franchise moving in the right direction.
Leafs rebuild gonna happen quicker than the Oilers IMO.

— CoyoteXB (@LuonGoat) March 29, 2016
[Related Article: The Edmonton Oilers and NHL Draft Lottery]
While the Oilers were thrown a lifeline at last year's Draft Lottery which should allow them to right the ship, hello Connor McDavid, having a generational talent fall into your lap isn't exactly an everyday occurrence and one an organization cannot count on happening. When the Toronto Maple Leafs decided to go down the "scorched earth" path, they opened themselves up to the possibility of suffering through similar struggles and don't be surprised if they wind up doing just that over the next few years.
Late Season Results Mean Nothing
As much as good old Leafs Nation would love to believe their team's 7-8-1 post-Trade Deadline record is some sort of sign that the club is ahead of schedule, do yourselves a big favour and give your collective heads a shake. Edmonton enjoyed similar runs in 2009-10 and again in 2011-12 to close out each of those seasons and not surprisingly, it had no bearing on how things played out the following year. In fact, one can argue the so-called "pain" head coach Mike Babcock referred to upon being introduced as Toronto's new bench boss in the summer of 2015, is just getting started.
[Related Article: Maple Leafs Rebuild Ahead of Schedule]
Just like the Oilers, Toronto has some nice pieces in place and more coming in the not so distant future but as a collective unit, they are still nowhere near where they need to get to and simply adding multiple draft picks into the equation won't speed up that process. As good as any of these kids are, be it a William Nylander, Nikita Soshnikov or Mitch Marner, all of them need time to develop and adjust to the pro game and doing so at the NHL level is a recipe for disaster. Always has been and always will be.
ICYMI @rayferrarotsn: No guarantee that all #Leafs young prospects turn out LISTEN https://t.co/8epcZTbrlH pic.twitter.com/PkSnq2pXzw

— OverDrive (@OverDrive1050) March 23, 2016
Also, with all due respect to the Maple Leafs' current batch of talented youngsters, the chances of any of them developing into a player as good as Taylor Hall are almost non-existent and there are no guarantees they even turn out to be as good as either one of Jordan Eberle or Ryan Nugent-Hopkins and we have all seen where that has got Edmonton. With that said, having a Morgan Rielly  already in place with well over 200 games under his belt at the age of 22 is a huge plus for Brendan Shanahan and company but this organization still has a ton of work ahead of them.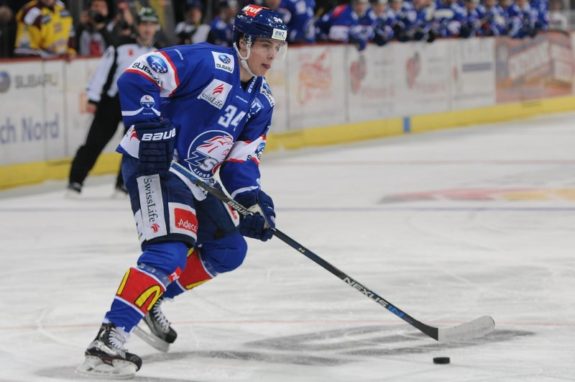 Expectations Need To Be Kept In Check
In order for the Leafs to truly embrace the revamping of their entire organization, they are going to have to put together, at least, two and more likely three or four ugly campaigns to get this thing back on track. While they will benefit in the long-run from having the likes of Babcock and Lou Lamoriello around, something the Oilers clearly lacked, you can bet the pair will make sure this rebuild will run its course…from start to finish.
[Related Article: Oilers Hand Patrick Maroon Chance of A Lifetime] 
Make no mistake, the coming years will be extremely difficult for fans of the Blue and White to stomach, especially when you can see what could be on the horizon. Sound familiar? It should, as the Edmonton Oilers have been selling their fans that bag of goods since the summer of 2010 and with little more tweaking, you are on the clock Peter Chiarelli,  look poised to finally start repaying them for their years of loyalty starting in 2016-17.
McDavid is fire, Nurse did not wilt, Maroon is damned good, Oilers and Leafs fans need to chill https://t.co/L7YNJDoMMN #Oilers

— Lowetide (@Lowetide) March 25, 2016
If the Toronto Maple Leafs can manage to cut a couple of years off that timeline, their fans should be jumping for joy because there is no quick fix for what these teams are trying to do…though landing Auston Matthews at the 2016 NHL Entry Draft would go a long way in ensuring they reach their goal. In the end, this has nothing to do with what organization winds up with the better rebuild and everything to do with the fact these things take time and even then, there is a chance it may not work out when all is said and done.
Rob Soria is the Author of Connor McDavid: Hockey's Next Great One. He has chronicled the Orange and Blue since creating his Oil Drop blog in 2011 and has also had his writings featured over at HometownHockey.ca and Vavel USA, where he has covered the NHL, MLB and ATP Tour. Rob was born, raised and still resides in Edmonton, Alberta and can be reached via twitter @Oil_Drop.