It is no secret that over the past decade, no NHL team has been as bad as the Edmonton Oilers. With nine meaningless games left on their 2015-16 schedule, this organization is mere weeks away from missing the playoffs for a mind-numbing tenth consecutive year. While things have certainly been ugly in this neck of the woods for some time, the notion this team has been in "tank mode" for the last number of years is not only laughable but also flat-out wrong.
https://twitter.com/Sun_Tychkowski/status/709553894209118208
It is because of this misconception that the league apparently considered making changes to how it would determine what teams would be eligible to win the NHL Draft Lottery. Thankfully cooler heads prevailed and the league decided to take the high road  and do the right thing. Funny thing is, those who were hoping for change  tend to forget the only reason the Oilers have been able to call the name of the first overall selection in four of the last six years and were essentially gifted a generational talent in Connor McDavid has arguably more to do with the silly lottery itself than anything else.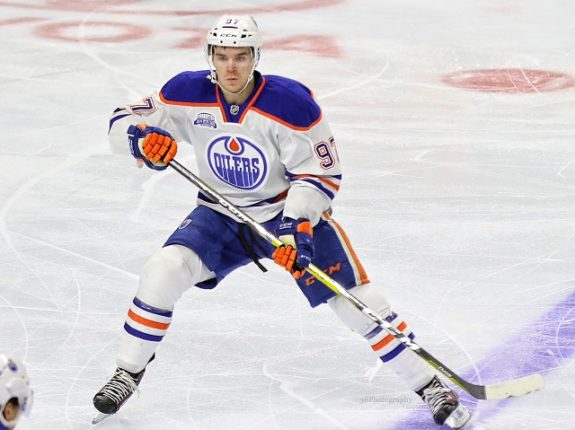 Connor McDavid Was the Deal Breaker
As much as masses like to go on about Edmonton doing their "best" to be as bad as possible in hopes of landing multiple No. 1 picks, the fact remains it was because of those little white balls they were granted the opportunity to make said selection in both 2012 and 2015. Not sure about all of you but in my mind, that is what we refer to as dumb luck. While one of those players appears to be a potential bust, hello Nail Yakupov, the other guy is at the opposite end of the spectrum.
[Related Article: Connor McDavid Is On Another Level]
Tough break for the rest of the league but sorry to say…those are the breaks…stop whining and deal with it. Funny how quickly so many lose sight of the whole purpose of the Entry Draft…to help create better balance across the league by giving the weaker teams in the league young talent in hopes of improving their current lot in life. Make no mistake, Edmonton has been a poorly run organization for what feels like an eternity but it is that ineptness that has led to them finding itself in an all too familiar scenario year after year.
ATTN: Fans of Jets, Flames, Oilers, Canucks, Leafs! Do you want your team to lose to increase odds of winning draft lottery?

— Jamie Nye (@jamienye) March 17, 2016
In fact, outside of the 2010-11 campaign, when Steve Tambellini and company put together a roster that was destined to finish dead last in the standings, they have not gone into any season trying to replicate that outcome. Now, did they decide to jump ship the previous and following years to give themselves a better shot on Draft Day? Of course, but teams do that each and every year and that will never change…regardless of the sport.
[Related Article: The Edmonton Oilers and 2016 NHL Entry Draft]
Yes, the Oilers roster has lacked depth for the last number of years but it is not a lineup that has been littered with minor league players. They always tend to spend close the cap and have had to deal with injuries to key players in every one of those seasons. While those may be nothing more than excuses when comes to contending for a playoff spot, it only further proves the point the goal was never to battle for last place on an annual basis.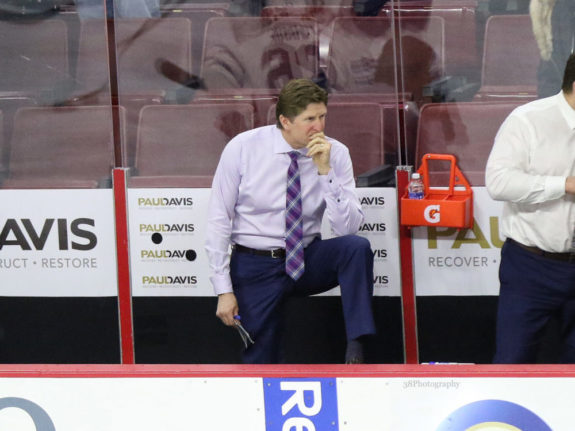 Look No Further Than Buffalo and Toronto
If you want to see what a team that is attempting to "throw in the towel" from start to finish, look no further than last year's edition of the Buffalo Sabres and the joke of a lineup the Toronto Maple Leafs have iced for much of the current season. The 2014-15 Sabres roster was downright laughable, whereas the Maple Leafs have flexed their financial muscle over the last year and a bit to rid themselves of some god awful contracts and essentially buy a bunch of mid-round draft picks while icing an inferior product.
[Related Article: Are the Edmonton Oilers Cursed?]
Those two rosters coupled with the aforementioned 2010-11 Oilers are perfect examples of tank jobs and, thankfully, they are few and far between. In my mind, if an organization and their fan base are willing to go down the "scorched earth" road, there should be a light at the end of the tunnel. The only reason Edmonton has become such a talking point is because they ended up with the biggest prize of all with that kid who wears No. 97 and like it or not, that is not their fault but rather the luck of the draw.
NHL keeps changing the draft lottery rules and the oilers keeps wining it. Reminds me of the Road runner show. pic.twitter.com/1tuZ6HSfNX

— Mo (@MO210219) March 16, 2016
The funny thing is, with the Oilers on the verge of finishing near the bottom of the overall standings for the seventh time in eight seasons they could quite possibly win another lottery and god help us if they do. As of this moment, Edmonton is just nine points behind the Montreal Canadiens for 22nd in a tightly contested race at the bottom of the NHL standings. Todd McLellan's crew may not be very good but have still managed to hold their own on most nights this season. The numbers speak for themselves.
[Related Article: NHL Continues to Underutilize P.K. Subban]
Maybe instead of focusing on ways to keep future first overall picks away from the Edmonton Oilers or any other franchise who might find themselves in a lengthy rebuild that goes off track, the league should be putting all its energy towards finding ways to increase scoring and improving the product on the ice. In my mind, there are bigger fish to fry than a silly Draft Lottery and let's hope from this point forward the NHL will do exactly that.
Rob Soria is the Author of Connor McDavid: Hockey's Next Great One. He has chronicled the Orange and Blue since creating his Oil Drop blog in 2011 and has also had his writings featured over at HometownHockey.ca and Vavel USA, where he has covered the NHL, MLB and ATP Tour. Rob was born, raised and still resides in Edmonton, Alberta and can be reached via twitter @Oil_Drop.