Patrice Bergeron is seemingly perpetually the front-runner for the Selke Trophy, an award given to the best defensive forward at the end of the regular season. Many believe that Anze Kopitar or perhaps Jonathan Toews (to a lesser extent) is Bergeron's toughest competition when it comes to the Selke.
Is that really the case this season?
This is not meant to take away from the excellent season that Kopitar is having. He very well may be a finalist for this award when all is said and done but there are potentially bigger threats out there and they don't seem to be getting much attention.
Let's meet them.
Statistics via war-on-ice.com and OwnThePuck.com as of March 16th.
Mark Stone – Ottawa Senators
Calder Trophy finalist last season, Selke Trophy finalist this season? Maybe, if he continues to do what he has been doing this season.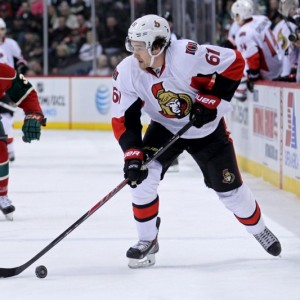 Takeaways and giveaways are subjective statistics and vary based on arena, much like hits. They certainly are not the be-all and end-all when looking for a Selke Trophy winner because of the subjectivity that goes into it. That being said, Stone's margin of victory in the takeaway department is quite absurd, subjective or not.
Stone has 122 takeaways this season. The leader last season finished the year with 98. The next closest person to Stone this year is Jeff Skinner with 67. That margin is insane, even with some subjectivity thrown in there on the statistic itself.
Looking at more reliable statistics, the story still looks good if you are Stone. His offensive-zone-start-% is just 52.62, just 1.51% higher than Kopitar's. Stone has a 51.24 CorsiFor% which, on the surface, doesn't seem impressive especially compared to Kopitar's 57.38. You have to take into account who each player plays for. The Kings are the possession team of all possession teams while the Senators are near the basement in terms of Corsi. Stone's CorsiFor% relative to the rest of his team is +5.39, whereas Kopitar's is sitting at 2.24. Both have strong numbers but Stone has a stronger impact on Ottawa's possession numbers.
Scoring chance numbers tell a similar tale. Ottawa's scoring-chances-for-% when Stone is on the ice? 50.10. When he isn't? 44.46.
When it comes to the Selke, you've got to have a solid point total as well to really be in the discussion. Well Stone has it, with 58 points on the season. That is just three points back of Bergeron and four back of Kopitar. Stone's 32 points playing 5-on-5 is just three points back of Kopitar and actually three points up on Bergeron.
Stone doesn't have the past reputation like Kopitar and Bergeron but he should be in the Selke conversation when the season comes to a close.
Joe Thornton – San Jose Sharks
This one may come as a surprise, but Thornton has been one of the best players at even strength in the entire NHL this season. He's tied for seventh in the NHL in even-strength scoring with 39 points playing 5-on-5. His play-making abilities have stood the test of time and remain as some of the best in the league. He has 32 assists playing 5-on-5 this season, good for second in the NHL.
But as we know, the Selke Trophy is just as much about defense as it is offense. He may not have the wheels of a Bergeron or a Toews but he makes up for it with supreme hockey-intelligence.
The Sharks have been a great team in terms of high-danger scoring chances this season but Thornton raises them to another level. The Sharks have a 5-on-5 high-danger-scoring-chances-for-% of 54.24 when Thornton isn't on the ice, a very good number. When Thornton is on, that percentage goes up to 62.53, a 8.3 HSCF%rel. That number is absurd. His usual line-mates of Tomas Hertl (3.89) and Joe Pavelski (4.62) don't come close to Thornton's impact. That number is better than Kopitar's (2.58), Stone's (3.51) and even Bergeron's (8.2).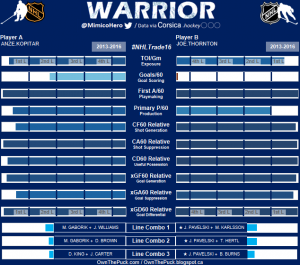 His possession impact is similar. Thornton has posted a 55.86 CorsiFor% playing 5-on-5 this season. The Sharks without him on the ice? 49.23%. That 6.63 CorsiFor%rel is higher than Stone's (5.39), Kopitar's (2.24) and Toews' (1.71).
Thornton will be slightly damaged by his deployment this season. He has a 56.14 offensive-zone-start-% playing 5-on-5, a decent amount higher than Stone's (52.62), Kopitar's (51.11) and Bergeron's (41.74). That being said, he should get a long look to be a finalist this season. What he has accomplished is beyond impressive.
Still Bergeron's to Lose
While I believe players like Stone and Thornton should get looks over Kopitar and Toews, by no means am I suggesting that anyone will challenge Bergeron for the Selke this season. Many finalists for things like the Selke, Lady Byng and Norris seem based off reputation at times but Bergeron is truly in a league of his own when it comes to being the best defensive forward.
The impact that he has on the Boston Bruins is almost unmatched around the league. The shot suppression, the possession numbers, the points, everything he does for that team is an absolute treat to watch.
I don't see anyone challenging him for this award this season. He has just been far and away the best defensive forward. Thornton may not have another season like this in him but look for a player like Stone to emerge as a Selke finalist pretty regularly in the future.
Jordan has been covering the Stars for The Hockey Writers since February 2015. He is originally from Iowa City, Iowa. You can follow Jordan on twitter @jordan_dix