Tatiana Rafter is a pioneer — a professional hockey player for the Buffalo Beauts in the NWHL. A native of Winnipeg, Manitoba, she has uprooted her life to follow her dream of playing professional hockey on the other side of the continent. Surely the 24-year-old has been through ups and downs, highs and lows since the inaugural NWHL season started in October. During the past few months, she has given The Hockey Writers a small glimpse into her daily world, and this is her last entry for the season that just ended.
Rafter's Beauts played the Boston Pride in the Isobel Cup Final this past weekend (March 11-12) and she recaps the historic weekend as well as the historic season that her and every player in the league just completed.
Don't Cry Because It's Over, Smile Because It Happened.
It has been so much fun for me to share the last month of my season with you through #THW! This past weekend my team battled against the Boston Pride in the Isobel Cup Finals and despite our best efforts, the Pride are the first ever Isobel Cup Champions.
Since signing my contract with the Buffalo Beauts, I had no idea it would take me on such an incredible journey! Now that my season has come to an end, I find I am frequently reflecting upon everything that has happened. I've looked at where I started out in October and where I am now.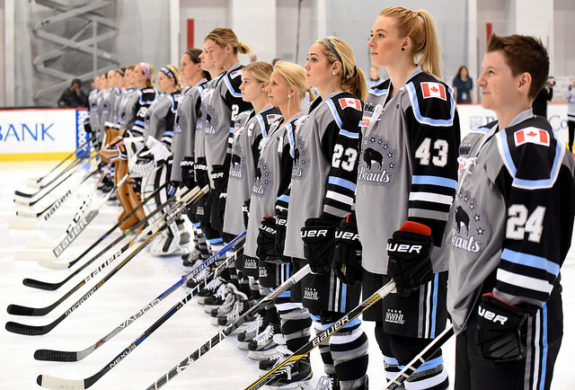 When I think about the season as a whole, I find that a particular photo always pops into my mind. It was posted by Ashley Johnston (captain of the New York Riveters) after her season came to an end. The photo is of her and a kid captain skating up to the blue line together as the starting line-ups are announced. What resonates with me about this is the caption reading, "Don't cry because it's over, smile because it happened". There is so much truth to this advice.
After typing out the above paragraphs, I have been sitting here staring at my computer screen only to keep writing and re-writing details about my experience at the Isobel Cup Finals. In this moment it feels more natural to talk to you about the past weekend instead of writing to you about it.
I hope you enjoy what I put together!
With Buffalove,
#43
P.S. I apologize in advance for not using any crazy side effects or transitions in the video. It's only my second time using iMovie! ;)
PIC
Related:
Tatiana Rafter: My Life as a Pro, Behind the Scenes Part I
Tatiana Rafter: My Life as a Pro, Behind the Scenes Part II
Tatiana Rafter: My Life as a Pro, Behind the Scenes Part III
Thank you Tatiana for being such a great role model for the younger generation, and for being so generous with your time with them and us this season. -Dan and The Hockey Writers.
Dan Rice is in his 9th year of reporting for THW & has covered NJ Devils home games for 15+ years at various websites. He began his journey working for legendary broadcaster/writer Stan Fischler from 2002-04 & completed an internship at the ECHL; he also has been writing features for the NWHL (nwhl.zone) website since 2016.