As of this moment, the Edmonton Oilers sit in the basement of the Western Conference with 38 points and find themselves ahead of just one team in the overall league standings. While this club has shown signs of improvement in some areas, they are still staring at the very real possibility of heading into the 2016 NHL Entry Draft with yet another lottery pick.
#CBJ #Sabres #Oilers leading the way for #TankforMatthewshttps://t.co/rt4j6mY9Bh

— Talk Hockey (@McEicheldotCom) January 11, 2016
With the Oilers post All-Star break schedule being far kinder than the opening four months of their season and the return of Connor McDavid now in sight, there is a chance they could be in a different spot on the final of day of the regular season. Best case scenario, Edmonton ends up with a top ten pick and starts quieting the masses that have done nothing but complain both leading up to and following each and every one of their four previous first overall selections.
An All Too Familiar Feeling
However, after watching Edmonton self-destruct against the Arizona Coyotes on Tuesday night, that may be nothing more than wishful thinking. After stringing together six consecutive wins to start the month of December, it appeared as though Taylor Hall and company had turned a corner of sorts. Despite missing McDavid and not being at their best on many a night, the Oilers were still finding ways to win games but the clock has struck midnight.
While anyone in their right mind knew the 2015-16 season was always going to be a challenging one for Todd McLellan and his coaching staff in their first kick at the can in the Alberta capital, the fact this organization has a real shot of getting their hands on Auston Matthews is hard to fathom. They may only be six points back of the final playoff spot in the Pacific Division but their recent 3-8-2 stretch has essentially taken them out of playoff contention and left many wondering where they go from here.
[Related Article: Oilers Will Be In Tough, With or Without McDavid]
Which begs the question, what will Peter Chiarelli decide to do with his first-round pick at this summer's draft in Buffalo? There is no question this roster still needs some serious work in order to get over that final hump, but at the same time, 2017-18 is a season in which the Oilers have to be a playoff team. Make no mistake…while some were willing to give this group another year to find its way, the pressure to turn this thing around is quite real.
One would hope that this summer "should" be the last time Edmonton finds itself in a situation where they will be looking at making a top ten selection in the draft for some time. With that said, if this organization is staring at a top three pick in late June, can anyone honestly see the former Boston Bruins GM coughing up a chance at adding another talented youngster? One would think his hand may be forced but then again, perhaps it gives him a window to take a serious look at changing the makeup of his current roster.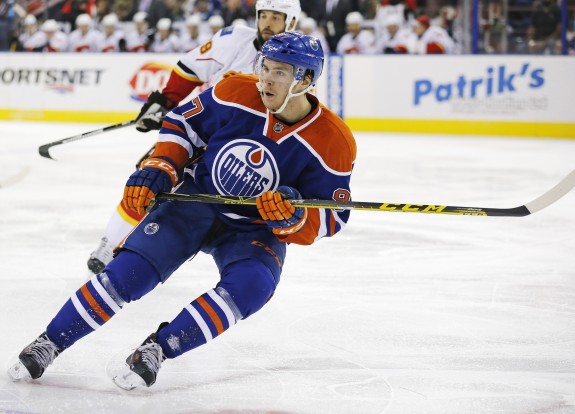 Time Is Not On the Oilers Side
At this stage of the game, the likes of Jordan Eberle, Hall, and Ryan Nugent-Hopkins have all proven to be very good NHL players, with the former 2010 first overall pick being the best of the bunch. Yet we are 38 games away from another disappointing campaign from this so-called "core". While much of that can be attributed to poor roster construction, it does not change the fact that time is not on the Oilers side.
[Related Article: Where Do the Edmonton Oilers Go From Here?]
With the aforementioned trio well into their current contracts and both Leon Draisaitl and McDavid inching closer to big paydays of their own, one can easily see how Edmonton might be headed for an uncomfortable situation in the not too distant future. Unless Chiarelli can move his 2016 first rounder for a truly impactful player in the here and now, a No. 1 defenceman entering the prime years of his career, would it not make more sense to keep the pick and move other pieces in hopes of improving the roster?
Again, to be clear, we are talking about a top three pick here. Now, if the Edmonton Oilers find a way to move up the overall standings over the final three months of the season…all bets are off. At that point, there is no doubt in my mind that Peter Chiarelli would be looking to move his first round pick for immediate help and hope he hits the jackpot.  One way or another, this will be the summer in which the Oilers make their splash and for their sake, they had better get it right.
Rob Soria is the Author of Connor McDavid: Hockey's Next Great One. He has chronicled the Orange and Blue since creating his Oil Drop blog in 2011 and has also had his writings featured over at HometownHockey.ca and Vavel USA, where he has covered the NHL, MLB and ATP Tour. Rob was born, raised and still resides in Edmonton, Alberta and can be reached via twitter @Oil_Drop.