Yesterday was one of those days for the Edmonton Oilers. The latest chapter in the Nail Yakupov saga coupled with the red-hot Anaheim Ducks paying their final visit to Rexall Place played out in the exact fashion one might expect.  While the noise surrounding the former first-overall pick's trade request, another loss to a Western Conference powerhouse and some iffy officiating grabbed all the headlines, Todd McLellan's long-term vision for winger Patrick Maroon went mostly unnoticed.
"He wanted the puck, but I wasn't going to give it to him… They're going to have to find a new puck." @patmaroonhttps://t.co/asUJDbRtGq

— Edmonton Oilers (@EdmontonOilers) March 29, 2016
[Related Article: Maroon Has Immediate Impact]
Funny, considering it was the only bit of information we were given that could actually end up affecting how this team looks in 2016-17. Since being shipped to Edmonton in exchange for a mid-round pick and some much-needed cap relief at the NHL Trade Deadline, the 27-year old has wasted little time in making an impression on both his new teammates and head coach. So much so that McLellan appears to have already pencilled him in for a spot alongside Connor McDavid come next October.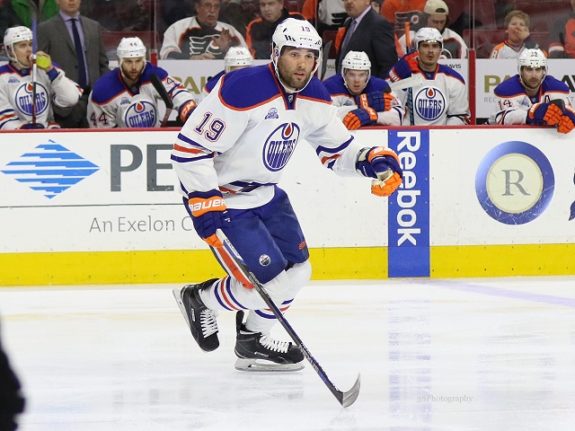 A Seamless Transition
The sample size may be small but through his first 13 games in Orange and Blue, the former sixth-round pick of the Philadelphia Flyers has scored five times and put up 11 points with a team-leading +8 rating ,after going 4-9-13 in 56 appearances with the Ducks. Add his somewhat surprising offensive output to his physical style of play and an unwillingness to simply sit back and accept losing or the team not playing well, and it looks as though the Oilers may have finally found that quality veteran player they have been searching for what feels like an eternity.
[Related Article: Changing the Forward Mix]
Upon being asked at yesterday's morning scrum at how Maroon has fit in since arriving in Edmonton, his new coach did not hold back and went out of his way to heap praise on his newest pupil and added a bit of foreshadowing to boot.
"I'd love to talk about that because he's been a wonderful addition to our team. He has fit our locker room well and while he has been moved before…to come to a new team that will not be making the playoffs and leave a team that will be pushing to win the Stanley Cup, it's not an easy thing but he's really fit our room real well. He's shown leadership skills that we need, brought in the proper attitude and that's just off the ice."
Oilers coach Todd McLellan gushed over Pat Maroon, saying "he's been a wonderful addition to our team. He fits our locker room well."

— Eric Stephens (@icemancometh) March 28, 2016
"When he puts the equipment on…he's brought size, strength and the ability to be involved for teammates. He's been able to score and he's found a home playing with one of the best players in the world…and I'm hoping that will be a real motivating factor for him over the summer. There are some things he will need to do but I would like to play him on the left side with 97 to start next year but Patty will dictate how well that goes and how well it doesn't…and I'm counting on him doing those things he needs to do."
I really hope Maroon sticks around. He's like a breath of fresh air on a team that's so sad & miserable. #StayPattyStay #Oilers

— Bernice aka MamaB (@Smyth94ever) March 29, 2016
"I think he has incredible hands. On most of the teams he has played on, outside of the NHL, he's been a top scorer and he has experience playing with elite players, in Getzlaf and Perry. So he understands how they think and maneuver and knows how to get into position. His success is not surprising to me…the surprise is that he didn't have much earlier in the year. He had an incredible playoff last year but again, there are some things he needs to work on, which we will try and help him with, and if he does those I think he can improve even more."
Maroon Still Has A Lot To Prove
Call me crazy but it sounds like the former San Jose Sharks bench boss is a pretty big fan of the Missouri native and who could blame him. Again, we are essentially talking about a six-week stretch and have seen this player take his game to another level during the postseason but doing so over the course of an  82-game schedule is a completely different ball game and something he has yet to accomplish during his career. With that said, one would think dangling the so-called "McDavid Carrot" would push a guy into doing whatever necessary to seize that opportunity.
[Related Article: Oilers Would Be Crazy to Target Milan Lucic]
Let's not forget, Maroon has played a grand total 217 games to this point in his career, scored all of 31 goals and has yet to earn a long-term look with elite-level players. Yes, he saw time on with Ryan Getzlaf and Corey Perry but that was never on a permanent basis and with all due respect to both of those players, neither one is in the same class as the 19-year old phenom. Considering he has gone from a fourth-line guy or a scratch in Anaheim to being a key figure in Edmonton has to have him feeling as though he has hit the jackpot.
Maroon's been very blunt in his interviews. He thought the Oilers played hard tonight. Called his penalty a "terrible call."

— Reid Wilkins (@ReidWilkins) March 29, 2016
After all, it's not every day that a supposed spare part is given the opportunity of a lifetime to change his lot in professional life. That is the hand Patrick Maroon has been dealt and my guess is he will do everything humanly possible to take advantage of the situation. Clearly, the Edmonton Oilers are banking on him doing just that while helping this team find their way back to the playoffs for the first time since 2006.  Something tells me October can't come soon enough for No. 19 and this fan base is desperately hoping he can hold up his end of the bargain.