The Toronto Maple Leafs youth movement is in full-swing, as the vast majority of the Leafs' elite young prospects have now made their NHL debuts in the 2015-16 season.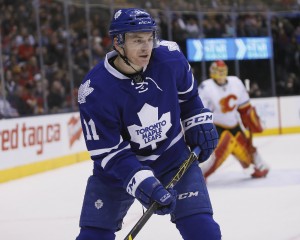 In particular, William Nylander, Zach Hyman, Nikita Soshnikov, Kasperi Kapanen, Brendan Leipsic, Connor Brown, Connor Carrick and Garrett Sparks have all been provided considerable playing time, and for the most part have flourished in their first substantial tastes of NHL hockey.
In providing these potential young stars with a wealth of playing time, Leafs management, led by General Manager Lou Lamoriello and President Brendan Shanahan, have given themselves the opportunity to truly assess and evaluate not only the skill, but potential of each respective prospect which has been inserted into the Toronto lineup thus far. And while some have excelled more than others, the Leafs re-build remains in its infancy, as before they can truly become sustainably competitive in the NHL, Toronto will need to draft a large number of additional prospects who will one day become regular contributors at hockey's highest level.
As we quickly approach the 2016 NHL Draft, the Leafs are loaded with draft picks, an incredible 12 in fact.
Based on their current standing, the Leafs will likely use their natural first round selection to draft a player in the top-5, while their second first round pick, acquired in the Phil Kessel trade, could land them a pick in the 14-20th overall range, depending on whether the Penguins are able to reach the Stanley Cup Playoffs.
However, whether or not the Leafs 2016 Draft will be remarked as successful or not will not be known until the later rounds of the Draft are complete, where Toronto must use their wealth of picks to draft intelligently and secure elite players who are not, for one reason or another, highly ranked.
In particular, there are five players which the Leafs should pursue in the Draft which not only possess incredible potential, but would also fit perfectly into Toronto's plans, which focus on drafting speed and skill over raw size and strength.
5 Players to Watch
Adam Mascherin
Position: Left Wing/ Center
Height: 5'9″
Weight: 200 lbs
Shoots: Left
Draft Rankings: NHL Central Scouting (57)  –  TSN Craig's List (34)
A former second overall pick in the Ontario Hockey League Draft, Adam Mascherin is widely known for both his on-ice intelligence and unrelenting compete level. In his second season with the Kitchener Rangers, Mascherin notched 35 goals and 81 points, a total which tied him for the team lead and was a drastic improvement from his rookie season totals. Despite his size, or lack thereof, Mascherin is incredibly strong, a quality which allows him to protect the puck from his opponents and release his incredible shot, one that has been regarded as NHL caliber.
Ranked 57th among North American Skaters by Central Scouting and 34th among all Skaters by Craig Button, Mascherin could be scooped up by the Leafs with their natural second round pick, which will likely fall anywhere from 31st to 35th overall, or possibly with the selection they acquired from the Capitals in exchange for Daniel Winnik which will fall likely in the 50-60th overall range.
A bulldog style player with incredible skills and determination, Mascherin is an incredibly mature player for his age whose hockey commitment, both on and off the ice, would be a perfect match for Mike Babcock's desired style of play.
Dante Salituro
Position: Right Wing/ Center
Height: 5'9″
Weight: 175 lbs
Shoots: Right
Draft Rankings: NHL Central Scouting (106)  –  TSN Craig's List (NA)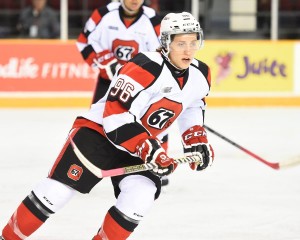 After failing to be drafted in 2015, his first year of eligibility, Dante Salituro has used his snub as motivation, and had a terrific 2015-16 OHL Season. Playing in his fourth season with the Ottawa 67's, Salituro reached new career highs in both goals (38) and points (83) this past season, while leading his team in both categories and scoring 27 points more than his closest teammate.
Last season, although going undrafted, the Columbus Blue Jackets in fact brought Salituro to their training camp, where he was highly impressive but was eventually cut, meaning there is surely NHL interest in the under-sized forward.
Known best for his speed, agility and quality shot, Salituro also possess the one intangible characteristic the Leafs are in search of: determination. Although his size and strength are a work in progress, Salituro has shown his ability to produce offensively on a consistent basis, a trait which will ensure he is drafted in 2016.
As far as the Leafs go, the fourth round pick which they acquired from Colorado in the Shawn Matthias trade could fall perfectly in the range necessary to draft Salituro. Ranked 106th by Central Scouting among North American skaters, the Leafs could use this pick, which will likely fall in the 100-110 range, to select the smooth skating Salituro in the fourth round in what would truly be a steal.
Dillon Dube
Position: Left Wing/ Center
Height: 5'10"
Weight: 180 lbs
Shoots: Left
Draft Rankings: NHL Central Scouting: (35)  –  TSN Craig's List: (17)

Currently in his second season with the Western Hockey League power-house Kelowna Rockets, forward Dillon Dube is yet another highly skilled forward which the Leafs must seriously consider drafting in 2016.
Following a solid rookie season and even more promising playoff run in 2014-15, Dube has continued to impress, increasing his offensive output in his second season with the Rockets. Not only did he score 26 goals, but he also recorded a new career high in points with 66, a total which ranked third best amongst his Kelowa teammates. Best defined as a small yet quick skater with high hockey intelligence, Dube has drawn comparisons to Philadelphia Flyers prospect Travis Konecny, who is also an under-sized yet determined forward.
Drafting Dube could be challenging however for the Leafs, as their draft picks remain fluid, especially the second first round pick they could possibly retain from the Pittsburgh Penguins, if they are able to reach the playoffs. However, if the Penguins do in fact make the post-season, an early exit could place a draft pick in the Leafs hands, likely in the area in which Dube will be selected.
Matthew Phillips
Position: Center
Height: 5'6″
Weight: 140 lbs
Shoots: Right
Draft Rankings: NHL Central Scouting (NA)  –  TSN Craig's List (49)

I know what you are likely thinking. Where does a 5'6″, 140 pound forward fit into the Leafs future plans?
Well, once you've seen Matthew Phillips play, I can almost guarantee his size, or lack thereof, will simply be an afterthought.
In no way does his size inhibit Phillips' on-ice play, as witnessed in his 37 goal, 76 point rookie season with the Victoria Royals of the WHL. Like the other young forwards on this list, Phillips' shear determination allows him to find consistent offensive success, a trait which is paired with his uncanny lack of fear when going to the dirty areas of the rink, where he quite often out-competes and wins puck battles with much bigger bodied opponents.
The stigma surrounding under-sized players is likely no more clear than in Phillips' case. While Craig Button of TSN ranks the youngster 49th best amongst all skaters, both North American and European, Central Scouting on the other hand failed to list Phillips within their list of the best 250 North American Skaters!
[Related: Meet the Hidden Jewel of the 2016 NHL Draft]
So, it goes without saying that NHL teams will face a tough task in determining whether Phillips fits into their future plans, and whether he can develop into an everyday player. At the moment, his size obviously factors in to the decision of whether to draft him, yet, based on his on-ice play to date, Phillips' size appears to be the last thing on the skilled forward's mind.
Because his draft stock is so difficult to determine, it is hard to truly say where Phillips could fall in the Draft. However, with their wealth of picks, it seems a sure bet that the Leafs could pick up Phillips late in the Draft, potentially in the fifth or sixth round.
William Bitten
Position: Center/ Right Wing
Height: 5'10"
Weight: 170 lbs
Shoots: Right
Draft Rankings: NHL Central Scouting (42)  –  TSN Craig's List (29)

The lone bright spot on a Flint team which was marked by off-ice issues this season, William Bitten emerged not only as his team's highest scoring player, but also one of its hardest workers. Over his second season in the OHL, Bitten notched new career highs in both goals (30) and points (65), both totals which led his club.
Like a number of those on this list, Bitten is another player who has incredible offensive tools. He is a fast skater who is strong on his feet and as such is difficult to knock off of the puck, while his willingness to go to the dirty areas of the ice produces numerous chances for his team. Scouts will undoubtedly bring up his lack of size, but like Phillips, it is in no way an impediment to his game, which is defined by a tireless work-ethic with and away from the puck.
Bitten looks as though he will be selected in the second round, and like Mascherin, the Leafs should do their best to secure him in the coming Draft, if possible.
---
Fitting the Mold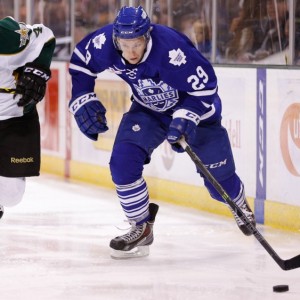 Based on the current crop of Leaf prospects currently making waves in the NHL, as well as those that have been drafted and are playing in different Leagues throughout the World, the style of players which Toronto is looking for is abundantly clear.
Disregarding size, the Leafs are looking for players who have incredible levels of pure hockey skill, not necessarily big bodies who can play a strictly physical brand of hockey.
Mitch Marner, William Nylander, Nikita Soshnikov and Connor Brown are just a selection of Leafs prospects who represent this skill set, as well as the general direction and attitude of Toronto's management.
In looking towards the 2016 NHL Draft, the Leafs are loaded with picks, and will certainly be looking to perpetuate the vision which they have already begun to create. With that being said, it's not realistic for the Leafs to draft all of these players, let alone place their focus on drafting strictly skilled forwards, as they must adequately build their team in goal and on defense as well. These five players are certainly amongst a number of which the Leafs will have their eyes on come June, however, drafting just one of these skilled skater is a much more realistic outcome.