The Boston Bruins' offseason can be compared to most Massachusetts roads.
It was a bumpy ride to start the offseason with Peter Chiarelli getting his pink slip days after the regular season ended. A month passed by before Don Sweeney was selected to replace him.
Four weeks later, a flurry of activity interrupted what was a smooth ride. The trades of Dougie Hamilton and Milan Lucic were two major potholes to shake things up. Signing free agent Matt Beleskey was the final major speed bump on Boston's road to the 2015-16 season … for now.
It has been over a month now and things have gone quiet on Causeway Street. Sweeney has seemingly conducted most of his offseason business, but holes remain on the squad. Their most pressing one is the need for a younger defenseman capable of top-four minutes.
It's August 11 and Christian Ehrhoff and Cody Franson still don't have NHL contracts. This is crazy.

— Adam Gretz (@AGretz) August 12, 2015
Enter free agent Cody Franson. Many pegged the 28-year old to be one of the first free agents off the board this summer but is still available almost six weeks into the new league year. In a recent radio interview with TSN 1040 in Vancouver, Franson stated the Bruins were one of "five or six teams" that had discussions with his camp.
"Boston would be an interesting spot. It's obviously an awesome city and they've got a great organization and all those things that come with it."
Boston needs a player of Franson's caliber. He wants a new opportunity after getting lost in the shuffle with the Predators in Nashville. It appears to be a perfect match, yet the wait goes on.
So what's taking so long?
Lost in Smashville
The in-season trade of Franson from Toronto to Nashville was supposed to help bulk up the Preds defense. Instead, the 6-foot-5-inch defenseman was lost in the rotation.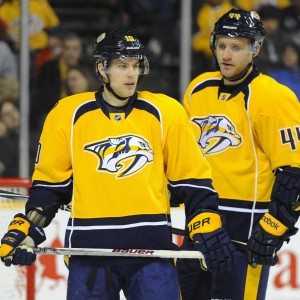 He went from playing over 21 minutes a night at the Air Canada Center to averaging just over 15 minutes of ice time at Bridgestone Arena. In total, Franson had a career year with seven goals and 36 points in 78 games, but his stock may have suffered because of the deal. Nashville's third-round pick in 2005 was relegated to third-paring minutes with the likes of captain Shea Weber, Roman Josi, Ryan Ellis, Seth Jones and Mattias Ekholm ahead of him on the depth chart.
The most telling statistic about Franson's 2014-15 campaign is how little he played. In Toronto, the British Columbia native played over 20 minutes in 44 of 55 games. After his trade to Nashville, Franson saw over 20 minutes of ice time just three times in 23 appearances. His free-agent value took a hit with limited ice time and sub-par point totals (one goal, four points).
Franson's camp may be looking to sign a deal that is more representative of his solid play in Toronto, but Boston will look at that 23-game sample in Nashville and think otherwise.
More Than One
Another sticking point is the terms of a new contract. Franson has played under one-year contracts each of the last three seasons. He's had enough.
"Obviously, I'd like to do something more than one year. I'm sick of one-year deals. We're open to all suggestions, really." – Franson on TSN 1040 in Vancouver
The longer he's on the open market, the less likely he will secure a desired long-term deal. This is good news for Sweeney and the Bruins.
How you ask? Well, Boston had cap problems at the start of free agency. Trading away Reilly Smith, Lucic and Marc Savard's contract cleared almost $13.5 million off the books. At present, the Bruins have $4.76 million in cap room per General Fanager. Keep in mind that Torey Krug will be a restricted free agent next summer and Loui Eriksson is due for a new contract, as well.
Playing the waiting game on Franson could work out in the Bruins' best interest money-wise. A short-term, "cheap" deal is what Boston wants and, if they play their cards right, will get.
So What'll Happen?
In his latest piece, my colleague Mike Miccoli summed up the situation between Franson and the Bruins as follows:
While Franson is only 28-years old, the Bruins are very clearly being cautious bringing in help for the blue line. Because of this, a one-year deal would probably make sense for them, even if it doesn't make sense for Franson. This could be the hold-up and the eventual hill that this hypothetical deal dies on.
It has turned into a chess match of sorts. Boston wants something short-term while Franson's camp wants a long-term deal he has arguably deserved. It has been three weeks since his interview on TSN Radio and time continues to tick away; so too does the dollar amount on Franson's new contract.
Signing a contract for Cody Franson repeatedly seems to be an unusually grim process for him. What's up with that?

— Raihan Hussain (@RaihanSays) July 30, 2015
It will be a struggle to find a happy medium between agent and franchise but, with one month remaining before training camps open up across the NHL, Franson will be eager to sign a contract of any kind.
That may be exactly what the Boston Bruins want.
How will the Cody Franson saga play out? Leave your comments here or on my Twitter page!