As the Vancouver Canucks finish up their regular season schedule there is a great deal of anticipation for another post-season run. However, it seems that Canucks nation has split into two factions. One faction thinks the team is doomed to fail, while the other is optimistic that they will make another deep run.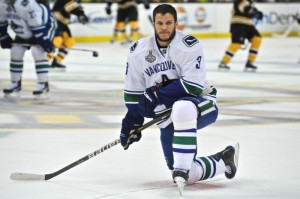 If you read the local press, listen to talk radio and read message boards you'll find a lot of fans who are in full panic mode. The team can't score, the coach needs to be fired, they traded away an offensive weapon and Luongo is terrible. The other side will tell you that this team is better equipped to make it through the rough post-season.
For whatever reason there seems to be no middle ground.
So which are you? Are you a Canucks cynic or optimist?
The Canucks themselves seem to be full of optimism. They recently unveiled their "Celebrate Responsibly" campaign to urge fans to keep the post game celebrations under control in order to avoid the troubles after Game 7 last year.
This message sent here is that 'you will have a lot to celebrate this spring'. At least the team is looking up.
How can these cynics and optimists coexist? We've attempted to tap into the blue and green hazed brains of these Canucks fans to see what they are thinking and to imagine a debate between the two.
Cynic: Man, they way the team has been playing since the All-Star break is worrisome. They are terrible.
Optimist: What do you mean? They are three points away from the Western Conference lead.
Cynic: Last year they had the President's Trophy wrapped up by now.
Optimist: You can't count on that every year, and by the way, they've won their last four in a row! The switch has been flipped.
Cynic: Please, they just lost 2-0 to Minnesota a week ago. Minnesota! Have you seen the Wild play?
Optimist: Come on, that game was meaningless. Why would the players want to expend all that energy fighting through the Wild trap?
Cynic: Still, they can't score goals any more, last year they averaged 3.15 goals per game, this year it's down to 2.91.
Optimist: Yeah, but so is the entire Western Conference.  10 of the top 15 defensive teams are in the West, that's who the Canucks have been playing all year; of course their goal scoring is down.
Cynic: OK, well how about the power play? It's down from 24.3% last year to 20.4% this season.
Optimist: You got me there, they have had issues. They have been a bit inconsistent, but that 20.4% is still good enough for fourth best in the NHL. So it's not that bad. They are still winning games without the 24% power play.
Cynic: They should not have traded Hodgson, they will need his scoring. I guess Alain Vigneault really hated him. They should fire him. He's ruining this team.
Optimist: What? They went to the finals last year without him. He was a defensive liability and would probably have seen a huge cut in his minutes in the playoffs. Vigneault didn't hate him, plus, he wanted out. Good riddance if you ask me.
Cynic: And now Daniel Sedin is hurt, how can they overcome that?
Optimist: Well, they just announced that he will be back by the playoffs!
Cynic: Yeah but he'll be rusty.
Optimist: Please, he's been playing with Henrik since they were babies. A couple of weeks off aren't going to change anything.
Cynic: It doesn't matter, Luongo is going to choke again anyway.  He can't step it up in the playoffs and cost us the Cup last year. Did you see him get lit up by the Sabres a couple of weeks ago.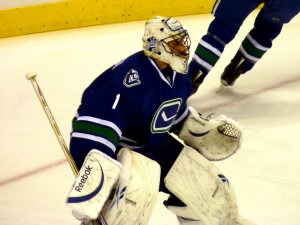 Optimist: Choke? What are you talking about? He was great last year, the finals weren't his fault, they couldn't score any goals for him. Besides, if he falters they have Schneider to step in. And yeah, Luongo had a couple of rough games, but he's been great since, he just shut out the Kings!
Cynic: Playing Schneider will cause a controversy. That will mess with Luongo's head. They need to trade him. I'm not impressed with shutting out the Kings, my kid's Pee Wee goalie could do that. Now Schneider shutting out the Avs, that was great!
Optimist: Now you're just being ridiculous.
Cynic: You are, you just look at the good side of everything.
Optimist: Yeah, and you assume the worst!
Cynic: I guess it could be worse.
Optimist: Yeah, we could be Toronto Maple Leafs fans.
Cynic: For sure, what a mess they are.