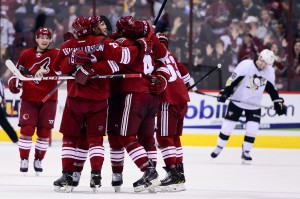 The Arizona Coyotes have a rather turbulent past; they've spanned two hockey leagues, moved between two cities, and have gone by three separate names. They've gone bankrupt, and potential owners keep threatening to move them out elsewhere. They're a team of fighters, though; after almost dying out completely as the original Winnipeg Jets of the World Hockey Association, they managed to secure a spot in the NHL along with only

three other WHA franchises. They almost went under in 2009, but have not only managed to stay afloat- they've managed to boost interest in ice hockey among Arizona residents. Arizona is the fastest-growing ice hockey state in the nation that already has an NHL franchise, with a 17 percent increase in registered skaters in the past year.
The number of hockey fans isn't the only thing that's growing, though. The franchise itself is in a rebuild and development phase, and has the growing pains to accompany it. The team may have the grittiness and talent they need to win, but Arizona is missing the depth on offense that most of the cup contending teams possess. In addition, their prospect pool has looked weak in recent years (excluding this past draft, where the Coyotes made out like bandits). Fans need to not only keep up with wins and losses, but with the changes and development the team undergoes. While the team's Twitter account is always useful, here are some of the best sites to bookmark and follow for any Coyotes fan-
Arizona Coyotes
Not every NHL franchise's official site is created equal, and the Arizona Coyotes site is one of the best. It's easy to navigate, and full of information. There's a complete draft history- not only for the Coyotes, but for every team in the league- leading back to 1963. There's an entire page dedicated to keeping fans updated on future Coyotes. There's even an extensive news section AND separate fan zone. For Coyotes fans, most of the information you'll want is here.
Coyotes T.V.
Being a fan isn't just about the stats- it's about keeping up with what the players are doing, too. The Coyotes video channel, which is found both on Youtube and the Arizona Coyotes site, has everything from behind-the-scenes looks at development camp to interviews with players.
Arizona Central
The state's local news site is a great source for quick, factual information and clear, easy-to-understand opinions. Not only is the news broadcast on Channel 12, but you can find articles, videos, and blogs about the team on the news station's website.
Other Follows:
Have any blogs or Twitter accounts you think belong here? Let us know! We want to keep this list as up-to-date and informative as possible.