When Scott Hartnell was shipped off to Columbus, the Philadelphia Flyers were left with a void on the top line alongside Claude Giroux and Jakub Voracek.
The first thought was to replace Hartnell through free agency, but that period has slowed down, leaving general manager Ron Hextall with limited options to fill the open spot. There has been talk of moving Brayden Schenn up to the first line — barring a trade of Vincent Lecavalier — but if this team wants to compete for a Stanley Cup next season, it might need to make a more drastic move.
Enter Patrick Sharp.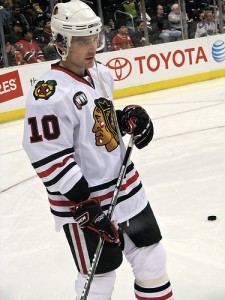 Sharp is coming off a career year for the Chicago Blackhawks, and is reportedly on the trading block. The one-time Flyer finished 2014 with a career-high in assists (44), points (78) and tallied 34 goals, marking the fourth time he's surpassed the 30-goal mark.
At 32 years old, Sharp is more of a finished product, and quite possibly on the downside of his career. However, after inking Jonathan Toews and Patrick Kane to 8-year, $84 million deals, the Blackhawks have placed themselves in a precarious position. Duncan Keith (13 years, $5.538 AAV), Marian Hossa (12 years, $5.275 AAV) Corey Crawford (six years, $6 AAV) and Brent Seabrook (five years, $5.8 AAV) are all locked up to long-term deals, but Sharp's term — only three more seasons — makes him much more manageable to fit in the payroll.
Hextall has stressed that he wants to get the cap situation under control, considering that some of the Flyers young, promising players are due for new deals in the near future.
"If you look at our team, we got a lot of guys in the next two or three years that are up," Hextall said leading up to the NHL Draft. "It's kind of a far vision, but it's reality. Two, three years from now, [Sean] Couturier, [Brayden] Schenn, [Braydon] Coburn, go down the list, Mason in three. It goes on and then our young defensemen will be up [on the roster] …"
Fortunately for Hextall, Philadelphia could feasibly fit Sharp's contract onto its payroll. Chris Pronger's imminent return to the LTIR, and the departure of one of Philadelphia's top-nine forwards (possibly Matt Read) in a deal for Sharp would help shed enough payroll to fit him under the cap.
For where Sharp's on-ice production would fit on this team, one of his strongest qualities is his ability to drive possession. Coach Craig Berube stressed, especially during the first-round series against the Rangers, that the Flyers needed to become a better possession team. Trading Hartnell contradicted that philosophy, however, as he was the Flyers second strongest in shot differential (Corsi). The team generated 54.3% of the overall shot attempts with Hartnell on the ice (via extra skater).
The addition of Sharp would alleviate some of these issues. Playing mostly on a line with Marian Hossa that was centered by Andrew Shaw, Sharp was fifth among Chicago's forwards at generating shot attempts, generating 57.2% of all chances on net.
Sharp wasn't sheltered against tougher competition either, facing the third toughest quality of competition among Blackhawk forwards (29.7%).
The sexy name being thrown around for the Flyers to acquire is Winnipeg Jets left wing Evander Kane. The 22-year-old already has a 30-goal season under his belt, and is signed to a very cap-friendly deal ($5.25 AAV) through 2017-18. But the pundits believe the Jets are requesting a king's ransom to acquire the promising winger's services. The Flyers would have to give up a lot to bring Kane to Philadelphia.
The Flyers have assets that can help bring in Sharp, but the key is none of those assets should include Brayden Schenn or Sean Courturier, but they made need to include one of their four up-and-coming defensemen (Samuel Morin, Robert Hagg, Shayne Gostisbehere, Travis Sanheim). Sharp's strong two-way game would help the Flyers moving forward, and his added scoring touch could mesh well next to Giroux and Voracek.