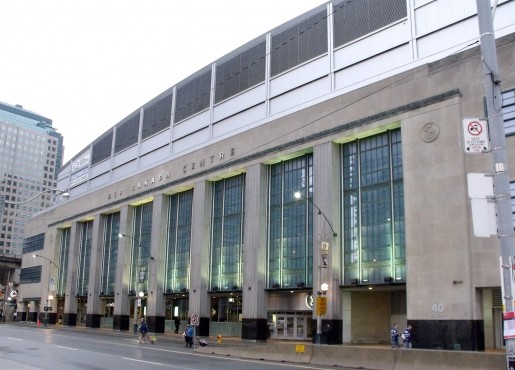 The city of Toronto is once going to get a chance to witness professional playoff hockey.  Yes, the Toronto Maple Leafs have still been eliminated.  You don't have look very far to see the furrowed brow of General Manager Brian Burke and you'll know that the playoff hockey isn't the kind he was brought in to fetch.   But make no bones about it, Burke is a proponent of the AHL brand of hockey and he is hugely pleased about his AHL Marlies and their successful season.
For Fans, this will be the first time in 3 years that the Marlies have made it to the post season.  In 2010 they were kept out and that cost Greg Gilbert his job as coach.  In 2011, Gilbert was succeeded by current coach Dallas Eakins who was also not granted admission to the second season.  But try as they might, this team pushed through and has really started to grow together.  This season, they not only got in, but they made it in style.
On Tuesday night, while the Buffalo Sabres were extinguishing the Maple Leafs flame in a ome from behind OT win, the Abbotsford heat were helping the baby Leafs to clinch not only a playoff spot, but the Sam Pollock trophy for being the North Division's top squad.  For Dallas Eakins, all of the hard work and all of those laughable 'every game is a tryout' commercials have paid off.
So while the Maple Leafs are playing out the string, the Toronto Marlies are moving on.  Although it's a team effort, I wanted to pay kudos in the direction of a few key players.
Mike Zigomanis:  Tied for 7th in assists with 42, Zigomanis also had 19 goals and currently sits tied for 11th in AHL scoring.  A case could be made for Zigomanis as league MVP considering what he has done for his club.  This is especially true when you account for his 6 game winning goals, which is good enough for 5th overall, and that 3 of those GWGs were in OT which he ranks 1st in the league.  Don't forget about the fact that this veteran native of Toronto is playing against the other team's best players every night.   He is certainly the Marlies MVP.
Ben Scrivens:  This former Cornell Big Red netminder has emerged as one of the AHL's best goalies.  In the month of March he went 6-3-0 with a 1.40 goals against average and a whopping .952 save percentage and top of that 3 of his 6 wins were shutouts.  Scrivens has played the last two games in the NHL for the Maple Leafs as both stoppers for the Buds have been injured.  This could end up being just the type of preparation that helps Scrivens to be an unstoppable force in the playoffs, especially considering the amount of rubber that he's had to stop.   This kid however, is much more than just a good goalie.  Scrivens is a great team player and a great community member.  He's also the Toronto Marlies nomination for American Specialty AHL Man of the Year for his community leadership on his message of anti-bullying.  Have a look: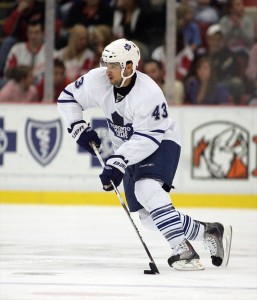 Nazem Kadri:
Although Kadri gets a lot of negative attention in this hockey mad city, what many fans have to remember is that he is just 21 years old and that he is not a savior, he's a hockey player.   But with that being said, Kadri has been a real performer for the Marlies.  In 90 career AHL games, he has 78 points.  With 3 games to go in this season, the Lebanese Canadian from London, Ontario has 17 goals and 37 points in 46 games.  Don't forget that he's also been called up a few times this year which has to be much more difficult on the kid who has gone up and down like a yo-yo.   After Sunday's game against Grand Rapids, a game in which Kadri had the Game Winning Goal, Dallas Eakins had this to say to the Canadian Press:
"He's an excellent player, He's dangerous every time he goes on the ice."
You also have to like the fact that Kadri is developing and this type of playoff experience can only be good for him.  Although there is no shootout in the playoffs, Kadri's offensive skill is unmatched and could be the difference as the Marlies hunt down the Calder Cup.
The Rest: I don't mean to leave out other solid contributors but there really are a lot of great performances to recognize and I would be remiss to go on without mentioning the great play of a few other key players: Ryan Hamilton who leads the team with 23 goals, Jerry D'Amigo who is one of the best penalty killers on the league's best penalty killing unit and Jesse Blacker whose play has calmed down has developed into a top 4 pro defenseman.  Fortunately for Toronto fans, there are so many more, but too many to name.
When the NHL season ends, look for Jake Gardiner, Matt Frattin & Carter Ashton to all get sent down so that they can experience the other side; the winning side.  You can also look for some of the younger players who have been eliminated from OHL action to get the call. David Broll has already joined the team and Stuart Percy, last year's first round draft pick and Captain of the Mississauga St. Michael's Majors joined the Marlies today after being eliminated in the OHL playoffs by the Barrie Colts in Game 6.
There are 4 games left to play in the Marlies 2011-12 season.  The Marlies will host this the Grand Rapids Griffins and the Hamilton Bulldogs in their final two home games this weekend at Ricoh Coliseum.  The Marlies will then end their season on the road taking on the Abbotsford Heat for two in BC next Friday and Sunday of next week.  For the Marlies it's about being prepared to win the big prize.  No AHL affiliate of the Toronto Maple Leafs have ever won a Calder Cup trophy.
While we don't know yet the Marlies will play in the first round, we do know that the Marlies have clinched home ice advantage.  Will Leaf fans who are clearly frustrated with the way the season has ended for the big club, exercise their revolt by staying away or will they pick up the phone tomorrow at 10 am and get tickets for the only Professional Hockey playoff games to take place in Toronto in quite some time.  Brian Burke hopes that it's the latter.
Twitter: @StonemanStephen | Email: stoneford@yahoo.com | Stephen's archive
For every Maple Leafs article on THW, follow @THW_MapleLeafs  on Twitter.