"The Islanders aren't treated well now. They're considered a laughingstock by some, a circus by others. But know this: They're the next Chicago Blackhawks. There's a mountain of buoyant nostalgia under this team and it's going to erupt like Vesuvius when this team is back in playoff contention. Count on it." -Greg Wyshinski, Yahoo! Sports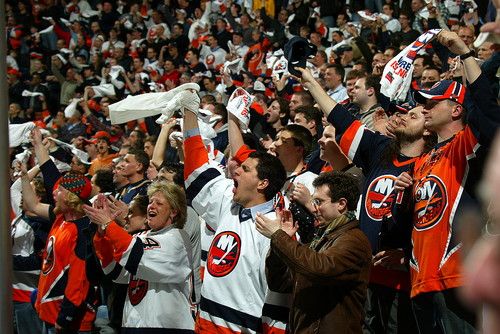 Over the past few years, there has been a growing sentiment of people who believe that, for all intents and purposes, the New York Islanders hockey franchise is dead.
With all of the talk about relocation, the Islanders naturally became of interest to those in Winnipeg, Hamilton, Quebec City, Kansas City and any other metropolis with hopes of luring a professional team.
Some even went as far as staging a live demonstration as to why the Isles would do well in their hometown. Earlier this season, a large group of former Quebec Nordiques rooters came to Nassau Coliseum to show the team how well they'd be treated north of the border.
Surely the Islanders would be smart to move to Quebec City, considering there's absolutely nothing left for them in their current location. After all, the Isles have no money, no fans and no future, right?
Wrong, on all accounts.
This team has a future and it's a bright one.
John Tavares, Michael Grabner and Nino Niederreiter are developing nicely, as are other cogs of this rebuild. With a top-five selection in the upcoming draft, Garth Snow is likely to add yet another key piece, probably on defense. The Islanders are becoming the kind of team people pay to see.
And by people, I mean the fans and supporters of this great hockey team.
The current economic crisis has made it difficult for many Long Island residents. In these situations, it's only natural that when you have a choice between saving money to support a family or spending that hard-earned cash on season tickets, you're far more likely to choose the former and not the latter.
Couple that with the reality that, for quite a while, the Islanders were not what you'd call a "compelling" on-ice production, and you can see why fans weren't exactly showing up in droves to the Nassau Coliseum box office.
Things have changed now, and for the better. The team's drastic improvement since the All-Star break has led to a renewed sense of optimism and electricity in Islander Country.
Around 13,000-plus fans have been in attendance for most Islander home games since that time and, while that may not initially impress you, consider that this team was drawing approximately 8,000 fans per game during the last few seasons.
Earlier today, the team announced that Friday night's rematch against the Pittsburgh Penguins is sold-out. That contest will mark the Isles' third-consecutive sellout at Nassau Coliseum.
Additionally, the Islanders are lowering prices and offering many incentives to prospective season ticket holders. The fans are responding favorably, so you can expect this upward trend to continue next season. The team is getting better and Isles fans are taking notice.
Indeed, Vesuvius is on the verge of an eruption. It's only a matter of time until the rest of the hockey world starts feeling the tremors.
Follow Daniel Friedman on Twitter: @dfriedman_isles
Comments are welcome.